The Indiana Hoosiers are coming off of a trip to East Lansing that didn't treat them too nicely this time around and hasn't in the past, but now return home to face the Nebraska Cornhuskers.
With the Hoosiers a game behind the conference leading Iowa Hawkeyes, this is a game that Indiana cannot afford to lose if they want to stay in Big Ten title race.
Last Time Out
As mentioned above, the Hoosiers had a tough matchup against Michigan State especially against Denzel Valentine on Valentine's Day. The Hoosiers were leading for most of the first half, but in the second half couldn't keep up with the Spartans and the Hoosiers ended up getting run out of the gym, losing 88-69.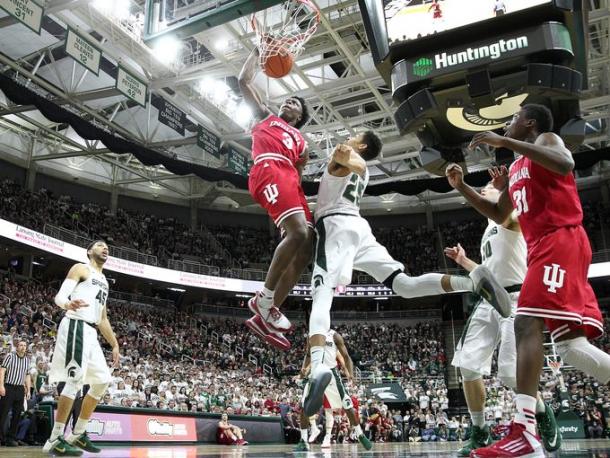 Nebraska is coming off a nice win over Penn State in which they really dominated the game, winning by 16. The Cornhuskers were banged up a bit, but rode a 39-7 run to victory in Lincoln.
These teams met back on Jan. 2 in Lincoln in a game that the Hoosiers won 79-69 behind 24 points from Yogi Ferrell.
Scouting Report: Nebraska
The Cornhuskers come into this game against the Hoosiers with a 6-7 record in the conference which has them ninth in the Big Ten. It has been a bit of an up and down season as they have gone through two three-game losing streaks with a four-game winning streak in the middle. It's that consistency that hasn't quite been there for the coach Tim Miles in his fourth season.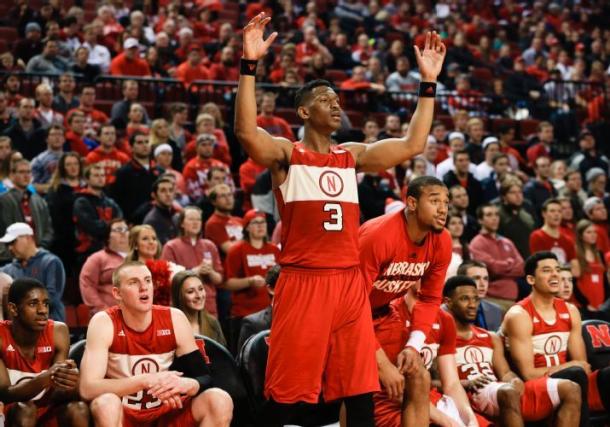 If there is one guy the Hoosiers need to slow down, it is Andrew White III who is coming off of a 35-point performance on Saturday against Penn State in a game that saw him make a career high six three-pointers. The Kansas transfer is averaging a team high 17.6 points per game along with 6.1 rebounds per game. He is the main cog in their offense, and when these two teams met back in the second conference game, White put in 16 points.
Along with White is forward Shavon Shields who was trying to come back following a scary injury against Rutgers a few weeks back, but will not be ready to play for the Cornhuskers. He makes a nice tandem with White in their offense as Shields is averaging 15.7 points per game along with 5.0 rebounds per game, which will be missed against the Hoosiers. Coach Miles said that he would be evaluated in Lincoln before a decision would be made on his travel status to Bloomington, and it was determined he wouldn't be ready to go.
Without Shields in the past few games, it has been Jack McVeigh that has taken the spot up front along with Michael Jacobson. Jacobson and McVeigh combine to average about 10 points per game and about seven rebounds as well. Against Indiana the first time around, McVeigh had 16 points off of the bench while Jacobson had just five points.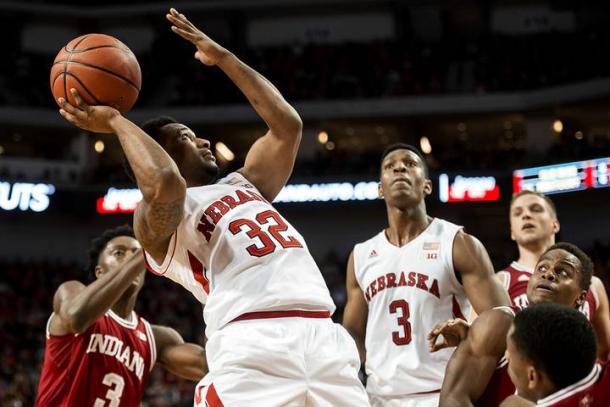 Two other players that could be in the starting five Wednesday are guards Tai Webster or Big Ten freshman of the week Glynn Watson Jr. Webster is the team's third leading scorer at 9.5 points per game while Watson averages 8.9 points per game and 2.5 assists per game. Benny Parker is the point guard for this team, but the Cornhuskers don't get a whole lot of production from Parker.
This team is right around .500 and the statistics show that as they average a solid 73.6 points per game and give up a respectable 68.1 points per game. It will take a strong effort to knock off the Hoosiers in Bloomington.
What Indiana Needs To Do
This game should be a nice relief for the Hoosiers coming off of two games against top ten opponents. That doesn't mean, however, that this game will be a sure win even with it being at Assembly Hall, a place the Hoosiers haven't lost this season.
One thing that the Hoosiers need to do is assert their dominance early on. Coming off of a game in which they got knocked around at Michigan State, this is a great chance to get back on track before Purdue comes calling on Saturday. This Nebraska team is not at the same level as Michigan State or Iowa, although they did beat Michigan State, but the Hoosiers have an opportunity for a big win.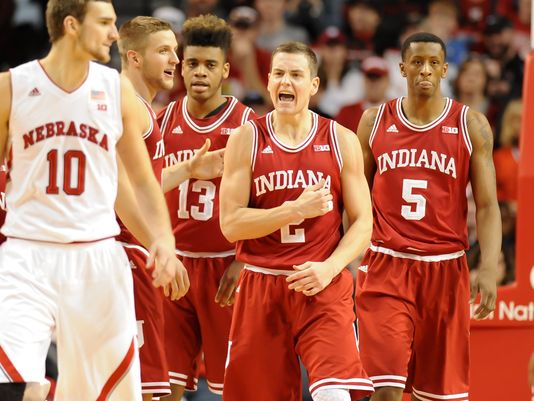 Yogi Ferrell is another guy who the Hoosiers need to get back on track and this is a great shot for that to happen. Every game is big right now, but this is a game where Ferrell can slow things down and get back to his form from earlier in the season.
It shouldn't be a struggle for Indiana, but it is a game in which they cannot afford to lose whatsoever.
What To Expect
Last time these two teams played, it was a 10-point win for the Hoosiers in which they ran away a bit at the end. KenPom has the Hoosiers winning 81-70 with an 85 percent chance of victory.
Nebraska always comes to play and has not lost a conference game by more than 15 points, which shows that this team is capable of hanging around against good competition. That means that Indiana cannot have a hangover after Michigan State or be looking ahead to Saturday against Purdue. The focus must be squarely on Nebraska.
Last time these two teams met in Bloomington in 2014, the Cornhuskers came away with a 10-point win, but this season, these two teams are at different spots and the Hoosiers don't seem poised to have a let down on their home court.
Prediction:
Indiana 85, Nebraska 69
Game Info:
First tip is scheduled for 8:30 pm EST on BTN (Dave Revsine & Bob Wenzel) from Assembly Hall.