Preceding the season, many analysts were picking North Carolina to be the best team in the country. Several of those analysts still are. However, everyone can agree that North Carolina is in a bit of a slump. Following a heart-breaking defeat on Wednesday night, focus shifted to another big ACC matchup with the Miami Hurricanes. Stakes are high as sole possession of first place in the ACC is up for grabs.
The Tar Heels started ACC play on fire, winning their first eight games. Slumping was foreshadowed though as they were scrapping out wins while playing sub-par offensively. Offensive troubles caught up as they dropped two games on the road (at Louisville, at Notre Dame). Along with the struggling offense, the Heels have an incapability of finishing games. Allowing teams to hang around in games is never a good quality to have. There was plenty of proof of that on Wednesday night when North Carolina never pulled away and let Duke steal a win in the Dean Dome.
Meanwhile, down in Coral Gables, the Hurricanes of the University of Miami are exceeding expectations. With a 21-4 overall record (10-3 in the ACC), Miami is shocking the nation. When will Jim Larrañaga stop being counted out? Coach Larrañaga has proven college basketball analysts wrong year after year when it comes to his Hurricanes. Everyone remembers when Shane Larkin led this team to monumental heights back in 2013. This year's team reminds you quite a bit of that 2013 team.
Tale Of The Tape
As many may have expected, the Tar Heels have been put on upset alert this weekend. This Hurricanes team is led by extremely athletic guards that can light it up in a hurry. Angel Rodriguez (11.5 points per game) and Sheldon McClellan (16.1 points per game) are also very experienced. Both being 23-year-old seniors gives them an advantage that a vast majority of the country does not have. Don't forget about seven footer Tonye Jekiri, who happens to be a 21-year-old senior himself. Miami also shoots about 36 percent from beyond the arc as a team this season. North Carolina has trouble with teams that shoot the three well.
Now where North Carolina excels is attacking the glass. The Tar Heels are a top offensive and defensive rebounding team in the country. Second-chance points are a key to Roy Williams' offensive game plan. As a team that shoots just under 31 percent from downtown, it isn't hard to tell that they do most of their scoring inside the paint. While Marcus Paige has struggled to find his offensive game, fellow senior, Brice Johnson (16.9 points per game, 10.4 rebounds per game), has taken his game to a whole other level. Johnson has put himself into the conversation for National Player of the Year. It's fair to say, though, that the entire team will need to show up to win this battle.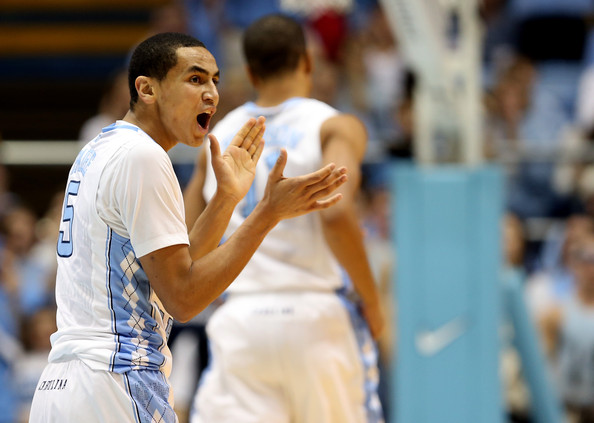 Which players are going to show up? The entire nation can expect great games from Brice Johnson, Justin Jackson, Sheldon McClellan, and Angel Rodriguez. But can Marcus Paige or Joel Berry III provide a spark in the backcourt? Will Tonye Jekiri assert himself in the paint? Both teams want to get out and run. Expect a shoot-out. Keys for the Tar Heels are rebounding and containing the guards. As for Miami, they need to get back in transition and spread the defense out. The battle for first place in the ACC should be a great one.