The game seemed over early in the first half. The Wake Forest Demon Deacons took advantage of an ice cold Boston College Eagles team and cruised to a 74-48 victory. This was WF's second victory in ACC conference play, and Boston College, however, will have to keep looking for their first win in the league.
Wake Forest's Hot Start
Wake Forest was without Devin Thomas, who had been suspended for two games. In addition to Thomas, Cornelius Hudson was dismissed from the team. Both had violated athletic department rules. Wake had to find other players in their lineup to make up for the loss of those two players. They found their answer immediately as their first six points were scored by freshman C Doral Moore.
Moore sparked other players on the team with his dunks, blocks, and rebounds. Moore ended the game with 20 points, 7 rebounds, 2 steals, and 3 blocks.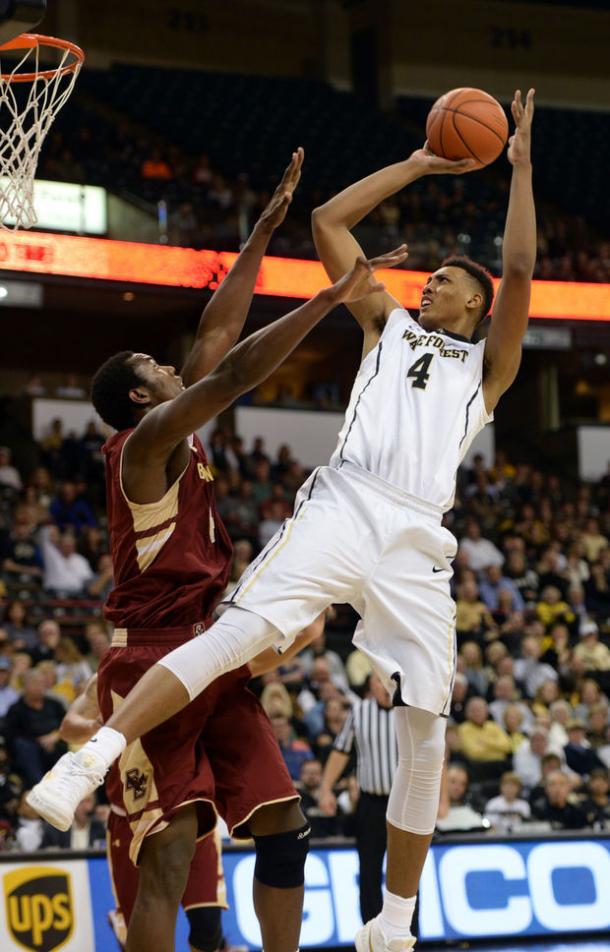 The Boston College Eagles struggled in all facets of the game, but their biggest problem was outside scoring. They ended their game 31% from the field. The Eagles also took thirty three-point shots as well and only managed to make six of them for just 20%.
Wake Forest Rebounding Success
With Devin Thomas not in the lineup, Wake Forest needed other players to step up and make an impact in rebounding. Everyone on the team stepped up to answer the call. Six different players on the team had at least 5 rebounds and helped the Demon Deacons grab a 45-30 rebounding advantage.
Bryant Crawford Keeps On Track For Freshman All-ACC Team
Wake Forest's point guard is still playing beyond his years and once again performed very well while playing big minutes. Crawford only had 12 points in the game, but helped out in other areas with 6 rebounds and 6 assists. He is considered one of the more impressive ACC first year players, but he will need to keep this good play consistent throughout the rest of the year to have a chance to make the Freshman All-ACC Team.
Up Next
Boston College will need to look elsewhere for their first conference win. Maybe it will be in their next contest against the Virginia Tech Hokies in Chestnut Hill, Massachusetts on Tuesday. If they don't win that game, they will only have three more chances before the ACC Tournament, going against Georgia Tech, NC State and Clemson.
Wake Forest only has three games left before the ACC Tournament. Their next game will be on Wednesday where they host Notre Dame. They also get rematches against Virginia Tech and Duke before their season ends. Wake has already lost to all three of these teams this year. A few more wins could give the Deacons some much needed momentum before the tournament.