The Villanova Wildcats (24-4, 13-2 Big East) ended the perfect season of the Xavier Musketeers (25-3, 13-3) in blowout style on December 31st. No. 6 and undefeated at the time, Xavier lost to Villanova at Villanova's home court 95-64.
Xavier wanted to return the favor to the No. 1 Wildcats, and they did just that.
No. 5 Xavier defeated No. 1 Villanova 90-83 on Wednesday night at the Cintas Center in Ohio. Xavier was led by freshman guard Edmond Sunmer, who dropped 19 points, grabbed six rebounds, and dished nine assists.
Xavier's Balanced Scoring Attack
Xavier was led by their balanced scoring attack all night, as six different players finished in double digits. Three different starters besides Sumner finished in double digits. Myles Davis had a terrific game once again, as the junior totaled 16 points, four rebounds, and six assists. Jalen Reynolds also contributed with 11 points and four rebounds. Trevon Bluiett pitched in to the scoring parade as well, finishing with 10 points and seven rebounds.
Though four of the five starters finished in double digits, a big story tonight was Xavier's bench. J.P. Macura had a terrific game, getting 8-14 to go through. Macura led the bench to a 34-20 bench points advantage in favor of Xavier. Though Macura has been inconsistent all season, he has shown up for the Musketeers when they needed him, and tonight was another great scoring game for the sophomore. James Farr also pitched in for ten points and four rebounds.
Foul Trouble Costs Villanova
After trailing the majority of the first half, Xavier never trailed in the second half. Xavier dominated down the stretch, as they led by as many as 14. Most of that was due to foul trouble from the Wildcats, and they were missing most of their key pieces.
Daniel Ochefu dealt with foul trouble all night long. The senior finished the first half with just two fouls, but he picked up a quick third foul to begin the second half. With three fouls early in the second half, Ochefu stayed in the game. Ochefu played solid at the beginning of the half, but the decision backfired on coach Jay Wright. Ochefu picked up his fourth foul with 14:46 remaining. That event caused Ochefu to hit the bench, and he did not play until around 6:00 remaining. The Wildcats were not the same without him. Xavier won the rebounding battle 37-33 and secured most of their rebounds with Ochefu on the bench. Ochefu played 24 total minutes.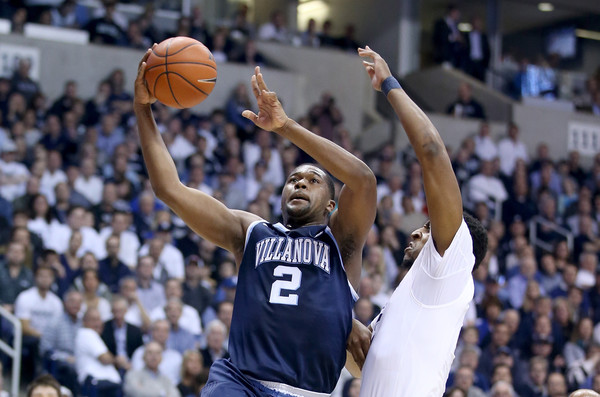 Villanova also had their two biggest scoring threats in foul trouble. Kris Jenkins had his best half of the season as had 19 points to close the half, but also had three fouls. Jenkins connected with an and-one to begin the second half but committed his fourth and fifth foul with 18 minutes to go in the half. Jenkins finished the game with 22 points in just 19 minutes. Leading scorer Josh Hart also dealt with foul trouble all game. Hart ended up fouling out, as he had three fouls in the last nine minutes. He did still play 33 minutes. Bench player Mikal Bridges also fouled out of the game with 31 seconds left. Villanova had to battle a tough Xavier team without three of their best players, and that was a very difficult task.
What's Next For Both Teams?
Villanova's days for being ranked No. 1 in the AP poll are likely over. However, Xavier is a very good, balanced team, and this is an acceptable loss for Villanova. The Wildcats still lead Xavier by half a game in the Big East, with just Marquette, DePaul, and Georgetown left to play. Nova's chances for a one seed in March remain high, and they will be a serious threat to win it all. Their only losses have come to ranked teams including Xavier, Providence, Virginia, and Oklahoma. They travel to Marquette for their last regular season road game on Saturday.
For Xavier, this was a must win game, and they thrived. Two Top 5 teams have now lost this week, as Villanova is joined by Virginia. Xavier will surely jump up one spot for next week's AP Top 25 Poll and could possibly jump up to #3. Besides Villanova earlier this season, their only losses have come against Georgetown and Creighton. They have two games remaining, including Seton Hall on Sunday and Creighton next week. Xavier looks to continue becoming a threat for a top seed in March.