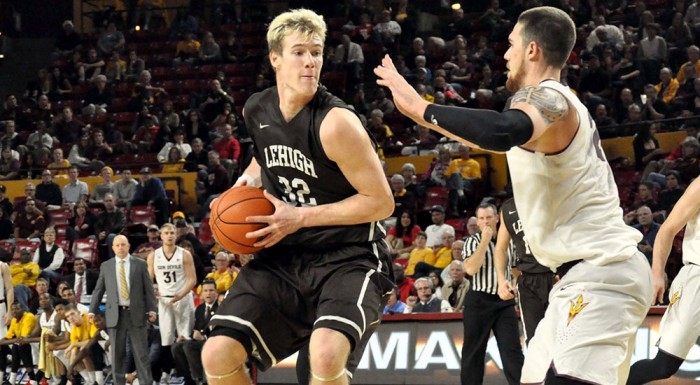 WEST POINT, NEW YORK---In their last contest before Patriot League play, the Army Black Knights upset Monmouth behind a combined 48 from "star seniors" Tanner Plomb and Kyle Wilson. Since, the results have not been as enjoyable or pleasant, considering Plomb became unable to play due to injury and the team fell to 3-6 within the conference.
However, once Army's leading scorer returned to action, they have won six of their last seven heading into a crucial conference finale with the Lehigh Mountain Hawks on Saturday. Though, their opponent could care less.
Despite the first half indicating a barn-burner of a second, Tim Kempton and the Mountain Hawks flew away to pick up their 13th win in the conference and ninth straight by the score of 82-72.
Trading baskets through the first media timeout, the two high octane offenses rushed the score to 8-8 less than 4 minutes in.
Starting the next segment, Army's Kevin Ferguson chipped in two of his 14 points, but Lehigh transitioned with a 10-0 domination led by Kempton and a pair of triples, one from Kahron Ross and Jesse Chuku (18-10 LEH).
Although West Point's finest restarted the offense's engine on a Luke Morrison converted "and one," the Mountain Hawks persisted to match the opposition for the majority of the first twenty minutes. Yet, eventually the Black Knights' ammunition started to overmatch "Kempton's Krew" resulting in a 10-4 spurt to end the first half (39-35 LEH). Tanner Plomb was the instigator in the aforementioned rally, for he started it with a layup and capped it off with a dunk. In other words, Army had momentum heading into the locker room.
The Black Knights, coming out with boosted morale, immediately utilized the excited crowd while giving them something extra to cheer about with a Kyle Wilson three-pointer (41-38 LEH). Nevertheless, Lehigh recovered thanks to back-to-back deuce-filled possessions, which re-upped the advantage to seven prior to a personal 9-4 spurt by Austin Price (54-42 LEH).
Moreover, five consecutive from Ross pushed the Mountain Hawks to new heights for their lead was 17 at the 12:43 mark in the second half (61-44 LEH).
While Army did march back within single-digits with a 9-0 run that concluded just after the halfway mark (63-55 LEH), Lehigh's offense woke up with Tim Kempton, who was an absolute beast and finished with 23 points and 18 rebounds, and their lead soon bloomed to 15 (72-57 LEH).
Army had lost the battle.
Displaying His Worth
When Tim Kempton stepped onto campus in Lehigh, Pennsylvania, he needed no introduction.
Why?
He is a 6'10" monstrosity and the son of an NBA player! Why would one not know who he is?
Nevertheless, the "jazzy junior" has backed up his last name with great play on the hardwood as his numbers have continue to soar in all statistical categories. Moreover, he has turned in some pretty great performances like Saturday afternoon.
Ending the day with 23 points, a career-high 18 rebounds and his sixth double-double in the last seven, Kempton was unstoppable for the most part. In fact, the only place he really failed to score was from the free throw line (1-for-4)!
Also contributing greatly was Kahron Ross as he ended with 18 points and 7 assists and Austin Price, who had 16 in regard to scoring.
Obviously, any opponent 15-14 (13-5) Lehigh faces will have to utilize some successful formula of stopping the NBA prospect. Right now, the next team that will put their "math skills" to the test, is 7th seeded Navy in the quarterfinals of the Patriot League Tournament. Game day is Thursday.
Off Target
In the first meeting against Lehigh, Army's Kyle Wilson was hot from beyond the arc (5-for-10) in route to 17 points.
Today, he was anything but.
With a clear emphasis to keep the senior guard from beating them, the Mountain Hawks smothered the 6'4" guard like a sheet on a bed. Furthermore, they held him to just nine points, only the fifth time this season he was held under double-figures! Specifically, Wilson made only three of his 14 attempts (all treys).
Leading the way in points this afternoon for the Black Knights was Dylan Cox, who stuffed the statsheet with a game-high 16 points, 5 rebounds, and 4 assists, and Kevin Ferguson, who had 14 points and 8 rebounds.
A much better performance from Kyle Wilson--and Tanner Plomb (14 points and 5 rebounds) for that matter--will be a must when 18-12 (9-9) Army puts on their armor for a quarterfinal bout with the 5th seeded Colgate Raiders.