If there was any doubt the Seton Hall Pirates would not be playing a game in the NCAA Tournament, there should not be now.
Seton Hall (21-7 overall, 11-5 Big East) came up with a huge home win on Sunday afternoon versus the fifth ranked Xavier Musketeers (25-4, 13-4). The Xavier loss comes just five days after beating the No. 1 ranked Villanova Wildcats by a score of 90-83. Desi Rodriguez had a huge day for the Pirates, dropping 27 points and grabbing 12 rebounds.
James Farr pitched in with 17 points for the Musketeers, while Trevon Bleuiett had 15. For Seton Hall, other than the huge game from Rodriguez, Isaiah Whitehead had 22 points, four blocks, and five assists, but also had eight turnovers. The Pirates also received contributions from Angel Delgado, who scored 13 of his 17 points in the first half. One unlikely name who helped Seton Hall today was Derrick Gordon. The first openly gay Division 1 basketball player got an unusual start on senior night, and he poured in eight points and secured six rebounds.
Seton Hall Came Out Hot, And Never Looked Back
Heading into the game, Seton Hall was looking to jump on Xavier early. Villanova never built a big lead on Wednesday night, and Xavier came out strong in the second half and won the game. Seton Hall did just that, and came out on fire.
Seton Hall came out of the gates with a 11-3 run, including scoring the first nine. Angel Delgado scored five points during the run, and he finished off with 17 points. Xavier would bounce back cutting the lead to 22-19 with a basket from Trevon Bluiett, scoring two of his 17, but that is about as close as it got for Xavier.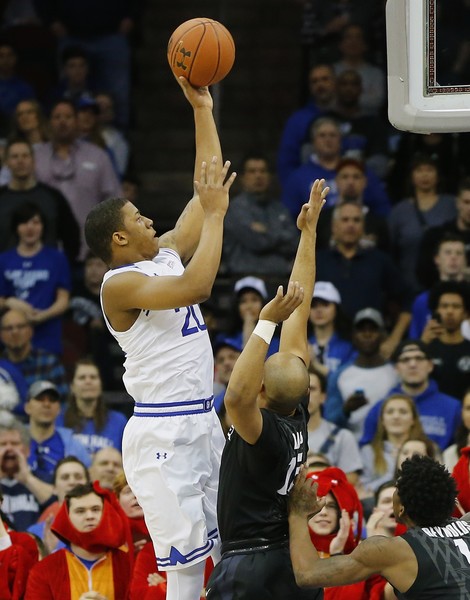 The Pirates ended the first half on a 23-7 run, closing out the half up 45-26. In the second half, Xavier did step their game up a little, but it was not enough. Seton Hall was outscored 55-45, but Xavier's first half deficit was simply too much to overcome. Myles Davis had 15 points in the second half for Xavier, including 3 three point field goals. Seton Hall never trailed the entire game.
Xavier's Sloppy Play Costs Them
Xavier was surely ecstatic with their win against top ranked Villanova. However, the hangover cost them tonight. Xavier played extremely sloppy all night long. Xavier had eight first half turnovers, and gave up seven points off those turnovers. Seton Hall did have more turnovers than Xavier with 18 against Xavier's 12, but it surely was a factor in the game.
Other than the 12 turnovers on the box score, there were many little things Xavier did wrong that were visible watching the game. The Musketeers looked as if they were forcing up shots all night. They did not have many great looks, and Seton Hall played great defense all night long. Xavier shot just 39% for the game, including 64.7% from the line.
The Musketeers also struggled on the glass. The Pirates finished with a 44-39 advantage, but also came away with a 28-19 defensive rebound advantage. After killing Villanova on the glass 42-33, Xavier had a much tougher time getting rebounds today.
What's Next For Both Teams?
Xavier may have just taken a shot in the stomach after gaining a lot of confidence after the Villanova win. However, things are still looking high for the Musketeers. Xavier looks to be a lock for a two seed in the Big East Tournament, and could come away with a two seed in the NCAA Tournament as well. Xavier's only losses have come against Big East teams, including Villanova, Seton Hall, Creighton, and Georgetown. Xavier will look to rebound for their senior night against Creighton.
Seton Hall now looks to be a lock for the NCAA Tournament. Seton Hall has had some impressive wins this season, including tonight versus Xavier, two wins against Providence, and have defeated every other team in the Big East at least once other than Villanova and Butler. They will get their shot against Butler on Wednesday. The Pirates have finished third in the Big East, and will likely play either Providence or Butler in the second round of the Big East Tournament. This was a surprise season for Seton Hall, and will hope to keep it going. Kevin Willard has yet to coach in the NCAA Tournament with his six years in Seton Hall, and it is probable this will finally be his year.