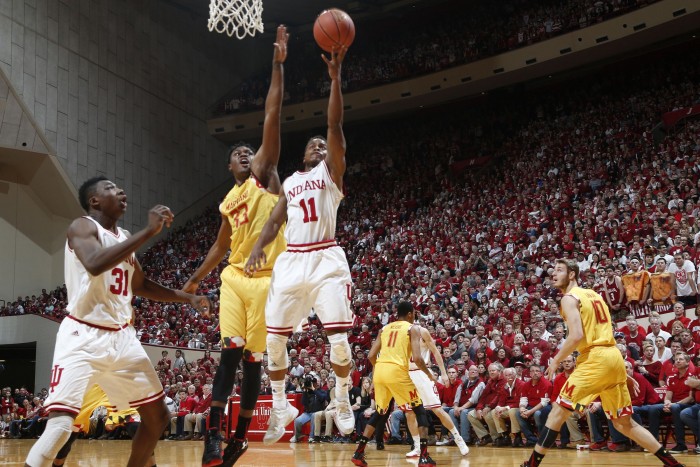 BLOOMINGTON, IN -- Some may have said the Indiana Hoosiers didn't have much to play for against the Maryland Terrapins at Assembly Hall to close out the regular season on Sunday, but this Hoosiers team was determined to end their four-year Senior Day losing streak and they did just that.
The Big Ten regular season title was already wrapped up on Tuesday, but the Hoosiers added to their resume by ending the regular season undefeated at Assembly Hall for the first time since the 1993-94 season, taking down Maryland, 80-62.
Back-And-Forth Start
The Terrapins came out ready to play and jumped on the Hoosiers in the opening segment of the game. It was 12-4 Maryland with 16:09 to play in the first half, but the Hoosiers were then finally able to get things going.
After that hot start from Maryland, Indiana ripped off an 8-0 run to tie things up at 12. The always raucous arena was as loud as it was all afternoon. Following that run by Indiana, both sides traded 6-0 runs and onward we continued.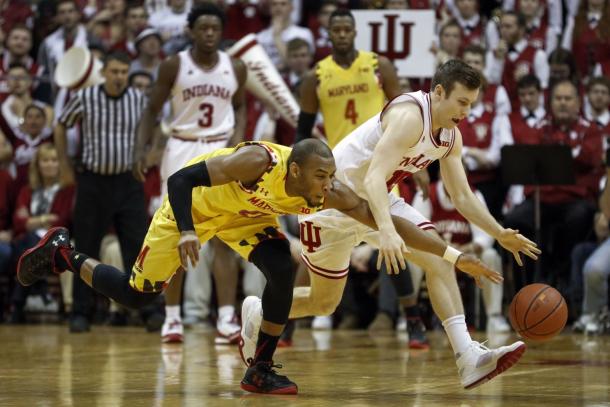 Indiana seemed primed to get things going eventually, as they have all season long at home, but Sunday, it just took a bit longer than usual. After Maryland took a 22-18 lead with 10:45 to play in the first half with a Melo Trimble jumper, things started to take off for the Hoosiers.
Led by a fantastic team effort to end the first half, Indiana went into halftime riding a 23-8 run, which was concluded by a Troy Williams buzzer-beating three pointer which gave the Hoosiers a 41-28 lead and all of the game's momentum.
Hoosiers Keep The Terps Away With Defense?
The Hoosiers rode that momentum from the first half right into the second, as they opened up a 17-point lead and put Maryland in big trouble. Williams was the main catalyst with that initial spurt at the beginning of the second half, scoring the first seven points of the half for Indiana.
"I'm really proud of the way these guys had tremendous focus, because senior night can go in so many directions," said coach Tom Crean.
Maryland tried to creep back in the game on multiple occasions, but could only get the lead down to around nine points, and when Indiana needed to get back on track, they used their defense to do so. This wasn't a team that had a defensive identity early on in the season, but the Hoosiers have made tremendous strides on that end of the floor and it showed against the Terrapins.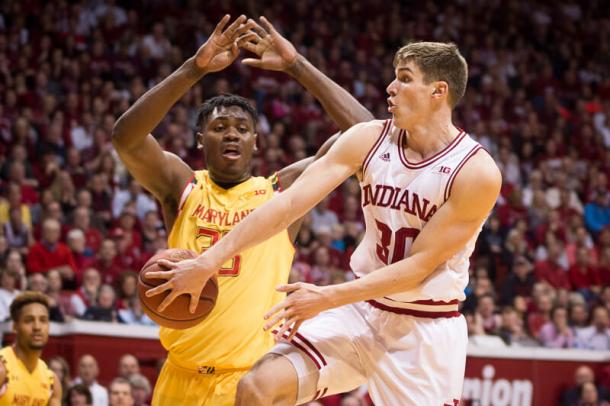 Yogi Ferrell kept Indiana together down the stretch and orchestrated the Hoosiers' success down the home stretch, hitting some clutch free throws. Indiana created 14 turnovers with nine steals to go along with 20 points off of turnovers on the night.
"We played a terrific team today, played a team with a lot of confidence," Maryland head coach Mark Turgeon said. "They just make dynamic plays."
That all boiled down to an 80-62 win for Indiana, led by a team high 23 points by Williams and 17 points from Ferrell in his final game at Assembly Hall.
Yogi Ferrell Goes Out A Winner
"If I could never leave Indiana, I feel like I never would," said Ferrell during his senior speech following the game.
There were four other seniors on this team (Max Bielfeldt, Jackson Tharp, Nick Zeisloft, and Ryan Burton), but any Hoosier fan you ask would most likely say that Ferrell was the one that really went above and beyond for this Hoosiers team in his four years at Indiana.
"I wanted to come back to leave a legacy," Ferrell said. "To be a four-year guy who gave his all to Hoosier Nation."
Ferrell bookended his career with Big Ten championships, became Indiana's all-time leader in assists, amongst a bevy of other honors, but the leader that Yogi Ferrell is and will continue to be is what he will be remembered most for at Indiana.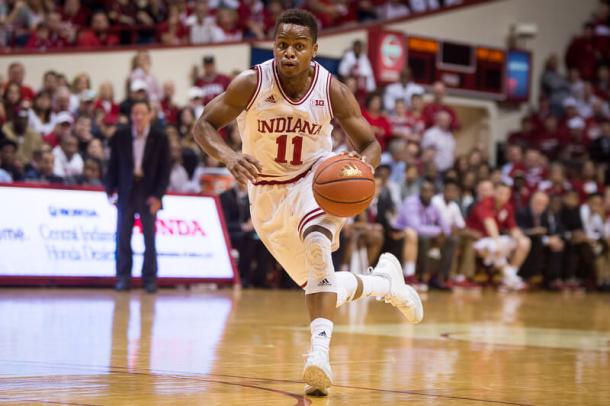 There is still the Big Ten tournament and the NCAA Tournament down the road for Ferrell and this Hoosiers team, and there is no doubt that he and this team want nothing more than to add a sixth banner to Assembly Hall.
"Assembly Hall means a lot, man," Ferrell said. "I feel I gave my all for Assembly Hall."
After the shot to clinch the Big Ten title at Iowa on Tuesday as one of his many signature moments, Ferrell will go down as one of the all-time great Indiana Hoosiers to put on the cream and crimson.
What's Next?
Both teams now will head to Indianapolis later this week for the Big Ten tournament where both teams will begin play on Friday. Exact matchups will be finalized Sunday night.
And there's only one thing left on Troy Williams' and Indiana's mind.
"Can you say Big Ten champs?"