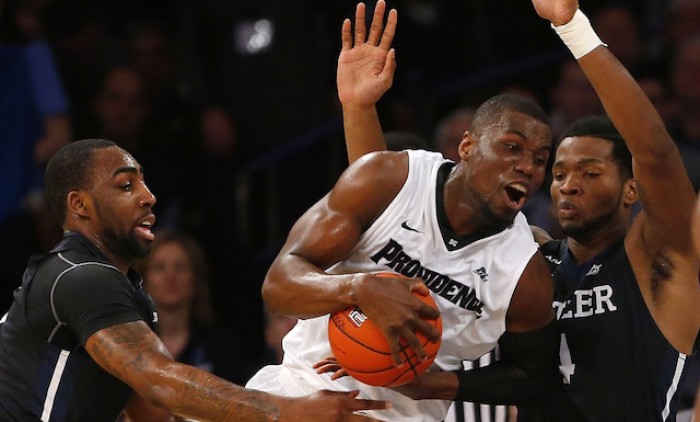 After a dismal end to the season for the Providence Friars, many Providence fans may have forgotten what this team was capable of doing. However, the Friars reminded the nation what they are capable of with their strong performance on Thursday.
The fourth-seeded Friars defeated the fifth-seeded Butler Bulldogs in the quarterfinals of the Big East Conference Tournament Thursday night at Madison Square Garden by a score of 74-60. Providence has dominated Butler all season, defeating the Bulldogs all three times they played them.
Ben Bentil had a sensational night. The projected first round pick dropped 38 points (which ties the Friars' Big East Tournament record), grabbed eight rebounds, and recorded two blocks. Providence also has a projected top five selection in guard Kris Dunn, who added 15 points and seven rebounds in the game. Kellen Dunham led Butler with 17 points.
Friars Duo Too Much For Bulldogs
Bentil and Dunn may have turned themselves into the best duo in college basketball this season, and Thursday was another case in point. Dunn was the Big East Player of the Year, but many believe that Bentil is the most improved player in the nation. After averaging just 6.4 points and 4.9 rebounds last season, he has exploded for 21.2 points and 7.8 rebounds this season. Bentil worked extremely hard during the summer, and focused on improving his three point shot.
The work paid off tonight, as well as all season. After connecting with four three-point field goals during their final regular season game against St. John's, Bentil was hot again on Thursday. The highly touted prospect went 5-9 from deep, accounting for five of his 16 field goals. Bentil finished the night 16-24 overall, 5-9 from deep, and 1-1 from the free throw line. Bentil had some things to say when asked how this years tournament compares to last years.
"I'm more focused this time," Bentil said postgame. "The trust my teammates have in me is great, and they give me the ball at the right spot, so I have to make it."
Bentil sure seems humble, but also grateful to his teammates. After the game ended, Providence head coach Ed Cooley also had some things to say about Bentil's outing.
"I told him in the locker room after the game I was a fan today," the Providence coach stated. "Normally I'm not a fan, but today I was a fan to see the ball go in the net like that. He scored it every imaginable way-- drives, shots, step backs. I'm like, man, I got to get him the ball anyway I can. Kris came in the huddle and said, 'Where do we get him the ball next? Can we throw him the ball here?' I told him 'Kris, I don't know. Just give him the ball, he'll figure it out. That was a great offensive display. I haven't seen that in a long time in our league, and God bless him."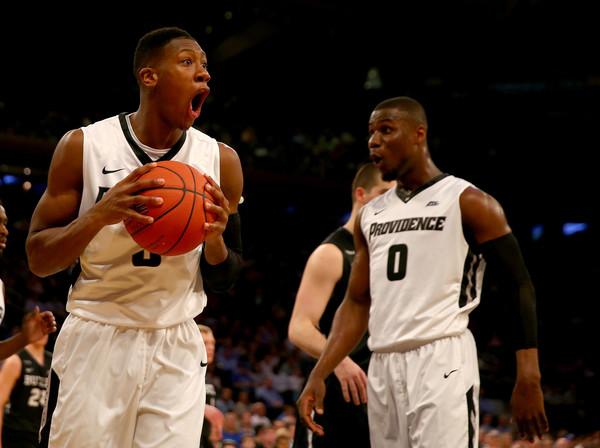 Many of Bentil's looks usually come from Dunn. Though Dunn didn't have his best game in the box score, he contributed, and made sure to create open looks for others. Entering this year, many believed it would be Dunn's team, and the rest would just be role players. Dunn remains a fantastic player, but Bentil has stepped up for the Friars, and it has been leading them to victories. After Dunn was selected Big East Player of the Year, Cooley says that Dunn came up to him asking why Ben didn't receive the award. Quite a thing to do by a guy who came into this year with a lot of pressure on himself.
Providence Used A Strong Second Half To Rally Past Bulldogs
After getting out to an early 11-3 lead, the Friars seemed to be in control of the game. However, Butler kept the game tight and Providence never got their lead to more than 12. After Providence got out to that 12-point advantage at 32-20 with 4:55 left in the half, Providence would go ice cold, and did not score another point for the remainder of the half. Butler took advantage, and closed the half on a 10-0 run. The Bulldogs also got their only lead of the day a minute into the second half after hitting a three and getting another basket, going up 35-32.
Yet, it was Providence from that point on. After Providence led 43-41 with 14:39 left, they outscored Butler 31-19, including a 13-6 run. Providence won the second half battle 42-30. The Friars second half showed they could be a dangerous team in the NCAA Tournament if they play like this.
What's Next For The Friars?
Providence will now face the No. 1 Villanova Wildcats on Friday night. Villanova is 7-1 all time against the Friars in Big East Tournament play, and knocked them out of the Big East Tournament last season as the Philadelphia team cruised to the Big East title. However, Providence beat the Wildcats on the road this season, which is no doubt their best win of the year. As of now, the Friars are a lock for the NCAA Tournament. Providence is now looking at a 6-8 seed, and by winning the tournament, that could potentially turn into a 5 seed. Bentil and Dunn talked about the Friars who split their two games this year with the Wildcats, and was asked on if they have more motivation after being eliminated by Villanova last season.
"I want to say added motivation. They're a good team. Everybody knows that. They're very physical, they're discipline," Dunn said.
"We need to hit shots," Bentil added. "We need to come out with energy, and just get stops, and hit shots."
The way Providence looked today, they seem to be ready for any opponent. The Wildcats and Friars know each other very well, and this will likely by the last time Dunn and Bentil will have the opportunity to get the best of them in their college career. Villanova is surely the favorite for this tournament, as they are ranked third in the AP Poll. Yet, Providence had a great first half of the season, and if they get the same momentum going as they did during that period, Providence will have the opportunity to make a name for themselves with arguably the greatest Friar team in history.