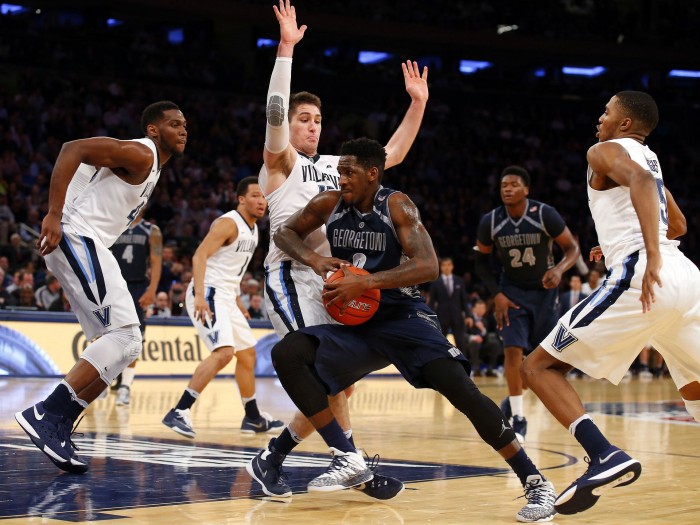 Just a day after the Georgetown Hoyas defeated the DePaul Blue Demons on Wednesday night in the 2016 Big East Conference Tournament, they knew they'd have a very tough matchup facing the defending Big East champion Villanova Wildcats. The Wildcats lived up to those expectations Thursday afternoon.
Villanova came away with an 81-67 win over the Hoyas on Thursday night at Madison Square Garden. Villanova had three players in double-digit scoring. Josh Hart led the team with 25 points, Ryan Arcidiacono finished with 19, and Kris Jenkins scored 15. After heading into halftime only leading by one point, the Wildcats outscored the Hoyas in the second half 53-40. L.J. Peak led the Hoyas off the bench with 18.
Villanova Dominated The Game The Same Way They Have All Season
All season, Villanova has dominated their opponents the same three ways: balanced scoring, transition, and three point shooting. Three players finished with double-digits, while Jalen Brunson finished with nine. Five players average double-digits for the Wildcats this season, including Hart, Jenkins, Arcidiacono, Brunson, and Daniel Ochefu. Ochefu finished the night with no points scored.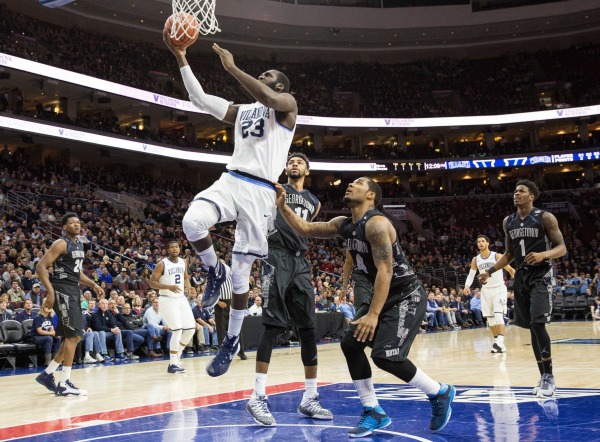 Villanova also dominated in transition. At one point, Villanova was leading Georgetown in points off turnovers 17-0. The transition game is led by their guards in Hart and Arcidiacono. Much of their transition results in treys, which was another result Thursday night. They finished 13-21 from deep, good for 61.9%. Everybody was hitting their threes, including five from Arcidiacono, three from Hart, three from Jenkins, one from Brunson, and one from Phil Booth. Villanova has been deadly from deep all season, as they are averaging 8.6 treys per game. In this game, however, they exploded with 13.
Villanova Survived A Scare
Heading into this game, many believed Villanova would dominate from the tip. Being ranked third on the AP Poll, many projected this game would be a blowout from the beginning. However, that was not the case. Georgetown stuck with Villanova the entire first half, and even led longer than Villanova did. After a late first half three pointer from Jenkins, Villanova led by just one point heading into the half.
Entering the second half, Villanova struggled to pull away from Georgetown once again. Georgetown had a lot of energy, and battled with Villanova for the first ten minutes of the second half. Villanova all of the sudden found themselves on upset watch, and it was really unexpected.
However, Villanova finally picked up their game in the last ten minutes of the second half. After Peak hit a three to put the Hoyas up 47-46 with 10:37 left, the Wildcats went on a 13-1 run, and cruised the rest of the way to victory. It was a bit of a scare for Villanova, but they should be happy they played their best basketball towards the end of the game.
Road Ahead
Georgetown's horrific season came to a close. They will likely miss all major tournaments as they sport a record below .500. We now wait to hear the fate of head coach John Thompson III.
Villanova will face a tough Providence Friars team Friday night at 6:30. Providence defeated the Butler Bulldogs on Wednesday night right after Villanova's game. The Friars defeated Villanova on the road this season in overtime, but Villanova cruised to a victory later in the year at the Dunkin Donuts Center. Villanova remains the favorite for the tournament, but they will be more focused on the NCAA Tournament, as they will likely end up as a No. 1 seed, and potentially a national champion.