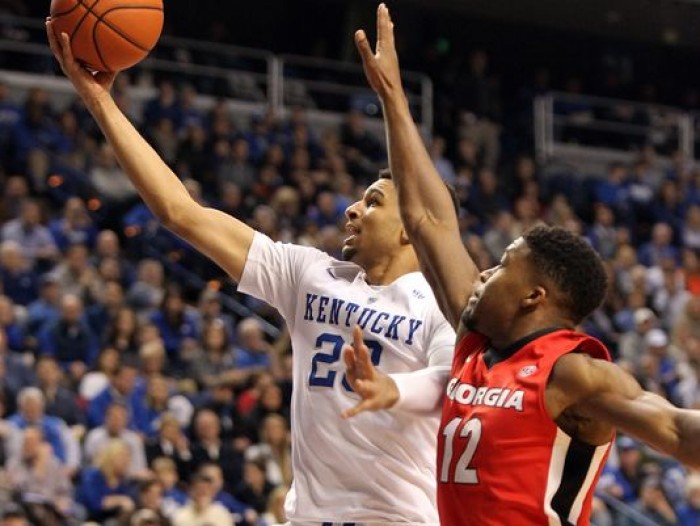 Thanks for joining me for this live coverage of the SEC Tournament semifinals! This is Pat Duerr, signing off!
The Wildcats used a late surge to pull off the win despite foul trouble. Great games from Ulis and Murray helped Kentucky pull off the comeback and set up a rematch with Texas A&M tomorrow.
(2nd Half, 0:08) Frazier puts in a layup to make it 93-80. The Wildcats dribble it out and they pull off the come-from-behind win!
(2nd Half, 0:18) Hawkins drives and puts in a layup to extend the lead to 93-78.
(2nd Half, 0:47) Edwards fouled and misses both then Briscoe gets fouled on the rebound. Briscoe goes 1-2 to make it 91-78.
(2nd Half, 0:55) Ulis fouled and makes it 90-78 with two free throws.
(2nd Half, 1:11) Willis fouled and hits both to make it 88-78.
(2nd Half, 1:14) Ulis fouls Frazier on the 3-point attempt. Hits all three to cut it to 86-78.
(2nd Half, 1:40) Mann hits one free throw to make it 86-75.
(2nd Half, 1:50) Murray drains a step-back three to make it 86-74!
(2nd Half, 2:30) Willis with a strong rebound and fouled to go to the line. Makes it 74-63 at the line.
(2nd Half, 3:23) Maten fouled and hits both to make it 74-81.
(2nd Half, 3:30) Murray with a drive and layup to make it 81-72 and Georgia needs a timeout with the crowd booming right now!
(2nd Half, 4:20) Ulis knocks down a three to make it 79-72!
(2nd Half, 4:30) Maten fouled and goes back to the line where he hits both to make it 76-72.
(2nd Half, 5:00) Briscoe with a gorgeous pass to Lee and a slam underneath! 76-70 now!
(2nd Half, 5:30) Maten fouled on the hook shot and hits 1-2 at the line to make it 74-70.
(2nd Half, 6:00) Briscoe muscles in a layup to make it 74-69!
(2nd Half, 6:24) Poythress calls timeout after diving for a loose ball it it will be Wildcat basketball after the break.
(2nd Half, 6:40) Ulis fouled and hits both at the line to make it 72-69.
(2nd Half, 7:15) Kessler hits a long two to make it 70-69.
(2nd Half, 7:45) Murray hits both to make it a 70-67 lead.
(2nd Half, 7:45) An emphatic block on one and and a one-man fast break by Murray on the other who gets fouled and is going to the line after the break! Cats on top 68-67!
(2nd Half, 8:20) Briscoe put back layup for the lead! 67-68!
(2nd Half, 9:40) Ulis hits three of his own now! 67-66!
(2nd Half, 10:00) Maten hits a three to make it 67-63!
(2nd Half, 10:20) Poythress with a hook shot again! 64-63 now!
(2nd Half, 11:20) Mann with a hook to make it 64-61.
(2nd Half, 11:30) Poythress in the post! 62-61.
(2nd Half, 11:57) Georgia called for the charge and it's going the other way! Kentucky needs all the momentum they can get and they have some going into the under 12 timout.
(2nd Half, 12:00) Briscoe fouled and gets the basket to go! Makes the free throw to make it 62-59.
Frazier returns from the locker room.
(2nd Half, 13:00) Gaines hits both before Kentucky reponds to make it 62-56. Timeout Georgia after a UK trap.
(2nd Half, 13:00) Kessler gets the put-back and a steal by Georgia sends Gaines to the line. 60-54 Cats.
(2nd Half, 13:30) Willis knocks in a three of his own to make it 58-54!
(2nd Half, 15:20) Jackson II banks in a three to make it 58-51!
Frazier heading to the locker room limping badly.
(2nd Half, 15:43) Frazier went down and he looks like he's in a lot of pain. Turned his ankle landing on the foot of Kentucky's Charles Matthews. His status will be updated after the media timeout, now 55-51.
(2nd Half, 16:30) Willis fouled and hits both from the line to make it 53-51.
(2nd Half, 17:30) Ulis knocks down a three to make it 53-49!
(2nd Half, 17:45) Maten makes a contested jumper to make it 53-46.
(2nd Half, 18:20) Poythress works his way inside to make it 51-46.
(2nd Half, 19:20) Frazier gets past Poythress for the layup! 51-44.
(2nd Half, 19:40) Labissiere picks up his third foul.
The second half is almost under way in Nashville!
49 points is the most points allowed in the first half all season long for the Wildcats. They need to step it up on defense and slow down the momentum of the Bulldogs in the second half.
(1st Half, 0:00) Briscoe just misses a put-back layup at the half and the Wildcats go into the hald down 49-44 to the Bulldogs.
(1st Half, 0:20) Frazier fouled and makes one to make it 49-44.
(1st Half, 0:50) Briscoe with a transition bucket to cut the lead to 48-44. Frazier calls timeout.
(1st Half, 1:00) Gaines hits another contested three! Ulis fouled and hits both to make it 48-42.
(1st Half, 1:30) Murray fouled and hits both free throws to make it 45-40.
Kentucky worked their way back into this one but Georgia is just making contested shots. The Wildcats need to make the Goergia players second guess their shot selection and cause them to miss from deep.
(1st Half, 2:00) Jackson II hits a step-back three to make it 45-38 at the final media timeout of the half!
(1st Half, 3:00) Murray responds with a jumper and Maten hits a hook from far out to make it 42-38.
(1st Half, 3:40) Gaines with another three to make it 40-36!
(1st Half, 4:09) Briscoe fouled and hits both to make it 37-36.
(1st Half, 4:50) Gaines knocks down a contested three to make it 37-34.
(1st Half, 5:30) Murray for three! Cats take the lead before the Bulldogs tie it. 34-34.
(1st Half, 6:00) Willis at the line after a foul on the rebound. Hits both to make it 32-31.
(1st Half, 7:00) Frazier hits a quick jumper out of the break. 32-29.
It might be the fact Georgia has played more than Kentucky in the last two days but the Wildcats look energized thanks to this crowd. Murray and Ulis are huge right now for Kentucky.
(1st Half, 7:30) Maten with a nice layup and Murray responds with a fadeaway to make cut it to 30-29 at the TV timeout!
(1st Half, 8:40) Maten with a quick hook shot, then Ulis with a layup and a fast-break steal to make it 28-27!
(1st Half, 9:20) Ulis with the outstretched layup to make it 26-23!
(1st Half, 9:43) Frazier fouled on the 3-point attempt and hits all three to make it 26-21.
(1st Half, 10:00) Willis with the three to cut the lead even more! 23-21!
(1st Half, 10:30) Murray with the post move to make it 23-18.
(1st Half, 11:54) Murray hits 2-3 from the line and makes it 23-15.
Kentucky is letting Georgia get whatever they want in the paint. Their help defensive is invisible and the team looks unmotivated to win this game. Georgia came to play more than the Wildcats for sure.
(1st Half, 11:54) Murray fouled on the 3-point attempt and will go to the line for three free throws after the break. Georgia up 23-14.
(1st Half, 12:40) Maten with a shot inside and makes it 23-14.
(1st Half, 13:40) Edwards goes over Labissiere in the post, then Labissiere responds with his own post move. 19-14.
(1st Half, 14:00) Murray with an emphatic and-1 dunk! Makes it 17-12 with the free throw!
(1st Half, 14:30) Ulis hits 1-2 from the line to make it 17-9 and Frazier makes it 19-9 with a layup.
(1st Half, 15:00) Ulis with a three of his own! Cuts the lead but the Bulldogs respond with a basket and it's 17-8 UGA.
(1st Half, 15:21) Georgia knocks down a three and Kentucky needs a timeout! The Bulldogs are rolling early in Nashville! Up 15-5
Experienced some technical difficulties. Kentucky is down 12-5 early on in the game against Georgia.
With a win today, Kentucky would advance to their sixth SEC Tournament final in the last seven years. The Wildcats have won three of the five they have already reached.
Join me back for live coverage of Kentucky - Georgia, along with updates before the game! We will be back before tip-off.
It's clear Georgia will have to put in every last ditch effort to muster up something to beat the Wildcats. If they want to make the big dance, the Bulldogs have their best shot at a quality win in this one. For Kentucky, it's all about seeding. They want to look impressive to finish the SEC Tournament and get an ideal spot in the bracket come Selection Sunday.
It would be shocking to see Kentucky walk right to the SEC Tournament finals even with how their bracket was set up, but it's a real possibility. Georgia didn't put up a big fight earlier in the season and Kentucky's Nashville crowd is more rowdy than Rupp Arena at times. Kentucky will also be Georgia's third opponent in three days, so some have to think; will this team be tired? They have to go up against a long and athletic team after playing two games in a row. Kentucky's seeding and drawing have worked out very much in their favor. Kentucky would love to say they are the best team in the SEC despite being the #2 seed, but when a road like this works out, who's to complain?
Yante Maten is one of the biggest factors for the Bulldogs in this one as he's Georgia's most athletic big man. Maten has to put together a monster of a game to hold off some of the bigs of Kentucky. With the improved play from Skal Labissiere the Wildcats now have a big man to use against the defense of Georgia. Labissiere's right hook shot has made strides to become what it is now.
Kentucky's Jamal Murray was one of the best players in the country coming out of high school and has transformed into an even better version of himself since arriving at Kentucky. Murray tied Kentucky great Tony Delk for most consecutive games with a 3-pointer after he hit one against Alabama. A three against Georgia would move Murray past Delk. Murray has always an elite shooter who became an even more elite scorer, but after being taught what is the difference between a good and bad shot, the freshmen made considerably large changes to how he played.
What once was a weakness, can now be considered another aspect of Kentucky's game plan. The Wildcats used to have limited scoring options on the floor and the other players were out to perform on defense. Now, Kentucky has the ability to give it to any of the five players to have a legitimate chance at putting the ball in the hoop. Georgia, however, hasn't been so lucky while trying to get rid of their liabilities. Their post play and post defense have still been mediocre and that's not going to get it done against Kentucky. Georgia's big men will need a big game on the glass to counter the athleticism of the Wildcats.
Georgia's J.J. Frazier became the hero in the quarterfinals game against South Carolina as he drew a foul on Sindarius Thornwell with two seconds to go to the line. Frazier hit the first free throw and missed the second and the Bulldogs won after a prayer by South Carolina wasn't answered. Including their ability to close out games, Georgia relies heavily on their guard play. Kentucky had a similar style of play in their first meeting but have since changed their team immensely. Poythress returned, Labissiere is now a factor, and Derek Willis is playing better defense.
Alex Poythress also sat out the first meeting between these two due to a slight knee injury to his non-surgically repaired knee. The senior will pair up with Labissiere in the front court to create a solid post game. Poythress hit 4-5 threes in the quarterfinal match against Alabama after being just 2-16 on the season from deep. The 6'8 post threat for the Wildcats looks to have become even more dangerous.
Georgia's low scoring game against the Gamecocks may be the recipe to success against the Wildcats. Kentucky scores around 80 points per game on the season and have lost every game where they score 70 points or less. In the previous meeting between the two, Kentucky beat Georgia by a large 34-point margin in Lexington. This result is expected to be different since the Bulldogs are fighting for their season. If Georgia can hold them to 70 points they have a chance at pulling off the upset.
Kentucky beat the Alabama Crimson Tide in their quarterfinals match up 59-85 while Georgia beat South Carolina 65-64 to advance. This makes for a more fresh Kentucky team coming into the game as Georgia has played two close games in a row while Kentucky has played in one blowout.
Kentucky against Georgia will immediately follow the first SEC Tournament semifinal. The game takes place in Bridgestone Arena in Nashville, Tennessee.
Welcome to VAVEL's LIVE coverage of the 2016 SEC Tournament between the Kentucky Wildcats and Georgia Bulldogs. I'm Pat Duerr, and I'll be providing minute-to-minute updates, commentary, and results of the semifinals. The game starts at 3:30 pm ET, and there will be coverage pregame, mid-game, and postgame coveage.