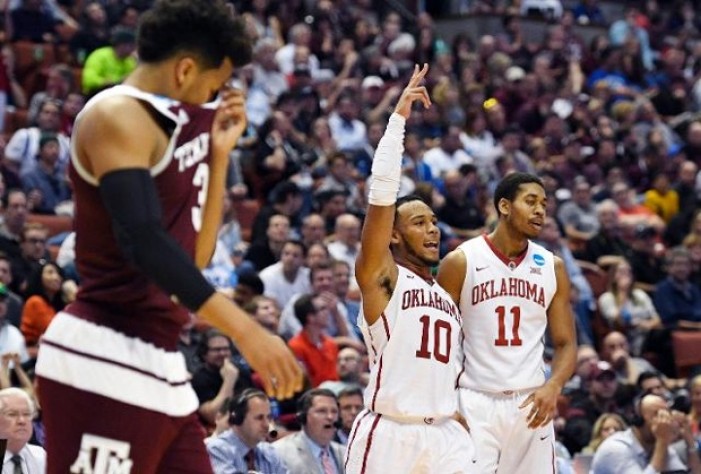 TBS's coverage of Oklahoma's Sweet Sixteen matchup with Texas A&M opened with an amusing clip of Sooners' star guard Buddy Hield getting a haircut at his local College Station barbershop. It might've been an unlucky omen for the effervescent, likeable national player of the year candidate.
After putting on a 36 point clinic against scrappy VCU, would Hield falter like Sampson after shearing his locks on national television? Turns out he was only grooming himself for a date with the Elite Eight as his Sooners knocked off the Aggies in relatively easy fashion, 77-63.
EARLY SUSPENSE, THEN NOT SO MUCH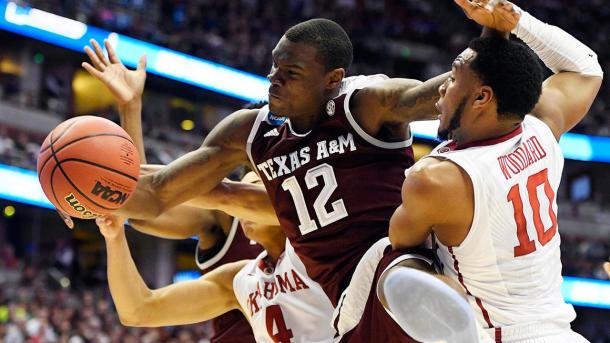 Texas A&M arrived in Anaheim feeling like a team of destiny. They were less than a full week removed from one of the most thrilling wins in school history when they rallied from 12 points down in under a minute to stun Northern Iowa in the Round of 32. The Aggies started the game hot with an early three by D.J. Hogg and dogged defense by senior guard Alex Caruso on Hield, who looked out of sync for half the first half. At the 11:24 minute mark the Aggies had outdueled the Sooners from three, going four-for-eight to Oklahoma's two-for-five.
But Oklahoma played stout perimeter defense, forcing the Aggies to rely on too many long shots, leading to defensive rebounds and easy transition buckets from secondary weapons Jordan Woodard and Khadeem Lattin. Hield soon found his game with a smooth mix of dribble drives and cuts. The Sooners began to control the tempo and their tough, energetic defense forced Texas A&M into 10 turnovers. Oklahoma ended the half with a 21-6 run for a 45-26 lead, and the final outcome was never in doubt the rest of the way.
BUDDY DOES ENOUGH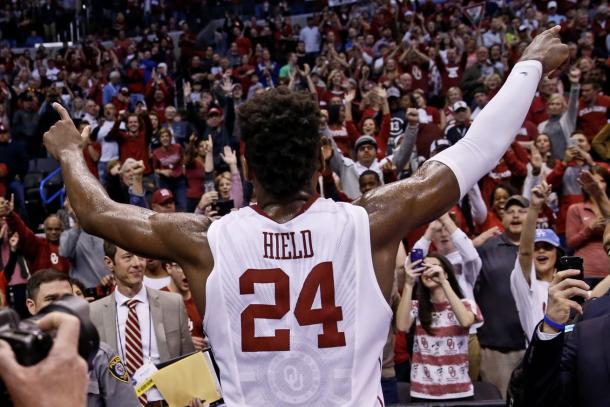 Hield came into the tournament averaging 25.4 points per game. In his last two tournament wins, his average jumped to 31.5 points. He's scored 30 plus points in eleven games this season. Sensibly, Texas A&M's game plan seemed designed to neutralize Hield's heavy hand with rugged man to man defense and stifling double teams. The plan worked through the first ten minutes. Hield looked out of rhythm and his shots had trouble falling. He got it going later, but overall his effort was more savvy than flashy.
While his three pointer wasn't falling (two for seven), he finished the game with 17 points and 10 boards for a double-double, and his defense was tireless and timely (eight of the ten rebounds were defensive). His dagger three in double-coverage ended an Aggies second-half mini-run, sinking the hearts of the defense. He also engineered the most entertaining play of the night when he snagged a rebound, heaved it down court to forward Ryan Spangler who passed it falling out of bounds to Woodward for his fourth three of the night.
Coach Lon Kruger called it Hield's best game of the tournament, praising his ability to react to the flow of the game, not force anything, and get his teammates involved. It was a solid, if unspectacular performance, but fortunately the Sooners didn't need anything more.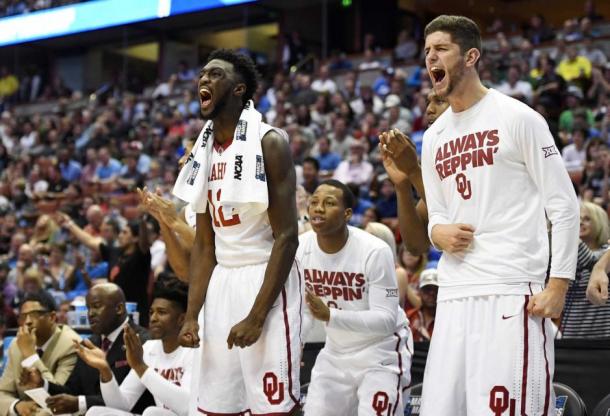 A CO-STAR STEALS THE SPOTLIGHT
While Buddy Hield played an effective, but low-key game, his teammates more than picked up the scoring slack. Junior guard Jordan Woodard unleashed easily his best performance of the tournament, besting his averages from the first two games in the first half alone. Right from the tip, his feed to Lattin scored the first points of the game, and he stayed active throughout with creative assists and deadly shooting, particularly from three.
He ended the first half with an off balance desperation two-pointer as the clock expired, and he made two more three pointers in the second half when Texas A&M tried to narrow the gap. He finished the game with 22 points on 8-11 shooting, going five of six from the three-point line. It's a very good sign for Oklahoma's offense going forward, and a bad one for teams determined to double-team Hield.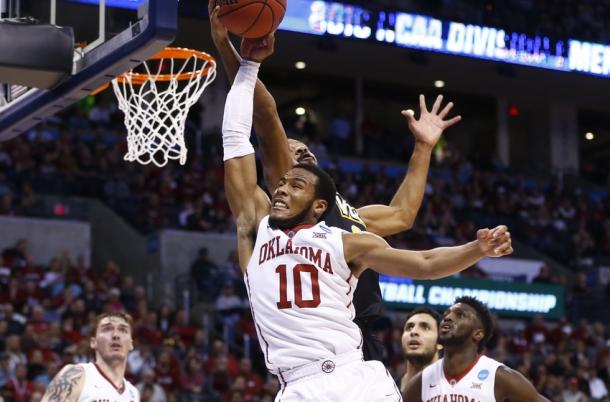 MISSED FREE THROWS CAP AGGIES' BAD NIGHT
It's hard to point to any factor that lost the game for Texas A&M. They simply were beaten by a better team. Coach Billy Kennedy acknowledged as much when he inserted his scrubs at the two-minute mark to raise the white flag. In the first half, the Aggies relied too much on perimeter shooting. They went four-of-eight from three but the long game allowed the Sooners too many defensive rebounds to establish their transition offense. For the second straight game Aggies star Danuel House went AWOL. He emerged in the second half, but it was too little, too late. He finished with 10 points on 4-13 field goals, going a disappointing one for five from three.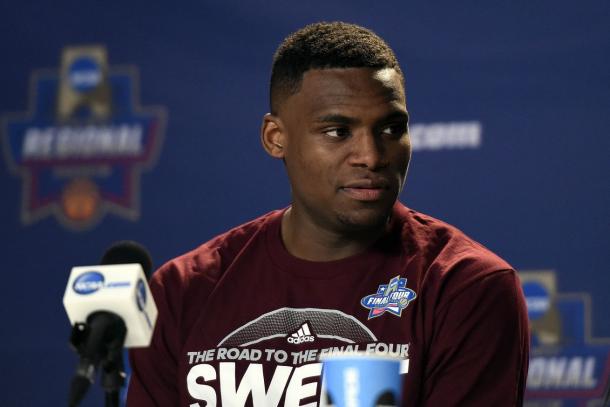 In the second half, the Aggies adjusted their offensive game plan and found some success attacking the rim, muscling the ball under the hoop to husky freshman center Tyler Davis. He finished with 17 tough points but only managed to go three-of-seven from the free throw line. His teammates didn't do much better. Texas A&M only went 13-24 from the charity stripe as a team. That's eleven big points that were sorely needed in a fourteen point losing margin.