 Derryck Thornton has told Scout.com that he is down to four schools as his options for where he is looking to transfer. Thornton left the Duke Blue Devils program after one year and will have to sit out a year before being able to play his final two seasons. His final four schools are fellow blueblood school the Kansas Jayhawks, Duke's ACC rival, the Miami Hurricanes, and two Pac-12 schools, the Washington Huskies and USC Trojans.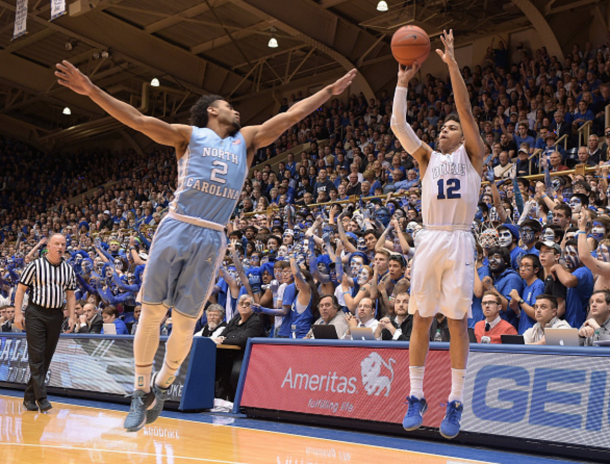 A Breakdown Of Thornton's Final Four
Kansas: The 6'2'' point guard likes Kansas because of head coach Bill Self and their great tradition. His relationship with assistant head coach Kurtis Townsend as well as being a national powerhouse are reasons why he's interested in the Jayhawks
Miami: Thornton enjoys their style of play and loves head coach Jim Larranaga and his staff. Also, their history with transfer point guards could be a major factor in him heading there. Larranaga has done well with transfer point guards with Shane Larkin and Angel Rodriguez as their most recent transfers that have done extremely well.
USC: Coaching staff and playing style are reasons why Thornton is interested in USC. Assistant coach Tony Bland is a close family friend of Thornton's, and USC is only an hour away from Thornton's hometown of Chatsworth, so it would be a true homecoming for the California native.
Washington: The freedom that head coach Lorenzo Romar gives his point guards plays a factor into Thornton's interest. That freedom is the reason Thornton believes why Romar sends out a lot of point guards into the NBA. He's very fond of Romar as a person as the Washington head coach has been recruiting him since the ninth grade.
If Thornton's main goal is to contend for a National Championship, then Kansas seems to be the right fit for him. Should he go to Miami, he'd get a chance to play the Blue Devils twice, potentially three times a season. USC would be the closest to his home while Washington offers the most freedom for his game potentially, a shot to go to the NBA.