Louisville Cardinal fans hate the Kentucky Wildcats more than anyone else. But Saturday proved that the Duke Blue Devils are the second most hated team by Cardinals. The two ACC blue bloods met in the KFC Yum! Center for a top 15 matchup that had huge standings implications.
It was a back and forth affair that saw the Cardinals pull away late for the victory but here's three things we learned about Louisville's victory.
Anas Mahmoud continues dominate play
Of course not having Amile Jefferson allowed Mahmoud to play really well but he did fantastic against the likes of Harry Giles and Chase Jeter. The Egyptian finished with 17 points, 11 rebounds and shot 5-7 from the free throw line. In pick-and-roll situations, the Blue Devils couldn't stop him slashing towards the basket as he got easy looks. He also played great defense with two steals in forcing Duke to only shooting 47 shots from the field.
If Mahmoud is able to continue his dominant play in the post, that makes Louisville so much more dangerous in the ACC considering every night will be tough for a victory.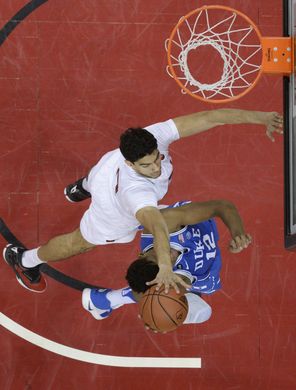 Louisville's defense continues to impress
Coming into the game, everyone already knew that Louisville's defense was the strength of their team. They were able to force 18 turnovers and Grayson Allen had six turnovers himself alone in 36 minutes of play. Quentin Snider led the Cardinals with three steals and helped force Luke Kennard and Allen to combine for 12-21 from the field.
When you hold Duke to only five made three's in the game, that's pretty impressive. The Blue Devils were trying to drive in the paint early but didn't have much success. Louisville also had 13 points off turnovers and held Duke to just 26 paint points. The Cardinals also held the Blue Devils to eight total assists, forcing them to try to win one-on-one all afternoon.
It's hard to not be impressed with Louisville's schedule now
The Cardinals now hold wins over Kentucky, Duke and the Indiana Hoosiers. Does anyone else hold a better three win combination? Also the Indiana win looks unimpressive by the day as they continue to slide.
Louisville, though. still has to play the likes of the North Carolina Tar Heels, Notre Dame Fighting Irish, Virginia Cavaliers, Syracuse Orange, Virginia Tech Hookies, Florida State Seminoles and the Clemson Tigers on their schedule.
There will be no given wins any night and a top 10 victory like Duke is a great way to get momentum for the second half of the season as March Madness is only two months away. Louisville has some great non-conference wins but need to ride on the momentum of this game in order to compete for a high seed in the ACC tournament.
Louisville returns to action on January 19 where they will host the Clemson Tigers. Then they go to face off against the Pitt Panthers before going to Florida State. This is the second win in a row for Louisville at home against Duke and looked great defensively while Anas Mahmoud shined.