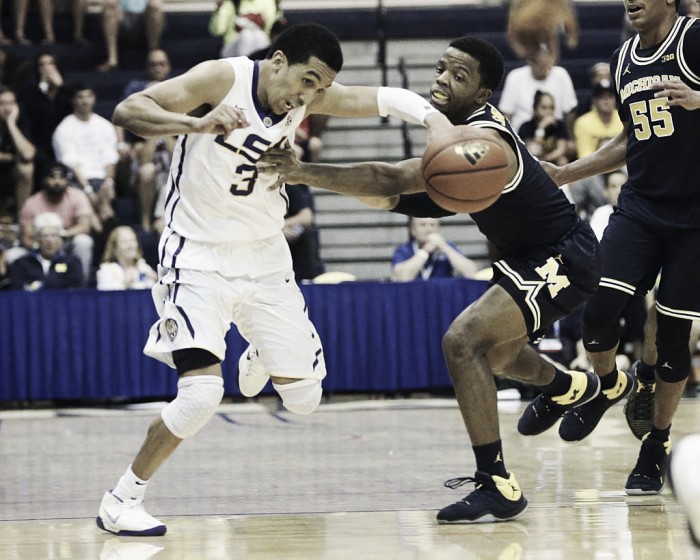 The LSU Tigers rallied from a nine-point deficit with 5:11 to play to stun the Michigan Wolverines 77-75 in the quarterfinals of the Maui Jim Maui Invitational.
Tremont Waters led the Tigers with 21 points, including an assist on what proved to be the game-winning basket, a dunk by Skylar Mays. Charles Matthews was the high man for the Wolverines with 28 points while Moritz Wagner chipped in with 24.
LSU faces 13th-ranked Notre Dame in the semifinals while Michigan will play host Chaminade in the consolation bracket.
Game of runs after close first half
In a matchup of two teams looking to rebuild, LSU led for virtually the entire first half, but never by more than six points. The Tigers led 31-29 at halftime thanks to Mays' finger roll.
Wade's team built the lead back up to seven points again at 49-42 with 12:15 to play despite outstanding play from both Matthews and Moritz. They combined for 19 of Michigan's first 21 points of the second half to trim the Wolverines' deficit to 53-50 with 9:50 left.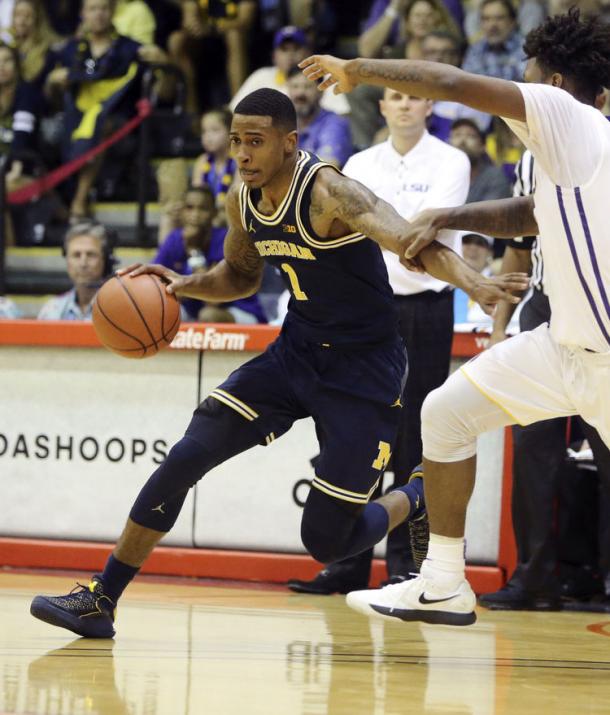 Then, Muhammad-Ali Abdur Rakhman connected for a basket and Duncan Robinson and Wagner buried 3-pointers on back-to-back trips down the floor to cap a 10-0 run for a 58-53 lead. At that point, the five-point deficit was the largest of the season for LSU.
Matthews' two free throws made it 68-59 at the 5:11 mark. At that point, Matthews (18), Wagner (12) and Abdur-Rahkman (six) had combined for 36 of their team's 39 second-half points.
Waters takes over the game in the second half
But Waters, who scored 16 of his 21 points in the second half, took over. He sandwiched a three-point play and a 3-point shot around a block by Mays to get LSU back in it, sparking a 17-6 run that gave the Tigers a 76-74 advantage with 1:14 to play.
Waters, who had four of LSU's 11 turnovers in the first half and five in the game, ignited the decisive run with his six points in 34 seconds. Epps added five points and Wayde Sims had his only basket of the game on a Waters assist — pulling the Tigers to within two at 74-72.
Waters hit a step-back basket to tie it with 1:33 left, then stole the ball from Brooks at midcourt and fed Mays for a thunderous dunk that put LSU on top for good.
Matthews tipped his hat to Waters: "He's a great player, great team," he said. "Felt like we had great defensive execution, so I give credit to them, but I feel like we did a good job."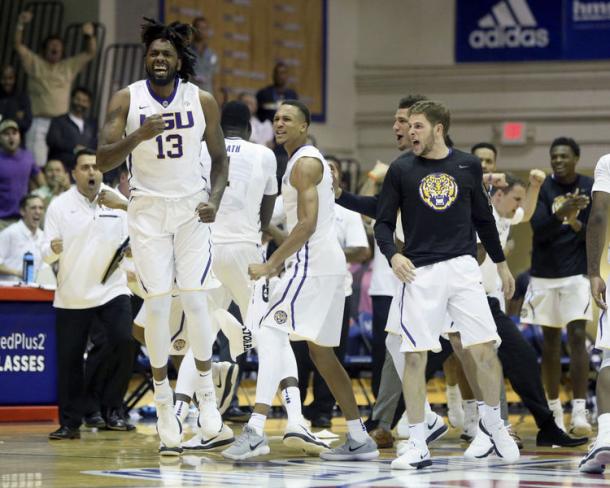 Excellent defense propels LSU down the stretch
Brandon Rachal stripped Matthews 20 seconds later and Epps came up with the loose ball for another defensive stop that was instrumental in the victory as LSU outscored Michigan 18-7 down the stretch.
In doing so, the Tigers held the Wolverines without a field goal for the final 3:16. Michigan shot 45.8 percent from the floor, with Matthews and Wagner hitting 19 of 31, while the rest of the team was 8 of 28.
While LSU shot 58.7 percent, the defense came up big at the right time. "That last defensive play, Skylar didn't foul him," Waters said. "He put his hands straight up, and that led to a contested three at the end of the game and pretty much closed it out."
Wade praises his team's effort
First-year LSU coach Will Wade was proud of how his team responded after leading for most of the game and then bouncing back: "Obviously, you could tell by the way we reacted, that was a huge win for us … huge," he said."I'm so proud of our players. We turned the page on our program tonight."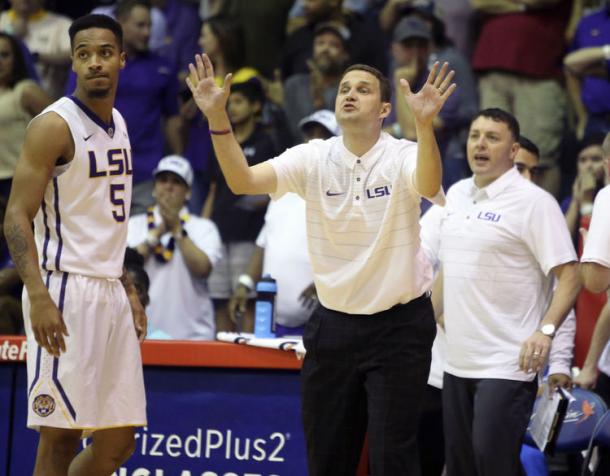 "We got down in the second half," he continued. "In the past we'd let that thing swell up and we'd have lost by 20. But we came back and gritted it out and found a way to win."