 J.P. Macura scored 15 of his 19 points in the first half as No. 21 Xavier sent No. 16 Baylor to its first loss of the season, 76-63 on Tuesday night. Kaiser Gates also had 19 for the Muskeeters (6-1), who recovered from their loss to Arizona State last week.
Terry Maston led the Bears with 15 points, all in the first half. Manu Lecomte, averaging 19 points per game heading into the contest, went 4 of 13 from the field and was held to just 11 points.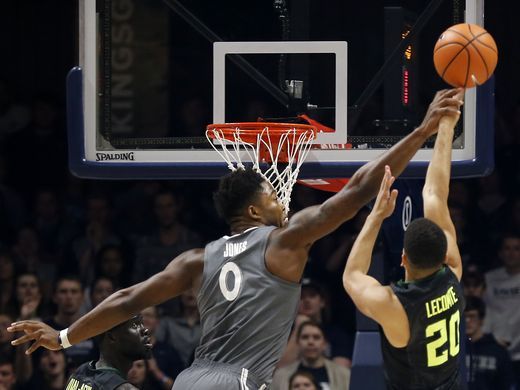 Defense sharp for Xavier throughout
After giving 102 points in the loss to the Sun Devils in Las Vegas last Friday, the Musketeers clamped down, outrebounding Baylor 38-28 while holding them to 1 of 8 shooting to start the game, eventually taking a 21-8 lead.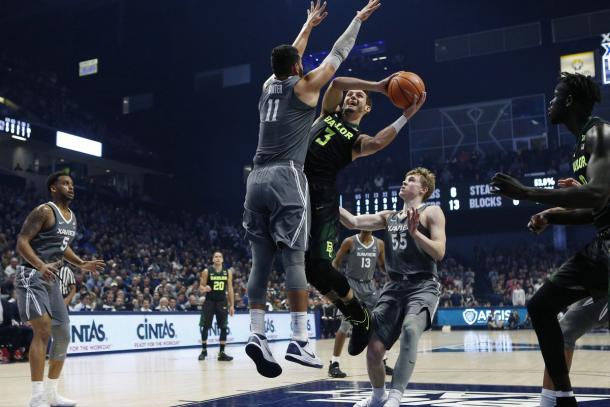 "All we did in practice when we got back was defense," said Xavier point guard Quentin Goodin."I thought we played with a lot of pride on defense and it showed. We knew what we had to do to prepare for this game. Toughness was a huge part of this game."
Gates agreed. "We played really tough, played together, played great defense. It could have been better at times, but I think we take away a lot of good things from this game."
Poor shooting night compounded by injury to Maston
Baylor shot just 42.9 percent, including 5 of 16 from beyond the arc. Despite this, the Bears came out hot in the second half as Lecomte nailed a 3-pointer and Nuni Omot got inside for a pair of buckets to cut Xavier's lead to 45-43.
Xavier answered with a 12-0 run to open up a 57-43 lead with 11:41 remaining. Macura opened the stretch with a drive to the basket followed by Naji Marshall's basket and four straight free throws.
Macura then stole the ball and passed to Quentin Goodin for a layup. Goodin found Sean O'Mara for another layup to complete the run. To make matters worse, Maston may have broken his hand.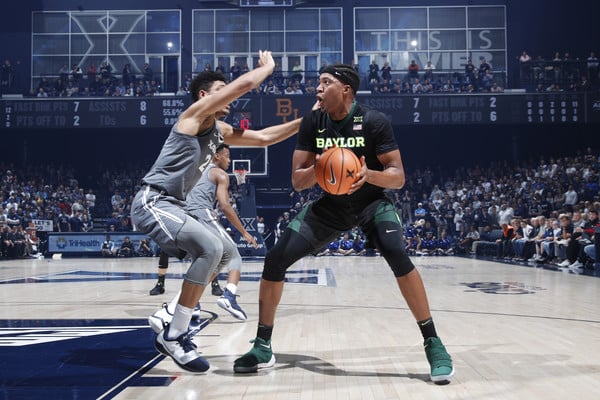 "We'll have to find out if T.J. (Maston) broke his hand or not," said Bears coach Scott Drew after the game."It's one thing to lose a game, but you don't want to lose players, especially when you only have eight scholarship players."
Baylor keeps pushing, Xavier pulls away late
With Maston out of the game, Mark Vital provided the Bears with a boost off the bench as he scored on a putback, hit a pair of free throws and got loose for a slam. With Lecomte's layup, the Bears cut the lead to 59-51. Baylor kept pushing as Lecomte drained a 3-pointer and Vital got loose for a layup to trim Xavier's lead to 61-56 with 7:32 remaining.
Baylor still had a chance when McClure scored on a drive to cut Xavier's lead to 67-61, but Goodin hit a pair of free throws with 2:58 remaining. After McClure failed to finish off a drive to the basket and Omot missed a 3-pointer, Gates nailed a triple to extend Xavier's lead to 72-61 with 1:28 remaining.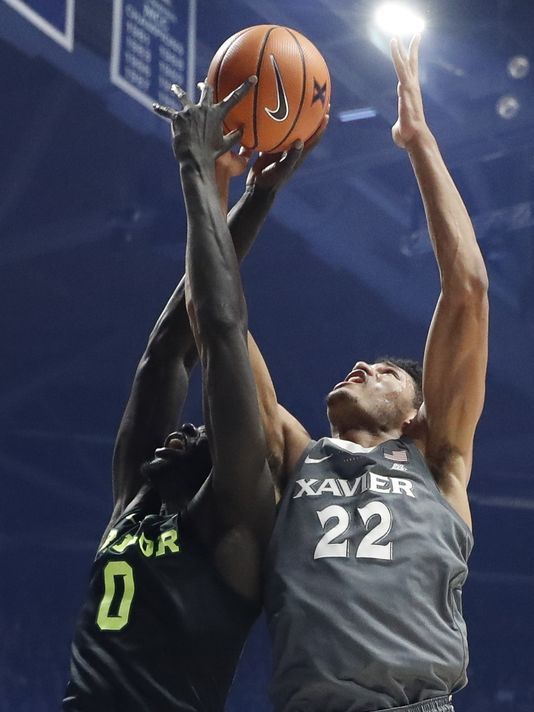 Drew feels the experience will help his team going forward: "The great thing is that playing Xavier will help us down the road," he said."Playing games like this early in the year, you know how tough you have to be mentally and physically on the road. They did a great job being physical and rebounding."
"They have a lot of good shooters and we did a bad job at finding them in transition," Lecomte stated."We tried to come back but it was just a bad night for us."
Mack praises team's effort following the game
After running their non-conference home winning streak to 34, Xavier coach Chris Mack said "that was a great win for our program."
"Man, Baylor's good," Mack said. "Ever since coach (Scott) Drew got there, he's turned those guys into a national power, a team that is always going to compete in the Big 12. Tremendous size, great composure with their point guard. It was a hard-earned victory.
"As I told my team, going through it was tough but I'm glad we won in the manner that we did, and that is you go ahead and go up 12 or 13 and it gets all the way down to three or four. Good teams are able to overcome adversity and not let a few missed possessions on offense – turnovers, missed shots – affect your defense to the point where you cave. We did that against Arizona State.
"Easier to do in your own building, but hopefully it's a lesson learned for our guys... Really happy for our team. We know what's up next but we're going to enjoy this one and get back to work in the next day or so."
Both teams face stiff challenges on Saturday as Baylor heads home to face eighth-ranked Wichita State while Xavier meets fierce rival Cincinnati.