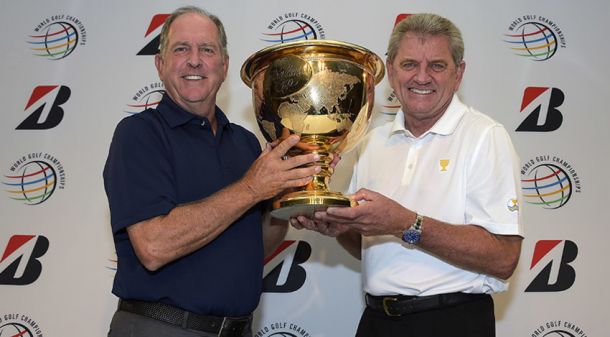 For the first time ever, the Presidents Cup will take place in Asia as 24 players head to South Korea. After being held at the Jack Nicklaus designed Muirfield Village two years ago, the players will play at the Jack Nicklaus designed Jack Nicklaus Golf Club Korea. Jack Nicklaus was also the captain of the United States team four times and was one of the people pushing for this event to be created, so it's safe to say the Golden Bear is vital to the history of this event.
History:
This has been a one sided affair. The United States is 8-1-1 in the Presidents Cup. By all rights, they should be 9-1, but with darkness setting in South Africa and the event tied, Nicklaus agreed to share the Cup with Gary Player and the International Team back in 2003. The US has won five straight, and all five have been relative blowouts. Two years ago, the United States won by a score of 18.5-15.5.
The Teams:
Team USA:
After being lead by Fred Couples for three straight victories, the United States turns to Jay Haas, who gets his first shot at captaining a team. He played on two International Cup teams, including that tie in 2003. For Haas, it's all about keeping the momentum. Team USA has dominated this event, so the team has to be entering feeling like the favorites to win.
Rickie Fowler: Rookie
Bill Haas: 3-5-2
J.B. Holmes: Rookie
Dustin Johnson: 1-3-1
Zach Johnson: 7-6-0
Chris Kirk: Rookie
Matt Kuchar: 4-5-1
Phil Mickelson: 20-16-11
Patrick Reed: Rookie
Jordan Spieth: 2-2-0
Jimmy Walker: Rookie
Bubba Watson: 3-2-0
Haas had to make a substitution late as Jim Furyk was forced out with an injury and was replaced by J.B. Holmes. The team has five rookies on the team, but that is not a fair representation of their experience, as all but Chris Kirk have played on a Ryder Cup team in the past. The controversial pick was Phil Mickelson, who has struggled this season. Haas picked Lefty based on his past experience and his leadership abilities. With Furyk off the team, Mickelson is the oldest player on the team. Haas also selected his son, Bill, as the other captain's pick. Bill finished 11th in the standings.
Keys To Victory:
Team USA is going to have the much stronger team on paper, so all they have to do is play their game. That is easier said than done, especially in a team setting such as this. Jordan Spieth is the best player on the team, and he will need a winning record in order to inspire this team. Players such as Chris Kirk and Jimmy Walker enter not playing their best golf. Team USA will hope that these players do not sink the team, and that they will be called upon to win some points when crunch time occurs.
Team Internationals:
Nick Price picks up the captain's hat for the second time in a row. He seemed to do his best to inspire players two years ago, but they were the far inferior team playing in hostile territory. Still, the excuse of being the inferior team can no longer work. The International players will never have the skills as the American players, but they need to find a way to work together, much as the Europeans do in the Ryder Cup, if they hope to put an end to domination in this contest.
Sangmoon Bae: Rookie
Steven Bowditch: Rookie
Jason Day: 4-4-2
Brendan Grace: 0-4-0
Thongchai Jaidee: Rookie
Anirban Lahiri: Rookie
Danny Lee: Rookie
Marc Leishman: 2-2-0
Hideki Matsuyama: 1-3-1
Louis Oosthuizen: 1-3-1
Charl Schwartzel: 5-4-1
Adam Scott: 12-15-3
With the likes of Ernie Els and Angel Cabrera unable to make the team, the Internationals enter with a ton of new blood. This may be either an advantage or a disadvantage. The new players may either be overwhelmed by the experience, or they may not be burdened by the history of losses that the Internationals have suffered over the years. Price selected Sangmoon Bae and Steven Bowditch for the team. Bowditch finished 11th in the standings, so his selection was a given. Price was looking for a Korean player to play in front of his home country, and he went with Bae. This will be Bae's last event before reporting for military service.
Keys To Victory:
The Presidents Cup is being played in front of an Asian crowd for the first time ever, and therefore the Asian players are going to have to step up on their home turf. Bae will remain in Korea following the event in order to serve his mandatory military service time, and nothing would be better than to have a Presidents Cup victory be his final memory before his break. Hideki Matsuyama has two great years behind him since his first Presidents Cup, and he is far more experienced on the international stage, and he should step up big. It is strange that Jaidee, at 45 years old, is a rookie, but it's true. This may be his one chance to prove himself at this setting, so he will need a big week. The best player on the team is Jason Day, and he has proven he can go toe to toe with any of the American players, so Captain Price shouldn't have to worry about him. Adam Scott has had a rough year, but he just needs to play well enough not to sink his team.
Prediction:
On paper, Team USA should once again dominate this event. After all, they far trump the Internationals in wins, majors, and World Golf Ranking, and they are coming in after winning five of these in a row. They have all the confidence in the world, and they must feel as if they have this in the bag.
In the words of Lee Corso: "Not so fast, my friend."
Two years ago, the deck was completely stacked against the Internationals. They were playing a far superior team on US soil in bad conditions with an incredibly experience captain running the ship for Team USA. Despite all of this, the Internationals managed to get within three points. The event should have been a much bigger blow out than it was despite all the things going in Team USA's favor two years ago.
This year, we're in Korea, a place many of the American players are unfamiliar with. They enter with a worse team than two years ago, going up against a better International team, with a brand new coach behind the ropes for Team USA. Team International also has a trump card – vice-captain KJ Choi, who is beloved in his home country of Korea, and who will fire up the crowd.
More than that, the Internationals need to win this event, and the PGA Tour understands that. If Team USA runs away with this again, no one will care about the event. That is why the PGA Tour decided to lower the needed point total to allow for weaker members of the team to sit out during team sessions. That means, if Adam Scott continues to play badly, he can be benched, which is different than it was the years prior.
All of this leads to an upset, and one that will have lasting effects on both the Presidents and Ryder Cups. For the Presidents Cup, it will get people to actually care about the event and make it relevant. For the Ryder Cup, it will get the United States finally panicked into making some real changes.
Final Margin: Team Internationals 16-14