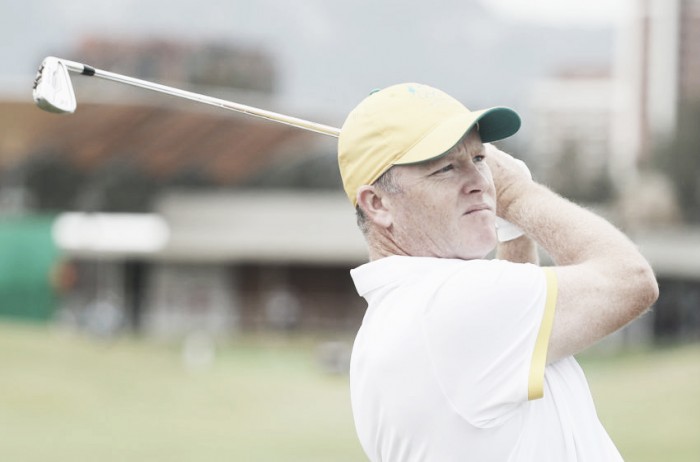 Halfway through the first Olympic golf tournament since 1904, Marcus Frasier is still somehow leading the field, holding a narrow one-shot advantage after a solid 2-under 69 on Friday morning. He holds a one shot lead over Thomas Pieters of Belgium. Although Frasier's performance Friday wasn't as good as his 8-under performance on Thursday, he made use of four birdies and just two bogeys over the course of his 18 holes to hold off Pieters, who put in an excellent round of 66 at the Olympic golf course.
The Belgian golfer was spectacular in moving up from fourth place to second place. He set the pace for his round with three birdies on the first three holes to set himself up very nicely to move up the leaderboard. He parred the rest of the front nine and birdied four holes in the back nine, although he did bogey two holes.
Despite the bogeys, Pieters still moved up to second place. Sweden's Henrik Stenson posted a 68 on Friday, closing within two shots of Frasier, but the Swede did drop to third place. Frenchman Gregory Bourdy as well as Britain's Justin Rose stayed within four shots of the lead, each player matching Frasier's 69. After an ugly 72 on Day 1, Australian Danny Lee moved into the Top 10 with Friday's low score of 65.
Frasier stays in first, but Pieters closes the gap
After an amazing first round, Frasier was solid again on Friday, but he did miss a few chances to post an even lower number than his 69. His first nine was bogey-free and included two birdies, but the Australian missed chances to birdie on Holes 1, 4, 6, and 9. He reached the green but shorted his putts for birdie on each of those holes, settling for par tap-ins that were less than two feet in distance each. He put himself in position to birdie several more holes than the two he accumulated, but he overshot birdie putts on three more holes on the back nine.
Meanwhile, Pieters wasted very few opportunities in the second round, setting the tone for his second set of eighteen holes by sinking an 18-foot putt on Hole 1 for birdie. He nearly eagled Hole 2 after a 204 yard drive on his second shot, but the ball rolled to a stop just a foot shy of the hole. He bogeyed twice on the back nine but compensated it with four birdies to finish with a 5-under.
Stenson uses remarkable save on Hole 3 to spark second round 68
After birdies on his first two holes, Stenson came close to throwing away his excellent effort with a nearly disastrous third hole. After his first drive went into the water, resulting in a penalty stroke, Stenson was looking at the possibility or triple bogey. However, an excellent drive onto the green that traveled 240 yards set up Stenson 36 yards outside the hole. However, it still looked like Stenson would bogey the hole. However, in one of the most remarkable putts of the day, Stenson drained his putt for par to save the hole. He would go onto bogey three holes on the day, but he birdied a total of six for a 3-under 68.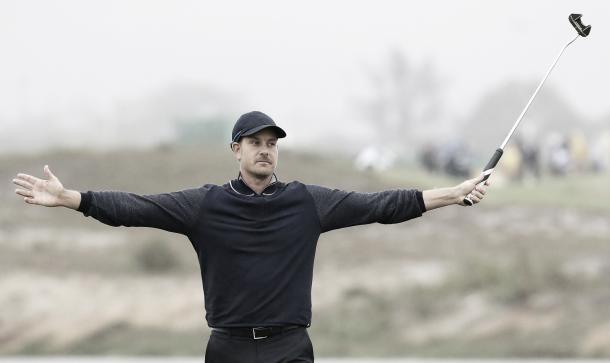 Danny Lee posts lowest score of the day
Needing a good score to balance out his disappointing 72 from Day 1, Lee cruised through his second round of golf in Rio. His front nine was unremarkable, as he birdied three holes but bogeyed two. However, in a spectacular effort on the back nine, Lee birdied five holes in a bogey-free back nine, including four straight birdies to end his day and catapult himself back into the race for gold.
Team USA looks better, not great
Team USA got better on Day 2, as three of their four golfers enter the second half of the tournament with below-par scores. Bubba Watson was the top American on the day with a 4-under 67, but he remains eight shots out of the lead. Matt Kuchar is one shot better than Watson, seven out of the lead, after two below-par rounds of 69 (Thursday) and 70. Patrick Reed jumped up 12 spots with his 69, a day after he posted an ugly mark of 72. He sits at a 1-under 141. Expected to be the best of the bunch, Rickie Fowler continues to disappoint, although his par performance of 71 on Friday was improved from his horrendous 75 on Thursday. He will need a miracle to boost himself into medal contention, as he currently sits twelve shots out of third place, and fourteen out of the gold medal slot.
Round three will be played on Saturday.