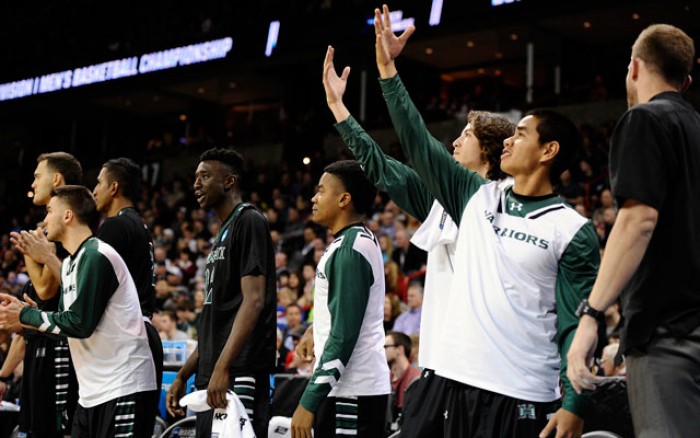 The hula will keep going for a little longer.
The Hawaii Rainbow Warriors, the 13 seed in the West Region, upset the 4th seeded California Bears by a score of 77-66.
"What a moment." Hawaii coach Eran Ganot said after the victory. "Just in a year of moments these guys just find a way to provide us with more. And when I say us, that's our locker room, our administration is here, athletic department, University of Hawaii, the great school we represent and the great state."
Hawaii, by virtue of winning the Big West Championship, are playing in the NCAA Tournament for the first time in 14 years. This win is Hawaii's first ever in the "big dance".
Cal entered the game without leading scorer Tyrone Wallace, who suffered a hand injury in practice, as well as Jabari Bird, who was sidelined with back spasms. As the game became more physical the fouls began to add up, freshman star player Jaylen Brown found himself on the bench for long periods of the game. Eventually, Hawaii's strong, physical defense coupled with Cal's lack of premium scorers caught up with the Bears.
"Obviously, we knew this game was going to be tough and gritty and just very proud of our team's defensive effort. Particularly staying away from, at least in the second half, not as many, getting them off the free-throw line." Ganot said.
Hawaii didn't need a big game from beyond the three point line. They shot just 3 for 14 from beyond the arc. This is not new for Hawaii - averaged just 33 percent from three point range for the season. It's been Hawaii's tough defense that got them to 28-5 on the season.
Hawaii lead most of the game. They had a nine point lead at the half, and while Cal came close several times in the second half, they were never able to go on a run that top teams typically do when they are trailing. The Warriors were lead in scoring by Quincy Smith, who had 21 points on 7 of 9 shooting. Roderick Bobbit had 17. The Warriors were able to close out the game at the foul line - they made 20 of 25 free throws throughout the game.
Hawaii got a big boost by playing in Spokane. Many Hawaii fans traveled to the game, which gave the team a boost of energy throughout the game.
"Hawaii fans, they travel really well." Smith said at the press conference after the game. "It's great. They bring a lot of energy, they get the chants going, they call our names and pump us up. It was fun."
Next Up For The Warriors: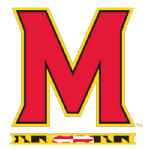 (source: University of Maryland)
Hawaii will play the fifth seeded Maryland Terrapins on Sunday. Maryland defeated South Dakota St. by a score of 79-74. Maryland, out of the Big Ten, is 25-8 on the season.