Christmas has come early for basketball fans with the Kentucky Wildcats and Louisville Cardinals meeting set to provide a heated battle during this cold December.
Polar Opposites
The difference between these two doesn't stop at the history of the programs, but it gets even deeper when you look at the differences between these current teams.
Rick Pitino makes it a point to focus on defense, and the Cardinals are a superb defensive team. They give up just 59.4 points per game, so Pitino's ideas of putting in effort on defense pays off.
Kentucky on the other hand, gives up 71.6 points per game. This renders the Wildcats' defense useless, as they spend the game trying to outscore the opposing team, which they do very well averaging 95.2 points a game.
This will be a game of great defense versus great offense. Louisville likes to keep games below 80 points while Kentucky likes to soar and score 100.
Star Power
Both Kentucky and Louisville's leading scorers are their shooting guards, Malik Monk for the Wildcats and Donovan Mitchell for the Cards.
Monk averages 21.9 points a game and is coming off a 47-point performance against North Carolina in Las Vegas. His presence and ability to shoot the ball will help break the zone defense Louisville is likely to play.
Mitchell is improved from his role last year and averages 11.7 points per game for the Cards. The sophomore has only hit 29% of his deep shots, but his ability to knock down shots will be an asset against a weak Kentucky defense.
Mitchell is just a piece to this Louisville offense, he's not a go-to man. The Cards haven't figured out who that person is because they have a mix of great scoring talent.
Kentucky relies on Monk to either score the basketball when he's open, or distract a defense enough to get another player open. This freshman is the focal point of the Wildcats, and stopping him won't be easy.
Guards vs. Bigs
Kentucky is a guard-oriented team with their back court of De'Aaron Fox, Isaiah Briscoe and Monk. There is never a time where all three are off the court, as the ball tends to stay in their hands.
The Wildcats use these three players in all sorts of line-ups, some guard heavy, and others with two big men. Against Louisville, expect a small group at times involving either Dominique Hawkins or Mychal Mulder for Kentucky.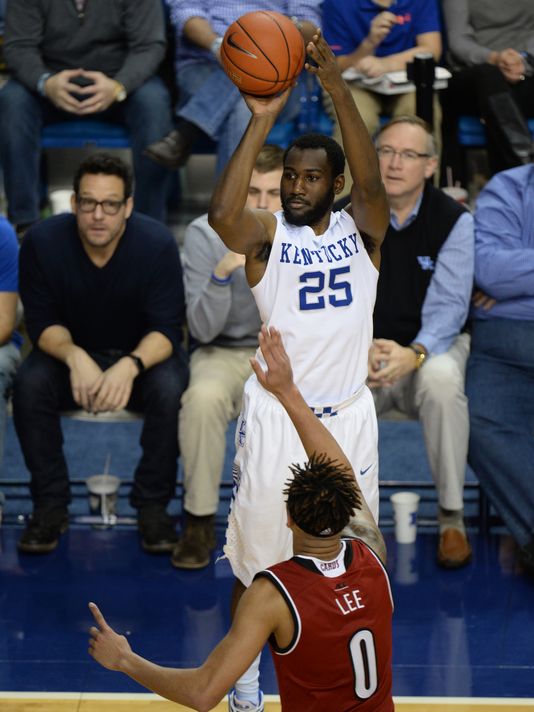 Louisville, on the other hand, goes deep in the front. The Cards run a strong big man rotation with Mangok Mathiang, Jaylen Johnson, Deng Adel and Anas Mahmoud highlighting that list.
The Cards are experienced in the paint, with their youngest player being a sophomore. Kentucky is all new in the front court besides Derek Willis, who plays better as a stretch three. So expect the battle inside to be won by Louisville pretty early on.
One of these teams will have to play above average in a category they lake in, and that might change the game.
Expect a Thriller
Kentucky has been involved in two of the most excited college basketball games this year, the first against UCLA and the second against North Carolina.
Even with Louisville's ability to slow teams down, it's not wrong to expect an exciting game, as these two tend to provide for those watching at home.
In the 50th meeting between programs just 79 miles apart, these two still show no signs of love and no signs of similarities.