The Patriot League tournament begins Tuesday with a pair of first round games. Led by regular season champion Bucknell, the remaining six teams begin play on Thursday with the quarterfinals.
When: February 28 (first round), March 2 (quarterfinals), March 5 (semifinals), March 8 (final)
Where: All games are held at the home court of the higher seed.
Matchups:
First round (Tuesday):
#10 Lafayette at #7 Loyola-MD, 7 ET.
#9 American at #8 Army, 7:30 ET.
Quarterfinals (Thursday):
American/Army at #1 Bucknell, 7 ET.
#5 Holy Cross at #4 Navy, 7 ET.
#6 Colgate at #3 Lehigh, 7 ET.
Lafayette/Loyola-MD at #2 Boston University, 7 ET.
Semifinals (Sunday):
Semifinal #1, 12 ET
Semifinal #2, 2 ET.
Final (March 8):
at the highest remaining seed, 7:30 ET.
Bucknell dominates league in sterling season
The class of the league is by far Bucknell (15-3, 23-8). Led by Patriot League Player of the Year and Defensive Player of the Year Nana Foulland, the Bison rolled through the conference in emphatic fashion. Foulland finished eighth in the League in scoring (14.8 ppg), second in rebounding (7.9 rpg) and a League-leading 1.9 blocks per game for the regular-season champions.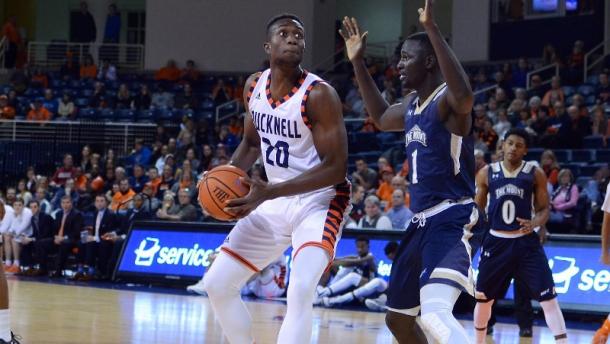 Junior Zach Thomas is the lone player to finish in the top-10 in the League in scoring (3rd, 15.9 ppg), rebounding (6th, 6.6 rpg) and assists (10th, 3.3 apg), while also finishing fourth in the League in 3-point field goal percentage (.423), forming a devastating one-two punch for head coach Nathan Davis, named Patriot League Coach of the Year for a second consecutive season.
Boston U, Lehigh lead challengers
Finishing in a tie for second were Boston University and Lehigh. The Terriers (12-6, 17-13) got the second seed by virtue of sweeping the Mountain Hawks (12-6, 18-11). Seniors Eric Fanning (14.9 ppg, 6.0 rpg) and Justin Alston (12.1 ppg, 6.1 rpg) pace the Boston U. attack. The Terriers lost by double digits twice to Bucknell, but blew out Lehigh by almost 30 points combined in their two meetings.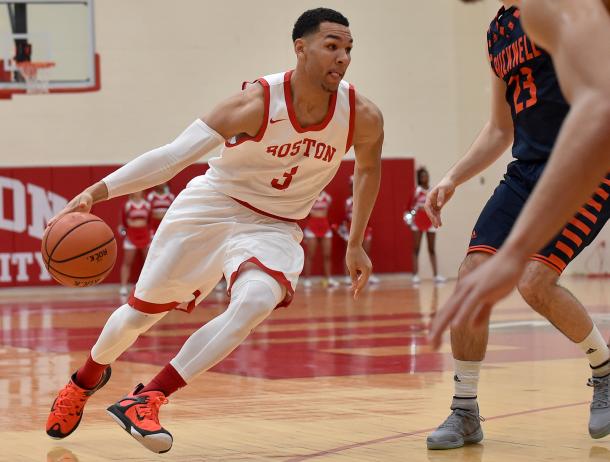 Lehigh's challenge is led by two-time Patriot League Player of the Year Tim Kempton. The senior is the leading scorer (20.0 ppg) and rebounder (10.1 rpg) in the league, one of two players in the nation to average a double-double. Assisted by junior guard Kahron Ross (10.3 ppg, 5.4 apg), the Mountain Hawks handed Bucknell two of their three conference losses.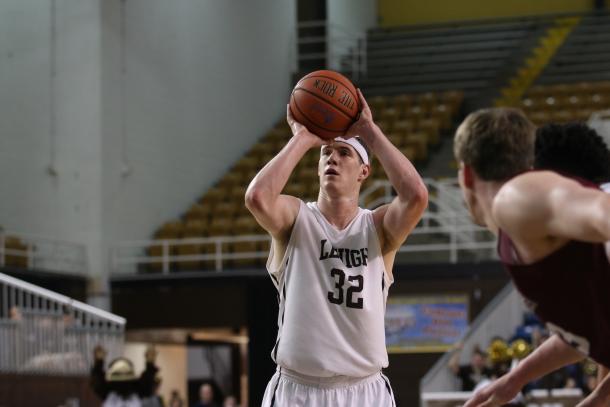 Navy (10-8, 15-15) placed fourth and are led by junior guard Shawn Anderson (12.1 ppg, 4.5 rpg, 3.0 apg) and all-defensive standout Bryce Dulin, helping the Midshipmen hold opponents to 64.8 points per game, second best in the conference.
Defending champions Holy Cross (9-9, 15-16) are fifth and one year after their Cinderella run through the Patriot League tournament as the ninth seed, 2016 tournament MVP Malachi Alexander (13.5 ppg, 5.1 rpg) is back to lead the Crusaders' charge in his final season.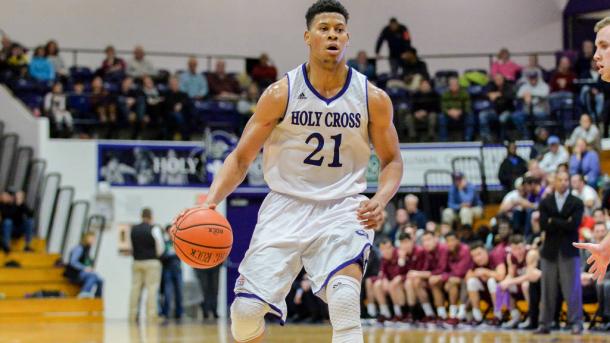 Colgate (8-10, 10-21) are sixth and their hopes rest on Will Rayman (14.4 ppg, 4.5 rpg), the Patriot League Rookie of the Year. Rayman broke Adonal Foyle's single-game freshman scoring record with 34 points against Lafayette and is the fourth Raider to earn the ROY award.
Loyola lead the bottom four
Loyola-MD (8-10, 14-15) lost the tiebreaker to Colgate for the final first-round bye and were awarded the seventh seed. Junior guard Andre Walker (15.0 ppg, 3.9 rpg) and senior forward Jarrod Jones (15.1 ppg, 6.4 rpg, 1.2 bpg) hope to lead the Greyhounds to their first NCAA Tournament since 2012 and first as a member of the Patriot League.
One year after finishing fourth and reaching the semifinals, Army (6-12, 12-18) slipped to eighth. Tommy Funk was named to the all-freshman team while finishing fifth in the league in assists (4.5). The Black Knights could face Bucknell in the quarterfinals.
American (5-13, 8-21) came in a tie for ninth and are anchored by senior Charlie Jones (6.0 rpg, 1.6 spg, 0.6 bpg) a member of the all-defensive team as well as Sa'eed Nelson top league freshman in points per game (15.1) and was among the nation's leaders in steals per game (2.4) and minutes per game (37.9). Mark Gasperini (11.9 ppg, 4.2 rpg) was in the top 20 in the league in scoring.
Lafayette (5-13, 9-20) brings up the rear in tenth place and are paced by a pair of third team all-conference players in Matt Klinewski (16.1 ppg, 6.0 rpg) and senior Nick Lindner (13.4 ppg, 4.1 apg). The leader of the Leopards' 2015 NCAA Tournament team is two points shy of second player in league history to total 1,500 points and 500 assists over a career.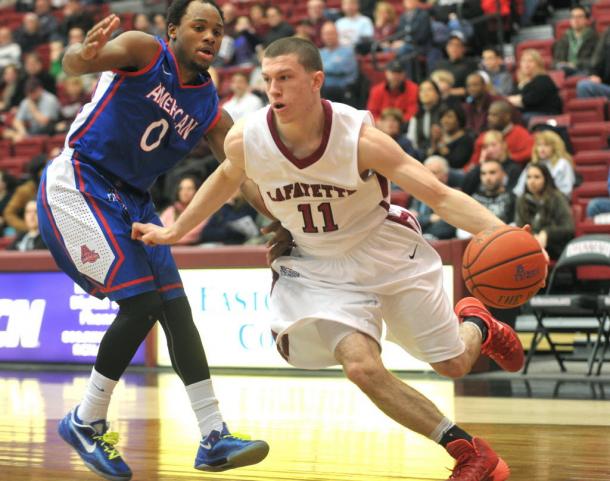 Who will go dancing?
We've seen this before with Bucknell. The Bison have won the regular season title in five of the last six seasons (including this year), but have only reached the NCAA Tournament twice in that span. They have a habit of choking before reaching the conference championship game and although they look like they will make it that far this time around, Lehigh is the pick to win the tournament simply because Kempton is a dominant player, able to go toe-to-toe with Foulland in the paint and the Mountain Hawks have that aforementioned sweep over the Bison.
Prediction: Lehigh wins at Bucknell in the final.