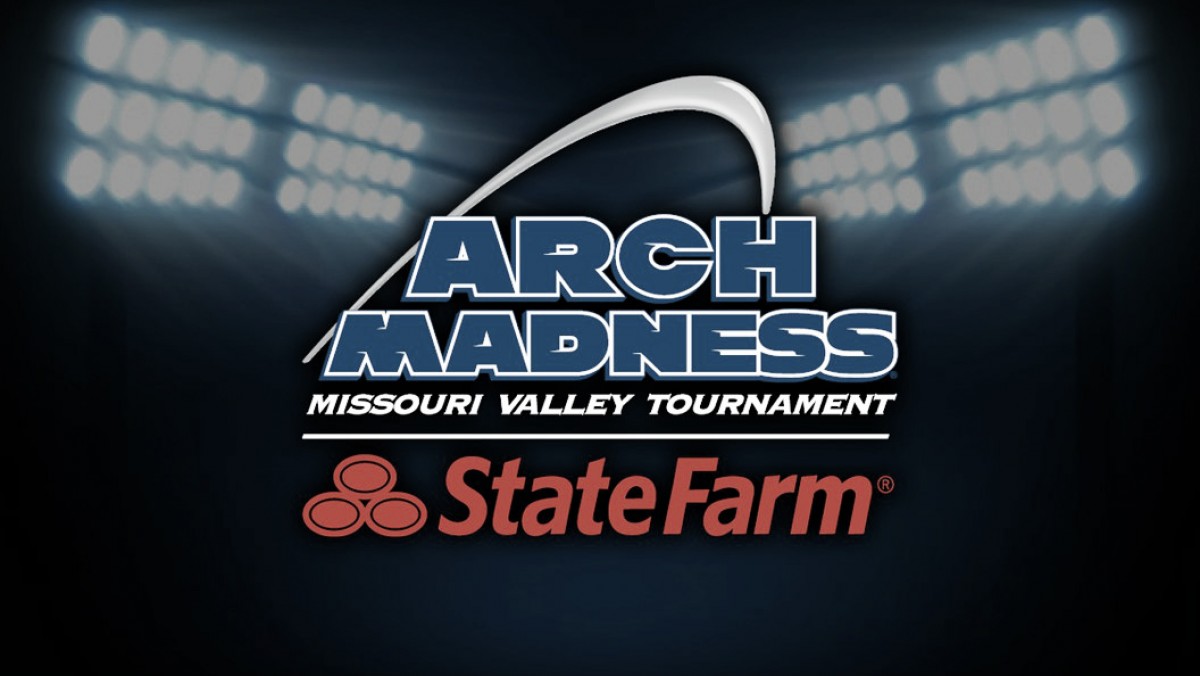 The Missouri Valley tournament begins on Thursday and the biggest question is can anyone stop runaway league champions Loyola-Illinois. The Ramblers posted their best season in school history as they seek their first NCAA bid since 1985.
Will anyone be able to derail Loyola's brilliant season at Arch Madness? We attempt to answer that question below.
Loyola dominates league from start to finish
The Ramblers posted a 15-3 mark in league play en route to a 25-win season overall, including a massive road victory at Florida. Led by a bunch of upperclassmen with tremendous balance, coach Porter Moser's team leads the Valley in both scoring offense (73.6) and scoring defense (63.4).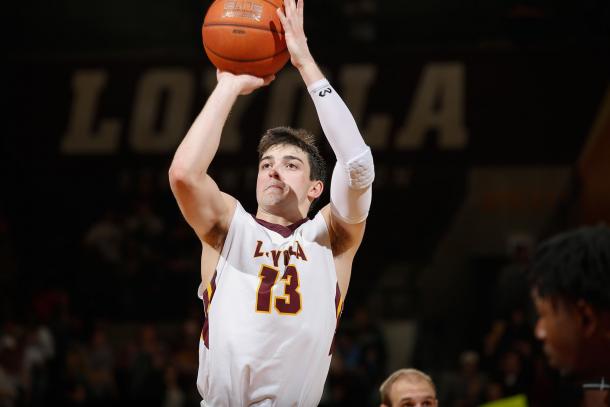 The leader of Loyola is Clayton Custer, the MVC Player of the Year. The Iowa State transfer leads the Ramblers in points per game (14.2), three-point percentage (46.2), assists (106) and steals (42). He also places among the top 10 in the league in field goal percentage (54.4) and free throw percentage (80.6).
It's not just Custer that makes this Loyola team special. Four other players average in double-figures, including Donte Ingram (11.5 ppg, 6.3 rpg), Marques Townes (11.3 ppg, 44.6% 3-pt FG), Aundre Jackson (11.2 ppg, 71.2% FT) and the underrated Cameron Krutwig (10.8 ppg, 6.5 rpg, 60.3% FG, 75.0 FT), named the MVC Freshman of the Year.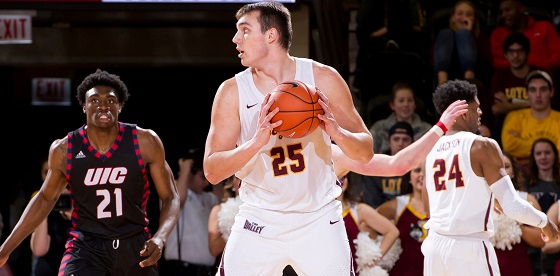 Chasing pack trying to stop Loyola
The second seed went to Southern Illinois. The Salukis edged out Illinois State and Drake by one game for runner-up spot behind Loyola. Armon Fletcher (14.2 ppg, 5.1 rpg, 49.1% FG, 74.6% FT) is an all-MVC second-team performer, complimented by Kavion Pippen (12.3 ppg, 5.8 rpg, 55.7% FG), selected to the all-MVC third team.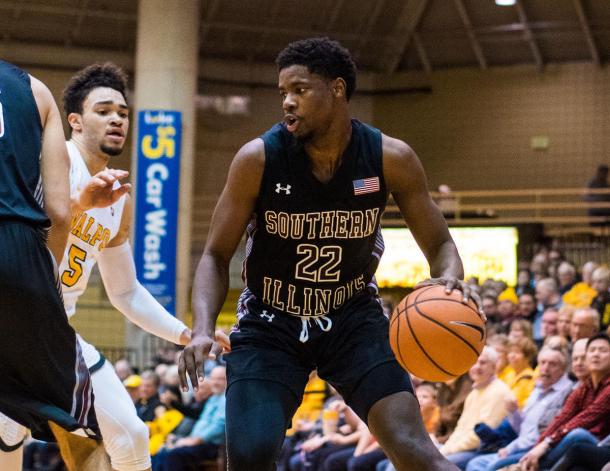 The Redbirds reached last year's final and is back with a three-headed monster, led by MVC Newcomer of the Year and first-teamer Milik Yarborough, posting numbers of 16.7 ppg 6.6 rpg 4.8 apg and 79.3% FT. Phil Fayne (15.1 ppg, 7.3 rpg, 60.2% FG) and Keyshawn Evans (15.6 ppg, 75.0% FT) make the Redbirds possibly Loyola's biggest threat.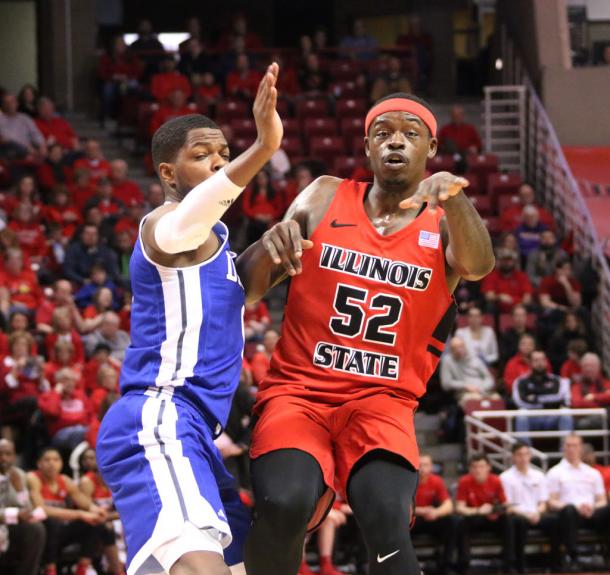 Perhaps the most disappointing team in the Valley was Missouri State. Picked as the favorites in the preseason, the Bears slipped to seventh, but have one of the finest players in the conference in Alize Johnson, who put up monster numbers (15.2 ppg 11.4 rpg 2.7 apg).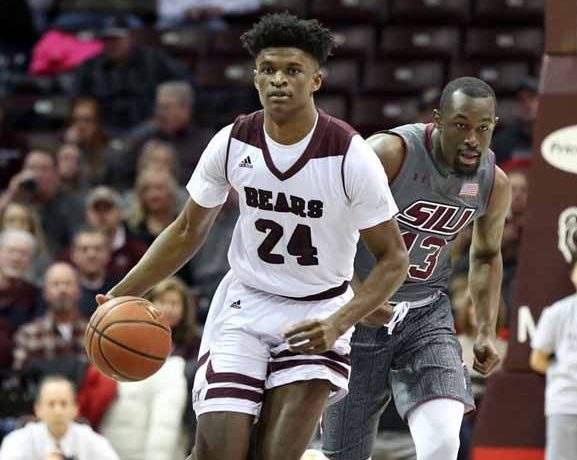 Who will win the tournament?
When a team dominates as much as Loyola did this season, it's hard to pick against them. They have the Player of the Year, won the league by four games and are the best offensive and defensive team in the conference. If there's one thing the Ramblers have going against them, it's the lack of experience in the conference tournament, especially if it's a close game late.
Illinois State has a lot of offensive options and unlike the Ramblers, have the experience of going deep in Arch Madness, reaching last year's final as previously mentioned. Missouri State has a player in Johnson that is perfect for this setting: capable of carrying his underachieving team to the NCAA's.
Despite all of that, it's hard to see how Loyola loses here. The Ramblers were dominant in the MVC all year and although they'll be tested by either of the two teams mentioned above, their superiority will shine through. Custer will be at his best and the program will experience their greatest moment since reaching the 1963 Final Four with a berth in the field of 68.
Prediction: Loyola-Illinois defeats Missouri State in the final
Tournament schedule (all times Central)
All games will be played at the Scottrade Center in St. Louis.
First Round (March 1)
#9 Northern Iowa vs #8 Evansville, 6PM (MVC TV Network)
#10 Valparaiso vs #7 Missouri State, 8:30PM (MVC TV Network)
Quarterfinals (March 2)
Northern Iowa/Evansville winner vs #1 Loyola-Illinois, 12PM (MVC TV Network)
#5 Drake vs #4 Bradley, 2:30PM (MVC TV Network)
Valparaiso/Missouri State winner vs #2 Southern Illinois, 6PM (MVC TV Network)
#6 Indiana State vs #3 Illinois State, 8:30PM (MVC TV Network)
Semifinals (March 3)
at St. Louis, 2:30PM and 5PM. Both games will be televised on CBS Sports Network
Final (March 4)
Semifinal winners, 1PM (CBS)