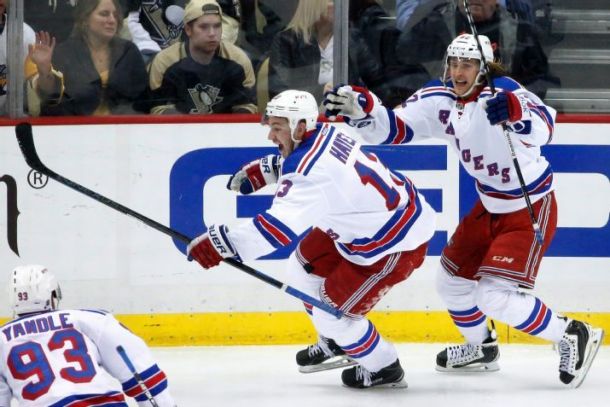 The New York Rangers have beaten the Pittsburgh Penguins by a score of 2-1 tonight at Consol Energy Center in Pittsburgh, Pennsylvania in overtime. The Rangers got the OT winner from [rookie out of Boston College] Kevin Hayes. The Rangers now lead the series 3-1 going back to Madison Square Garden, trying to finish it off on Friday. The Rangers have now won all three games in the series by a score of 2-1.
In the first period, the Penguins came out like their lives were on the line, and the Rangers came out very flatly. As a result, the Penguins copied the Rangers of the first three games and got on the board first when Patric Hornqvist tipped in a shot from Ben Lovejoy, assisted also by Paul Martin to beat Henrik Lundqvist. For the first time all series, as previously said, the Rangers were starting the 2nd from behind, rather than from in front. At the end of the first, the Rangers went into locker room, knowing something had to change. In the 2nd period, 17:15 in, Derrick Brassard took some of the noise out of the Consol Energy Center, when he tied it up, assisted by Rick Nash and Ryan McDonagh.
The third period was pretty back-and-forth, it got chippy at times, with hits flying from both teams, but no pucks found the back of the net in the last regulation period. The game would go into OT when 3:14 in, after bodies were sprawled across the net mouth, the puck got to Kevin Hayes and he put it in under Marc Andre Fleury for the game winner.
In the regular season, the Rangers were the best road team in the entire NHL, and now have won both games in Pittsburgh. The Rangers gave the Broadway Hat, an award given to the MVP of each game, after a win, deemed by the previous holder, started by Brad Richards a few years ago when he bought it when the Rangers played in Europe.
With the Broadway Hat in tow, Kevin Hayes put another piece in the puzzle. The Rangers tweeted, "WIN NUMBER 3 FOR #NYR!!!!!!!!!! #ChangeTheEnding". They also tweeted a picture of Kevin Hayes wearing the Broadway Hat, "#NYR @KevinPHayes12 gets the Broadway Hat!!! #13 makes it 13 to go!!!" In injury news, Kevin Klein is making progress and may be back for Friday's game 5.
​