 The Chicago Blackhawks will continue their road trip on Tuesday night when they visit the red hot Minnesota Wild. The Blackhawks have not fared well with the Minnesota Wild this season, so if they are able to come out of there with a win that would be a big momentum builder. Puck drop is scheduled for 8 PM eastern time.
Look At Recent Matchups Against The Wild
If you are a Blackhawks fan it is no question that the Blackhawks have struggled against the Wild this season. In the 3 matchups this season with the Wild, the Blackhawks are yet to be victorious against them. In the most recent matchup the Blackhawks had a golden opportunity to beat Minnesota as the game went to a shootout. The Wild were able to top the Blackhawks in a shootout though and remain perfect against them this season. There was a positive the Blackhawks can take from the most recent matchup against the Wild. They played a very good overtime period, and took the game to the shootout, but couldn't get one past Devan Dubnyk. That is a positive sign for the Blackhawks going in to this game because in the other matchups with the Wild, the Blackhawks lost in regulation. In the past two matchups, Erik Haula and Nino Niederreiter have ultimately caused the Blackhawks defense and goalies a lot of troubles as they scored or assisted in each of the last two matchups.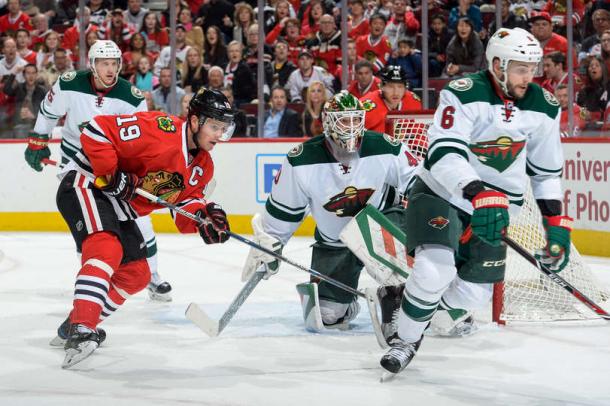 Projected Goaltender Matchup
For the Blackhawks expect to see Scott Darling in net again for Tuesday night's matchup as Corey Crawford is still working his way back. In his last two starts Darling has looked very good and helped push Chicago to two straight victories. It will be interesting to see how Darling does against the Wild, as in recent matchups against the Wild it has been Corey Crawford in net for the Blackhawks. For the Wild expect Devan Dubnyk to be in the net. This season Dubnyk has been very good for the Wild especially as of late. In his last five starts for the Wild, he has been victorious in every one of those matchups. Dubnyk will face a test on Tuesday night against the Blackhawks, but they are no stranger to Dubnyk.
Big Central Division Standings Matchup
The Wild are currently chasing down a wild card spot and a win against the Blackhawks Tuesday night would take a big step towards that wild card spot. As for the Blackhawks, they have already clinched their spot in the 2016 Stanley Cup playoffs. However, they are behind the Dallas Stars and St. Louis Blues in the Central Division standings, and they also have the Nashville Predators chasing them down. If the Predators pass the Blackhawks, that would then move the Hawks to a wild card spot and possibly then have to play a team like the Los Angeles Kings.