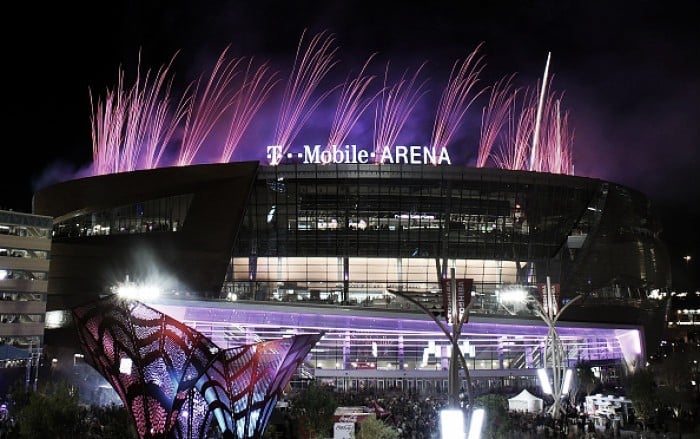 The excitement is building in Sin City, in the long awaited announcement of the NHL expanding to Las Vegas, Nevada.
The website to follow for all Las Vegas NHL expansion is: sinbin.vegas
They are so pumped about getting the NHL they aren't booking any event at the new T-mobile Arena during the prime NHL dates from October '17 to June '18.
T-mobile arena is rocking
The arena has already had some top performers play at the new facility, like Guns N' Roses, The Killers, and Billy Joel. The remaining 2016 schedule of events includes: Garth Brooks, Dixie Chicks, Gwen Stefani, Coldplay, Carrie Underwood, and George Strait.
"We don't want to impact the potential of having a team," says Daniel Rush, VP of Global Sports and Event Sales for MGM. A handful of corporations have booked the venue for meetings, but MGM is aiming to keep October through June—the NHL season duration—as free as possible says Matt Swenson of ConnectSports.com
With season ticket commitments exceeding 14,500 the city is really looking like it wants to welcome the NHL with open arms. Bill Foley, the owner of the Vegas franchise will also be ready to write that $500 million expansion fee check, with a smile on his face.
Vegas is NHL ready
Las Vegas is ready for the NHL, and it certainly seems the NHL is ready for Las Vegas. The NHL wants to be the first major professional sports league to tap into the Vegas experience. The city has a huge TV following for NHL hockey, as it's TV ratings indicate. They rank first in the country for non-NHL cities when it comes to TV ratings for the NHL games on the boob-tube, and ninth overall according to the Hockey News.
But, what about the fact that even with 40 million visitors a year does the local market have enough local fan base to support a NHL team? They only have about 700,000 residents in Vegas proper, but when you add the surrounding areas like Henderson, the population hits more like 2.3 million.
Accommodate locals on game time
Foley knows his market, and the fact that about one-third of the residents work nights, and weekends. So, his solution to that would be to have some matinee games on the weekend, and play more games earlier in the week to attract those night workers.
Getting visitors to go to NHL games will not be a problem. As someone who not only writes about the Arizona Coyotes, but has followed them since their inception in the desert, this writer can verify that out of town visitors go to games in Glendale, AZ. What the leadership wants to see more of is local residents attending games.
As stated in a previous article, the rivalry between a Las Vegas NHL team and the Arizona Coyotes, Los Angeles Kings, Anaheim Ducks, San Jose Sharks would be good for the league.
While it hasn't bothered me with out of town visitors attending games, what does irritate me to no end, is local residents who won't give up their allegiance to their favorite team where they used to live. When the Chicago Blackhawks or Detroit Red Wings visit Gila River Arena in Glendale, AZ there are almost as many fans cheering for them as the Coyotes.
The same scenario will happen in Las Vegas, as many residents there, as in Arizona are transplants from back east.
Will Vegas fill the arena? Sure, it already has shown that, but it is yet to be determined if NHL fans will have the patience to wait for an expansion team (who will be terrible for at least 3-5 years) to develop into a winner. Laterally, Vegas defines winning, and losing for that matter.
Mr. Commissioner
Everything leads to a successful venture in Vegas. The announcement to be made by NHL Commissioner Gary Bettman, should be forthcoming any time now. Of course, the NHL Board of Governors must vote on it, and with a $500 million expansion fee set to be split by the 30 teams, or $16.67 million per team, the outcome of that vote is as obvious as Patrick Kane being elected the MVP of the NHL this year.
Bill Foley, the owner of the potential Vegas team has voiced his vote for a team name. His choice is Black Knights.
What's yours?