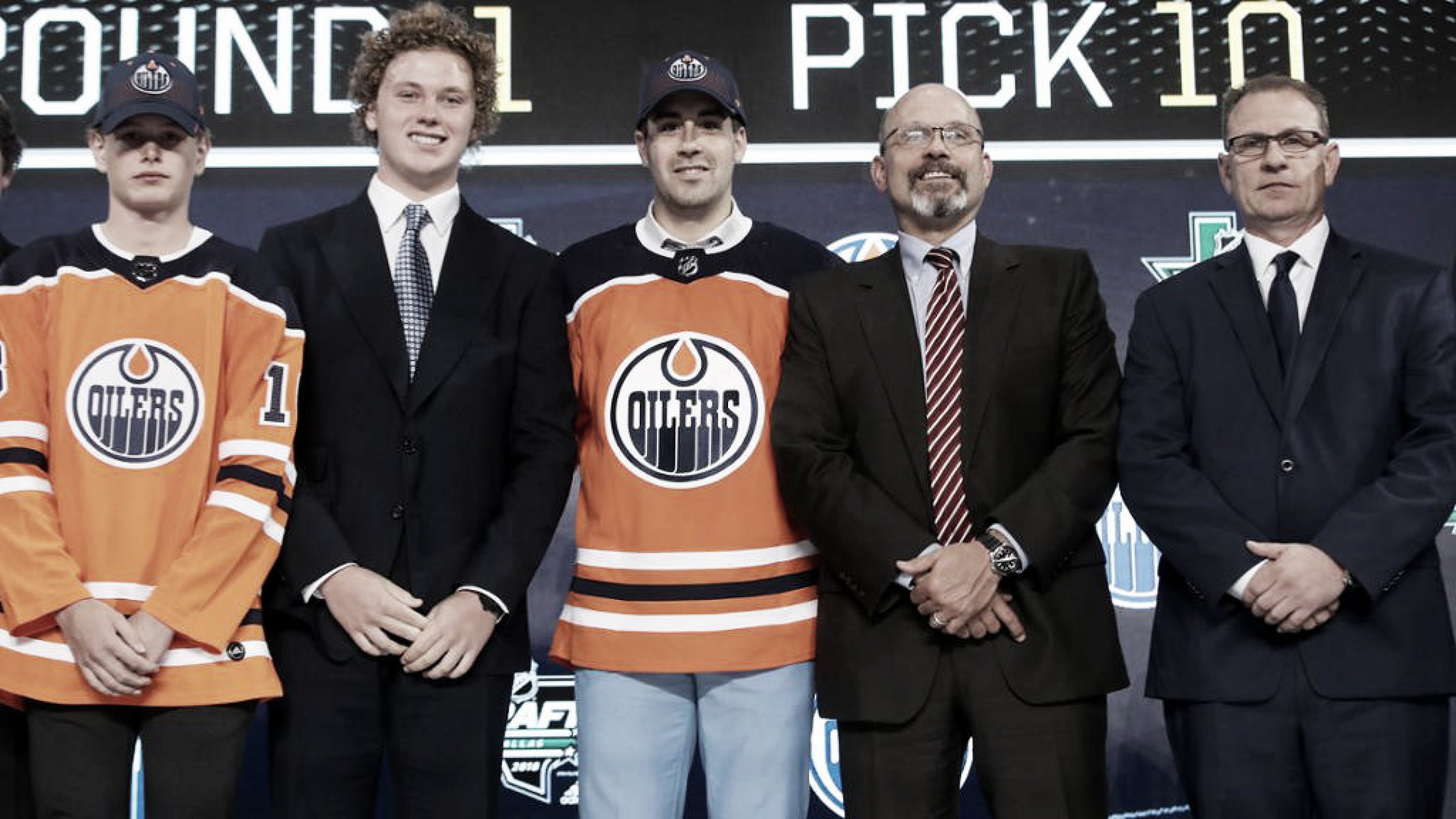 The Edmonton Oilers have been in the market for a puck-moving defenseman for a while. Unfortunately, they were unable to make any major upgrades to their defensive lineup this off-season.
Things got worse when they found out Andrej Sekera will be out of the lineup long term due to an off-season injury.
As of now, it is uncertain what the Oilers' defense will look like on opening night. The projected lineup looks to be something like this:
Defense:
Oscar Klefbom - Adam Larsson
Darnell Nurse - Matt Benning
Kris Russell - Ethan Bear
Possible seventh defensemen:
Jakub Jerabek, Kevin Gravel, Evan Bouchard, and Jason Garrison (PTO).
From afar it seems like, 18-year-old Evan Bouchard might have a chance to crack the roster on opening night.
Player bio
The 6'2", 193lb, Oakville, ON, CAN defenseman fell to the Oilers tenth overall at the 2018 NHL Entry draft. Bouchard was one of the top defensemen in the OHL last year, putting up an impressive 87 points in 67 games for the London Knights.
Heading into the 2018 NHL draft, he was one of the top defensive prospects in his class and a scouting report described him as
"A highly intelligent all-around defenceman that plays with poise and can shift the pace of play in a multitude of ways. Goes with the high percentage play and makes smart decisions. All-in-all, a well-rounded defender with great hockey sense and work ethic. "
How can Bouchard make the Oilers a better team?
Based on his scouting report, Bouchard is exactly the type of defenseman the Oilers need on their back end. Aside from Oscar Klefbom, they do not have many defensemen who are capable of generating offense consistently.
At the same time, with the absence of Sekera, the team could use another defenseman who can quarterback the powerplay and can be a threat to score from the blue line.
It is still early but Bouchard seems to fit a lot of those criteria. No question he is one of the best defensive prospects the Oilers have had in years.
With elite offensive instincts, excellent passing vision and a heavy shot, many think Bouchard has potential be the Oilers' number-one defenseman one day.
Chances of making the roster
As much as the Oilers don't want to rush Bouchard, there's a lot of question marks on the team's blue line.
Can Darnell Nurse and Matt Benning contribute more offensively?
Is Ethan Bear ready to become a full-time NHL player next season?
All these uncertainties give Bouchard a good opportunity to break through. The Oilers will definitely give him a long look, and unless Bouchard's gameplay drops off significantly during the main camp, he might be able to stick around for the "nine-game stint" after the season starts.
Prediction
As of now, Bouchard's chances of grabbing a bottom-pair spot or the number seven spot is as good as anybody.
His ceiling is higher than players like Jakub Jerabek and Kevin Gravel so the real question is whether he is ready to make that jump to the NHL this year.
Aside from his skating (which can be better), Bouchard doesn't have too many flaws in his game as it is pretty polished. Oilers' management will have a tough decision to make, as he has a late birthday, and not eligible to be sent down to the AHL this season. So if Bouchard doesn't make the team, he will have to return to London.
Development-wise this might be a bit of a lateral move, considering how he doesn't have much to prove down in junior. Perhaps giving him sheltered minutes in the NHL might be better for his development.
Oilers' management may not admit it, but it would solve a lot of problems if Bouchard is able to come in and become a full-time NHL player this season.
Yes, it's not the most optimal situation but it is not uncommon to see teenage defenseman (Noah Hanifin, Charlie McAvoy) come into the NHL and make a positive impact on their team.
So there is no reason to think that Bouchard can't do the same in 2018/19.
Do you think Evan Bouchard will make the NHL this year? Let us know in the comment section below, and make sure to give us a follow on Twitter (@VAVELNHL_ENG) for more updates!