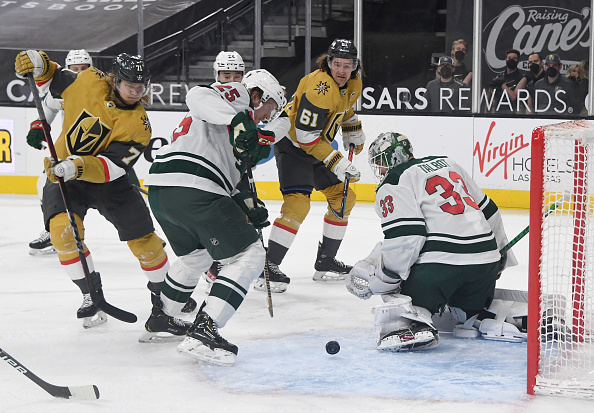 The 2021 Stanley Cup playoffs are officially here for the Vegas Golden Knights as they look to start their latest Stanley Cup run starting with game one on the Las Vegas strip Sunday at noon local time.
The Knights finished the season right behind the Colorado Avalanche and were one win away from claiming the President Trophy for the best record in the league but fell just short.
The Vegas Golden Knights lost the season series 1-5-2 but as they say, anything can happen in the playoffs and it's another brand of hockey that is more physical and faster than a regular-season game.
" I'm excited, this is the time of year you play for, I think the fact that we will have fans in the rink makes every difference in the world and it starts to feel normal, 8-9000 in T-Mobile Arena feels like 18,000 in some other rinks, were just excited that we're on to the new most important season"
The Vegas Golden Knights enter the playoffs with some question marks as Max Pacioretty and Ryan Reaves were announced as game-time decisions by Deboer and they will be key pieces to Vegas success in their series against a team like the Wild that has skill, solid defense, and reliable goaltending.
In regards to goaltending Deboer did not divulge his starting netminder for game one on Sunday afternoon and will probably announce it closer to game time.
Marc Andre Fleury and Robin Lehner have been used in a rotation and both played so well they won the William H Jennings Trophy awarded to the best goaltending tandem in the league so goaltending no matter who it is shouldn't be an issue for Vegas.
" We don't win the Jennings Trophy, we don't have the record we have without having the best tandem in the league," Deboer said.
Deboer stressed the importance of shutting down Minnesota star player Kiril Kaprizov and their depth at the center ice position.
" This is a very good hockey team beyond Kaprizov and Fiala and a couple of other star players, this is a great test for us and like all playoff series you want to impose your game on the other team more than they do on you".
Alex Pietrangelo the newest addition on the Vegas blue line who signed a massive eight-year contract in the offseason also gave his thoughts on playing his first playoff home game at T-Mobile Arena.
" Hopefully we can keep increasing capacity, I think the first game we only had a couple of thousand people and it felt like the building was full so it's one heck of a place to play, it's a great atmosphere and hopefully we can fill the building up, it's always fun to start at home because you get that energy right off the bat and hopefully we can provide that great entertainment for them".
He also explained from his point of view what makes them such a difficult team to play against.
" They have big guys up front and they are going to get to the front of the net and their predictable in terms of getting there, I think we have to be ready at all times"
Rielly Smith couldn't hold back how excited he was to have another chance to win to Stanley Cup and gave his thoughts to the Vegas media.
" It's the most exciting time of the year and there is no doubt about that, everyone in our locker room and our organization has been anticipating it all year, I think we are very prepared, we played this team eight times during the regular season and you know them pretty well"
As mentioned game one is scheduled for Sunday at 12:00pm local time at T-Mobile Arena on the Las Vegas Strip.