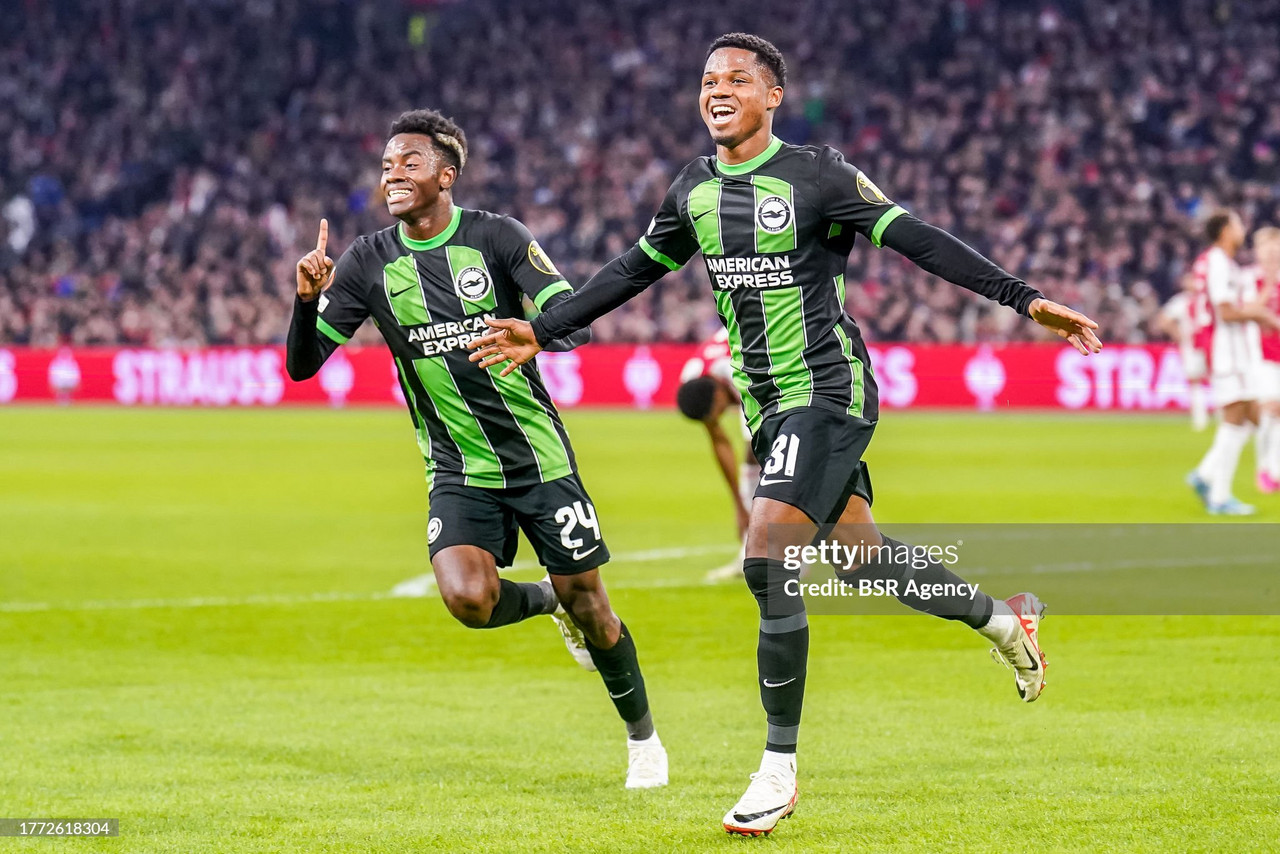 Brighton and Hove Albion secured one of the biggest results in their history on an unforgettable night in Amsterdam by dominantly beating Ajax 2-0 to take hold of their Europa League group.
The Seagulls were in triumphant form at the Johan Cruyff Arena as goals from the excellent Ansu Fati and Simon Adingra took the wind out of a resurgent Ajax side's sails, and proved that the identical 2-0 win a fortnight earlier was not a one-off.
As Brighton took a significant jump towards qualification for the knockout stages, Ajax had their hopes dented yet further and reached the brink of elimination after a frustrating night.
With 16 players used by each team on the night, there was plenty to delve into within the performances, starting with the Dutch hosts.
Diant Ramaj – 6
There was very little the German stopgap could do about either of Brighton's goals on the night and to be fair to Ramaj, he did show an improvement on just his second Europa League appearance.
Six games into his Ajax career, the goalkeeper has been entrusted with a key role in possession – taking the fourth most touches of any player on the pitch with 65 – and while he can be more precise, he will undoubtedly grow as the team improves under John van 't Schip.
Anton Gaeei – 5
One of the most anonymous players on the pitch, Gaeei neither showed himself up nor got positively involved in the action at any stage and was hooked after 57 minutes.
Like many of this young squad, though, he has been thrown in ahead of schedule.
In his case, he has just one full season of senior experience before with Viborg last year, and for a 20-year-old, his development would be better made out of the Europa League spotlight.
Devyne Rensch – 6
Tasked with a strange role outside his usual right-back slot, Rensch put in a committed performance but was found lacking in the tactical department at times.
He was neither a progressive threat when asked to push into the midfield early on, nor a natural centre-back when ushered back after Ansu Fati's opening goal. Was unsurprisingly taken off when Ajax chased the game late on.
Josip Šutalo – 6
Based purely on physical attributes, Šutalo is a baffling recruit for Ajax's project.
He stands out as one of very few overtly physical players in the side, and while that has its uses at set-pieces, he can be exposed by attacks featuring a barrage of speed demons – just as Brighton's did.
Had plenty of the ball – taking 114 touches – and was accurate with 97% of his passes finding a teammate, but too many of these were sideways.
Jorrel Hato – 6
Astounding that he is still 17 years of age, and it must be hoped by anyone supporting Dutch football that a tough start to life in the Ajax first team doesn't dent his confidence because he is a prodigious talent.
Probably the best-performing Ajax defender right now, which says a lot about his teammates' standards.
Silvano Vos – 5
Made a huge error for Brighton's first goal, passing the ball inexplicably to Simon Adingra to set up an easy three-on-three chance.
He is still just 18 years old, mind you, and the Dutchman showed plenty of guts to keep fighting after that big disappointment just 15 minutes into the match so does receive some credit.
Kristian Hlynsson – 5
Something of a goalscoring midfielder in the Eredivisie this season, 19-year-old Icelander Hlynsson is one of few to find some plaudits in the Ajax side this term.
Unfortunately, it wasn't his night on this occasion as he was substituted after 57 minutes, but he did at least show a glimpse of his ability with an early sighter at Bart Vertbruggen.
Kenneth Taylor – 5
In a game that was crying out for an Ajax midfielder to grab it by the scruff of the neck, Taylor was surely the most obvious candidate to drive play forwards.
He did very little such work and was not invited to return for the second half – Chuba Akpom taking his place to bypass a congested midfield.
Steven Berghuis – 6
Reasonably anonymous in the game, with van 't Schip using him in a wide role after being shifted between a midfield three and a more attacking role this season.
It's not quite clicking for the ex-Watford man at present, and he could soon find his place at threat.
Brian Bobbey - 6
For having one of the best names in football, nobody can hate Brian Bobbey.
He tried tirelessly to spark something for his side in this contest and gave the Brighton centre-backs a proper physical test, but struggled to find decent support – much the story of his season so far. Was particularly unlucky with his shot that went off both posts, too.
Steven Bergwijn – 6
As captain, Bergwijn is fully committed.
He tracks back, puts in tackles and sacrifices his performance for the side in a completely different fashion from how he played at Tottenham, but it comes at the expense of his role in goalscoring chances. He did not even have a shot on this occasion.
Substitutes:
Chuba Akpom - 6
Tried to put himself about but struggled for service like Bobbey. Left frustrated after three goals in his previous two matches.
Borna Sosa – 5
Brought more security to the defence but failed to help out in attack.
Carlos Borges – 6
Was full of verve and spirit, and may earn more minutes on the back of a good battle in the midfield.
Benjamin Tahirovic – 5
A late substitute with scant impact on the match.
Georges Mikautadze – 5
Similarly insignificant in the grand scheme of the contest, which is disappointing for a 16 million Euro signing from Metz.
Bart Verbruggen – 7
Handed a second consecutive start, and took full advantage of his opportunity from Roberto De Zerbi.
Enjoyed a fine night in his home country, making three saves while having some of the ball-playing responsibilities taken away to minimise his scope for errors.
Joël Veltman – 7
The second of Brighton's three defensive Dutchmen, and on an emotional return to the Johan Cruyff Arena, Veltman played superbly.
This is exactly what Seagulls fans expect of the 31-year-old, and Ajax must have been regretting their decision to let him go after seeing him offer exactly the kind of calm they deeply need right now.
Jan Paul van Hecke – 8
Completing the homebound trio, van Hecke excelled by standing up to the physical challenges of Bobbey and Akpom, while also adjusting to the loss of Lewis Dunk to injury.
Having formed a superb partnership with the captain, it would have been easy for van Hecke to wobble on such a big occasion but he showed great skill to form a solid second-half alliance with Igor.
Lewis Dunk – 7
Withdrawn at half-time with what looked like a groin injury picked up at the end of the first half, but had done a faultless job up to that point.
Gareth Southgate would have surely taken a sharp intake of breath at that news considering the role Dunk may play in England's forthcoming Euro 2024 qualifiers, but De Zerbi eased some nerves post-match by stating it seemed to be a minor injury.
James Milner – 5
Forced off after just eight minutes, Milner's night was short but ultimately sweet, watching a masterclass in his wake.
Similarly regarded as a minor injury by De Zerbi, fans will hope Milner returns swiftly to ease a seemingly neverending spiral of defensive injuries.
Mahmoud Dahoud – 7
On a more positive note, Dahoud had another excellent European night in a Brighton shirt.
Typically overshadowed when the busier Billy Gilmour and more serene Pascal Gross are around him, Dahoud goes about his business with an admirable blend of calm and tenacity. He tends to be the first fall guy, but his importance will increase if Gross has to deputise at left-back any further.
Pascal Gross – 8
The kind of versatility comes to Brighton's rescue yet again.
Gross started the game as a creative midfielder, then shifted to left-back, back to midfield and then back into defence courtesy of Pervis Estupiñán's all-too-brief appearance.
He performed each role without complaint or fault and should take huge credit for being the backbone of a successful team performance.
Simon Adingra – 9
Arguably the star of the night, after Fati was withdrawn after the hour mark.
Adingra announced his importance to De Zerbi in this match with an electric spark to initiate the opening goal and a cracking finish to seal the game after just 53 minutes, and in the absence of Solly March and Julio Enciso, the importance of his rise cannot be understated.
João Pedro – 7
Entering the game as joint-top goalscorer in the competition, Pedro was happy to play as second fiddle to Fati in attack, for which he must take great credit.
Was crucial in pulling the strings and organising moves from the edge of the box, which was so exciting to see as an evolution of his role.
Kaoru Mitoma – 6
Deducted a point here for missing a chance to treble the lead in the second half, Mitoma was otherwise a solid threat throughout the night.
He has his limitations, which is accepted, but his durability and energy are huge assets to the side.
Ansu Fati – 9
Rapidly growing to cult hero status on the South Coast, Fati has been showing his personality on and off the pitch of late and has everyone warming to him.
De Zerbi is clearly enamoured too, and with another goal and assist on this occasion, it showed his connection with Adingra is just as good as his one with Pedro, which is just thrilling.
Substitutes:
Billy Gilmour – 7
Could not have expected to be involved so early on, and was excellent considering that. Elusive and pestering as ever.
Igor Julio – 7
Handed the captain's armband in the second half, which was a huge statement from the man he replaced and seemed to only carry his performance to the next level. Great for Brighton to have such a capable option off the bench.
Pervis Estupiñán – 5
Unfortunate to seemingly tweak his knee just 12 minutes after being introduced, asking to come off as a result.
Evan Ferguson – 6
A quiet last 25 minutes for the Irishman, who had just six touches in total.
Carlos Baleba – 6
Did nothing wrong in the final 13 minutes after coming on for Estupiñán.