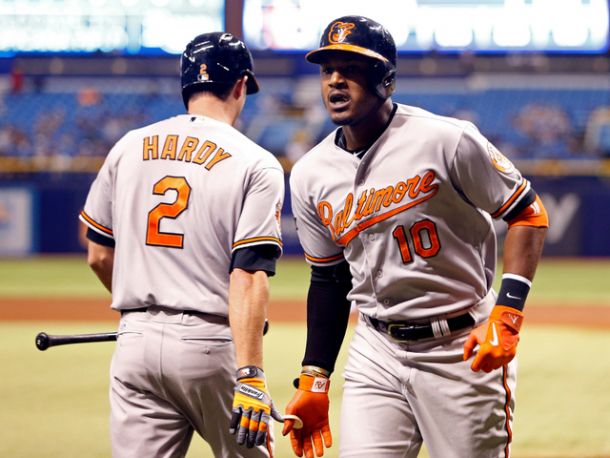 Series Preview:
Baltimore Orioles (82-57, 1st in AL East) at Tampa Bay Rays (67-74, 4th in AL East)
Record against TB in 2014: 11-5
Friday September 5th – 7:10 PM ET first pitch – TV: MASN 2, Radio: 1090 WBAL
Pitching Matchup: Wei-Yin Chen (14-4, 3.83 ERA) takes the hill for the O's against Rays' right hander Alex Cobb (9-7, 2.98 ERA).
Oriole Pitching Report: Chen struggled in his return to the Orioles rotation after being sent down for a week. The lefty gave up 4 ER in 6.2 innings against the Twins last Sunday. Over his last four starts, Chen has given up 10 ER in 25.2 innings for a 3.51 ERA and a 1.17 WHIP. The O's left hander has faced the Rays three times in 2014. Over three starts and 17.2 innings, Chen has given up just six runs against Tampa Bay.
Players to look vs. Cobb: Adam Jones has the most plate appearances against Cobb for the Orioles, but only a .190 average and a .418 OPS to show for it. J.J. Hardy has 19 career plate appearances against the Rays' right hander and he is hitting .313 with a .421 OBP in those plate appearances.
---
Saturday September 6th – 1:05 PM ET first pitch – TV: FOX, Radio: 1090 WBAL
Pitching Matchup: Kevin Gausman (7-7, 3.93 ERA) toes the rubber for the Orioles against new acquired left hander Drew Smyly (9-10, 3.31 ERA) for the Rays.
Oriole Pitching Report: The Orioles' 2012 first round pick has struggled in his first full year starting for the Orioles. Gausman has split time with Norfolk and the O's in 2014. In his last 5 starts, the right hander is 1-4 with a 4.28 ERA while striking out 26 in 27.1 innings. Gausman has faced the Rays twice in 2014 and has struggled. In those two starts, the LSU product has pitched 9 innings and has given up 7 ER while walking four and only striking out five.
Players to look vs. Smyly: The Rays' lefty has stifled Orioles' hitters during his career. There are only two players with 10 or more plate appearances. Nelson Cruz has 14 PA against Smyly, going 2-10 but drawing four walks in those appearances. Nick Markakis is the other Oriole with 10 PA against Smyly, however he has gone 0-10 with two strikeouts.
---
Sunday September 7th – 1:40 PM ET first pitch – TV: MASN 2, Radio: 1090 WBAL
Pitching Matchup: Right hander Bud Norris (12-8, 3.83 ERA) starts for the O's against Rays righty Jeremy Hellickson (1-3, 3.74 ERA).
Oriole Pitching Report: Norris had a great outing last time out against the Reds, going six innings and only giving up four hits and one walk while not allowing a run and striking out seven. The Orioles right hander has pitched twice against the Rays this year. In those two starts, Norris has gone 11.2 innings while giving up six earned runs. Walks have been an issue for Norris against the Rays, as he has surrendered six in those two starts.
Players to look vs. Hellickson: Chris Davis has crushed (pun intended) Hellickson in his career. The O's infielder has hit .379 with a 1.090 OPS, three doubles, and two home runs in 30 plate appearances. Adam Jones has also hit the Rays righty well. Jones is hitting .364 with a 1.050 OPS and four home runs in 46 plate appearances.
MAGIC NUMBER for the AL East crown going into series: 15.