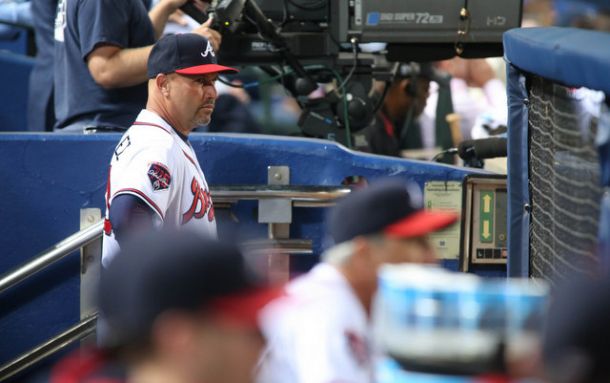 The Atlanta Braves decided to keep Fredi Gonzalez as their manager for the 2015 season. Along with retaining Gonzalez they hired former Houston Astros' manager Bo Porter as their third base coach.
It's a little surprising the Braves kept Gonzalez as his club has collapsed two out of the four seasons he's been the skipper. What makes this curious is with all the new changes in the front office, the GM usually hires his guy to be the manager. This leads you to believe that interim GM John Hart might be taking the full-time gig because Hart is also a part of the search team with Jon Schuerholz and Bobby Cox, who are making these decisions. As of right now the full-time position is still on the table for John Hart.
The hiring of Bo Porter makes it three coaches from Gonzalez's staff who will not be returning- Greg Walker (resigned) Scott Fletcher, and now Doug Dascenzo. Porter's addition comes only a month after he was fired by the Houston Astros as their manager. Porter is familiar with Fredi, he worked under him as his third base coach from 2007-09 with the Florida Marlins.
The rest of Gonzalez's staff is supposed to return next season. Atlanta's organization is still in the early stages as to who will be the hitting coach next season. There have been rumors that first base coach Terry Pendleton might take over that position, a position tha he had held for the Braves from 2001-10.