 Entering Monday's game, there was no team hotter than the Baltimore Orioles in baseball. The Orioles began the season 6-0, sweeping both the Minnesota Twins and Tampa Bay Rays. Both their rotation and bullpen had been absolutely fantastic, giving up just 1.80 runs per game.
The fashion wasn't the same as their first six games, but they still got the job done.
In the home opener for the Boston Red Sox at Fenway Park, the Orioles defeated the Red Sox 9-7. Brad Brach earned his second win of the year, while Craig Kimbrel picked up his first loss in a Red Sox uniform. Zach Britton recorded his first save of the season. Boston drops to 3-3, while Baltimore improves to 7-0.
Baltimore tallied nine hits, including multiple hit performances from Manny Machado and Chris Davis. Boston racked up 11 hits, including three from Dustin Pedroia, as well as two from Mookie Betts, David Ortiz, and Blake Swihart.
Red Sox Come Out Of The Gates Hot, But Orioles Answer
After a terrific opening ceremony, the Red Sox were the team that came out of the gates on fire. Boston's first four batters recorded a single, including Betts, Pedroia, Xander Bogaerts, and Ortiz. Bogaerts and Ortiz both recorded an RBI with their singles, while Hanley Ramirez brought home Bogaerts with a sacrifice fly. After the first inning, the score was already 3-0.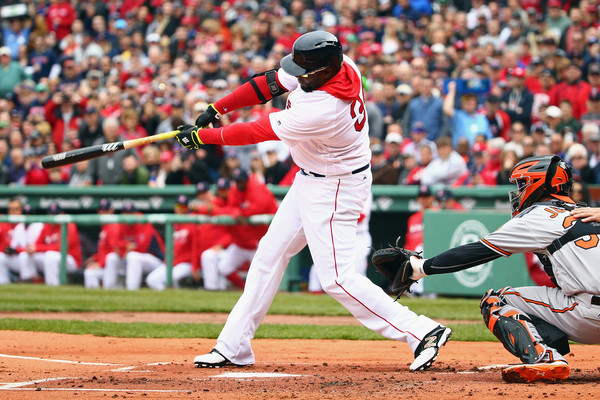 Boston had their ace David Price on the mound who had to have been pleased with the 3-0 lead in the first inning. Price was the biggest free agent of the winter, and Boston wrapped him up for a seven year, $217 million contract.
Similar to the season opener against the Cleveland Indians, Price began the game great. After a leadoff double by Joey Rickard, Price would set down the next six hitters he saw, and struck out three of them.
The Orioles did eventually get hot and had an impressive third inning, bringing home five runs. After Nolan Reimold was set down on strikes, Caleb Joseph hit a single, Rickard walked, then Machado was hit by a pitch. This loaded the bases up for Chris Davis, and he delivered with a two RBI soft-hit single that would bring the margin to 3-2.
The very next batter, Mark Trumbo, would clean things up. Trumbo connected with his first dinger of the season, connecting on a 1-1 low fastball. Trumbo's three run shot gave the Orioles a 5-3 lead.
Yovani Gallardo would settle down, but his overall performance still was not great. Gallardo would settle down ten of the next 11 hitters he saw, but would surrender two more runs in the bottom of the fourth inning after a Jackie Bradley Jr. double and Mookie Betts RBI groundout. Gallardo ended up finishing five innings allowing seven hits and five earned runs.
Price gave up five hits and five runs in five innings of work, striking out eight Orioles and walking two. Baltimore would score their sixth run of the night in the sixth inning off Matt Barnes after back-to-back doubles from J.J. Hardy and Jonathan Schoop.
Bradley Jr. would bring home Boston's sixth run of the day in the sixth inning as well with an RBI groundout off T.J. McFarland, beating out a potential inning ending double play at first base.
Late Game Drama
After both bullpens held up for the seventh and eighth innings, Red Sox manager John Farrell elected to bring in his lights out closer Craig Kimbrel for a non-save opportunity in the top of the ninth inning. Kimbrel was another big move of the offseason, as Boston traded some quality prospects to land him. Kimbrel began the season without giving up a run over two innings.
However, today seemed to be Baltimore's day of bashing the Red Sox' winter moves. Kimbrel walked both Joseph and Machado, bringing up power hitter Davis once more with runners on first and second with two outs. Kimbrel's command did not seem up to what it normally is, as he threw just 35% strikes after the Machado walk.
Davis did not want to settle for another walk. "Crush" Davis connected with a massive three run homer, a ball that sailed way over the 420 foot wall in center field, good for his fifth RBI of the day. It was a crushing (pun intended) inning for both Kimbrel and the Red Sox, as the "Fenway Faithful" immediately turned silent.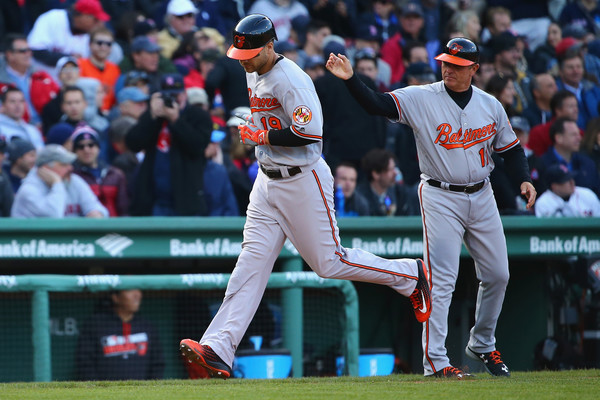 However, the Red Sox offense showed no signs of quit just yet. Betts began the inning with a great at-bat, and eventually launched a line-drive shot over the "Green Monster" for his second home run of the season.
Pedroia and Bogaerts would both reach base by single and walk, respectively. This set up a massive showdown. David Ortiz against Zach Britton. Ortiz was the winning run at the plate, while Bogaerts was the tying run at first with no outs. Ortiz was 6-15 against Britton before the appearance.
Britton won this battle, and it came at the best time. Ortiz grounded into a double play after a great stop from Schoop, and Ramirez would strike out the next play. It was the ending for an all around tough game for Boston.
Game Notes
Fenway Park put on a terrific opening show. Boston greats Bill Russell, Bobby Orr, Ty Law, Jason Varitek, Pedro Martinez, and Tim Wakefield all came out to the field before the game. Russell, Orr, Law, and Ortiz all threw out first pitches. The show was an honor towards Ortiz, as 2016 will be his final season. The highlight of the ceremony for the Ortiz family, however, came when David's daughter Alex Ortiz sang a beautiful national anthem before the game that brought David Ortiz to tears.
Brock Holt (foot) returned to the lineup after missing just one game. Mookie Betts ended a 1-20 slump with three hits today. Chris Young pinch hit for Travis Shaw in the bottom of the sixth inning for matchup purposes. Boston will send Clay Buchholz to the mound tomorrow night in the middle game of a three game series.
Adam Jones (rib cage) was held out of the lineup for the fourth straight game, but entered in the field in the bottom of the ninth. Joey Rickard has now had a hit in his first seven major league games. Mike Wright will get his first start of the year tomorrow night for the O's.