 No one ever thought it could happen. "Impossible," some might say, or even "absurd," "ridiculous," or "delusional." But, it happened.
Bartolo Colon hit a home run.
On Saturday night, the (almost) 43-year-old pitcher smacked -- nay, slaughtered -- his first career homer into San Diego's silky blue sky, and nearly tore down Petco Park at the seams. The 7 Line Army -- an orange sea of New York Mets fans swaying in the right field bleachers -- went berserk. Their dreams had finally come true.
Perhaps the dreams have been out of sheer absurdity, but the vision of a Bartolo Colon home run is supremely dominated by feelings of joy. Since the dawn of his Mets career, fans have watched Colon's at-bats in awe, begging for Bart -- all 285 pounds of him -- to bash a ball to the seats in left. 225 at-bats into his career, Colon has given us such beautiful memories like his beautiful lunging groundout, and the epic demise of his helmet after a swing and miss. The smirk on his face as he patters cleats into the batter's box is bright and contagious. He bounces with excitement like a little leaguer, ready to strike, to smack a ball into the night and bring the baseball world to it's worshipping knees.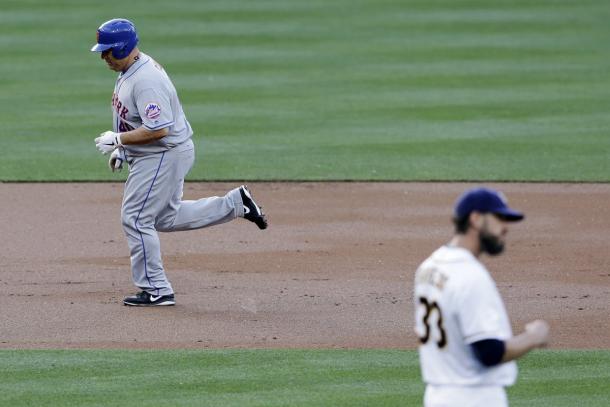 A god among men
Bartolo Colon has embraced the role of God since he came to Citi Field. During pregame introductions before the Mets' 2016 home opener, Bart's ovation was that of thunderous praise. Flushing, Queens loves him more than anyone, and had Bartolo Colon's Shot Heard 'Round the World landed in Citi Field seats, the ensuing blue and orange eruption could have split the world in two.
Even so, the reaction in San Diego was priceless -- poetic, even. The 7 Line Army screamed, Mets announcer Gary Cohen's voice cracked with joy, and Colon took his sweet time in a classic trot around the bases. It was absolute, glorified chaos. On a belt high fastball by James Shields, Bartolo Colon became the oldest player in baseball history to hit his first career home run.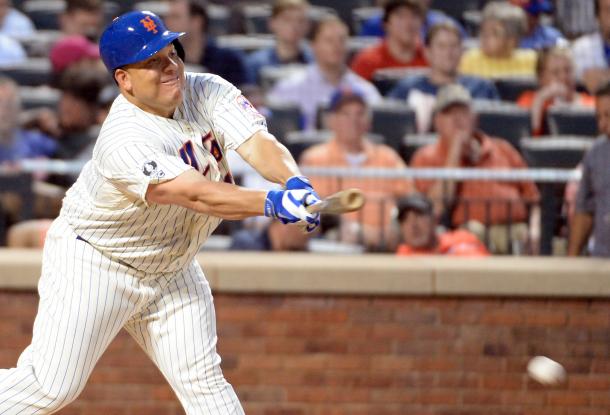 Practice makes perfect
During offseasons, Colon plays in friendly softball games, where he whacks home runs regularly. Since he joined the Mets, he's been avid on improving his hitting, on one day being able to maybe -- just maybe -- loop one over the wall.
And, on a Saturday night in Southern California, he finally did it. He didn't just loop the pitch over the wall, he demolished it -- a signature Bartolo beating had finally found its home. After the game Colon called the home run "probably the biggest moment of my career," and Mets manager Terry Collins raved over how happy he was for Bart.
And why not? After watching a shot like that, it's hard not to fall into a big, shiny smile -- just like Bartolo Colon does when he digs into the batter's box.