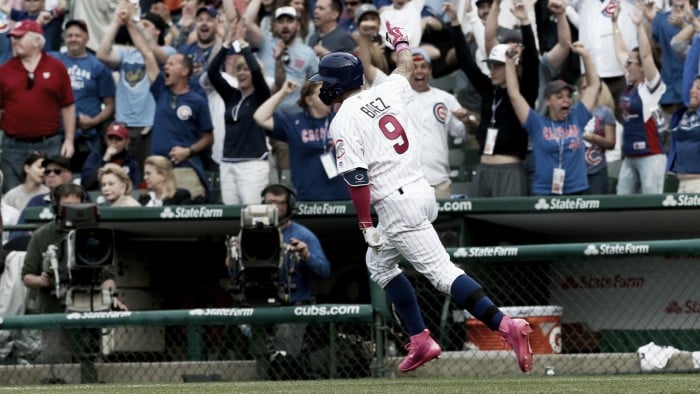 The Chicago Cubs won again, this time on a walk off homer in the bottom of the 13th inning to give Chicago their 24th win of the season.
Cubs' ace Jake Arrieta struggled in his seventh start of 2016, but Chicago would end up coming out on top in the end. In the longest game of the year so far for Chicago (4 hours and 54 mintues), infielder/outfielder Javier Baez came through when it mattered most. With one out and no one on base, the 23-year-old Puerto Rico native blasted a ball deep into the bleachers in left center, giving Chicago the 4-3 victory. The walk-off homer was the Cubs 'first since last September against the Kansas City Royals, when outfielder Chris Denorfia blasted one out of the park to seal an 11 inning, 1-0 win.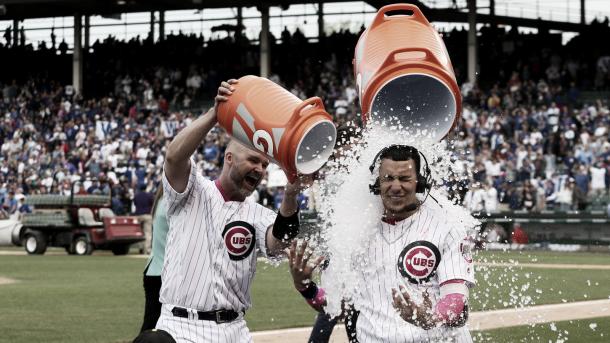 Before the walk-off
Chicago's all-star third basemen, Kris Bryant, tied the game up at three with a two run single in the seventh inning. From that point on it was nothing but three up and three down for both teams. Chicago attempted to take hold of the lead in the 11th inning when Jason Heyward was sent home from first base on Bryant's one out double, but he was tagged out just before touching home.
Harper ties MLB Record
Washington Nationals right fielder, Bryce Harper, walked six times in Sunday's game, tying a major league record. Harper also set the record for most walks in a four game series with 13. Harper scored Washington's first run of the game in the third inning all the way from first base on a Ryan Zimmerman double; Kris Bryant couldn't make a play on the ball resulting in an error giving the Nationals the early lead.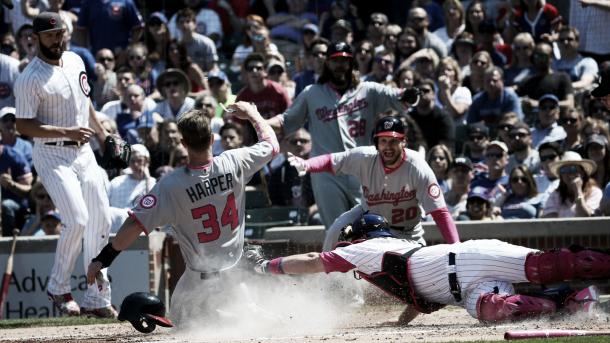 Arrieta struggles
Jake Arrieta only lasted five innings on Sunday. Despite being pulled, the Cubs continued the streak of wins during an Arrieta start. Including last season, Chicago has now won 20 straight games where their ace has been the starter.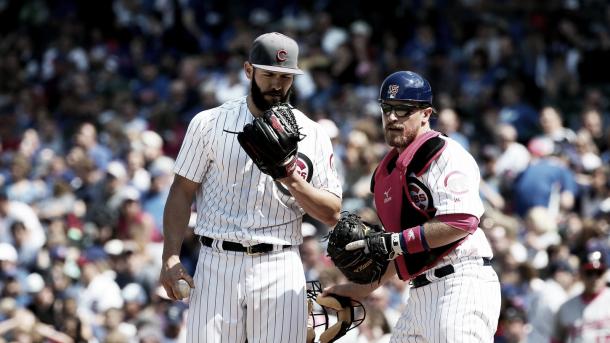 Looking ahead
Chicago Cubs: The Cubs will open a three game home stand on Monday against the San Diego Padres. Left handed pitcher Jon Lester will get the first start in the series opener on Monday for Chicago. Chicago should also see catcher Miguel Montero back in the lineup after being on the DL for the last 12 days due to lower back tightness, though his return has not been officially confirmed.
Washington Nationals: The Nationals will take on the Detroit Tigers next, sending Stephen Strasburg to the mound to square off with Detroit's Anibal Sanchez. Strasburg is currently 5-0 with a 2.36 ERA.