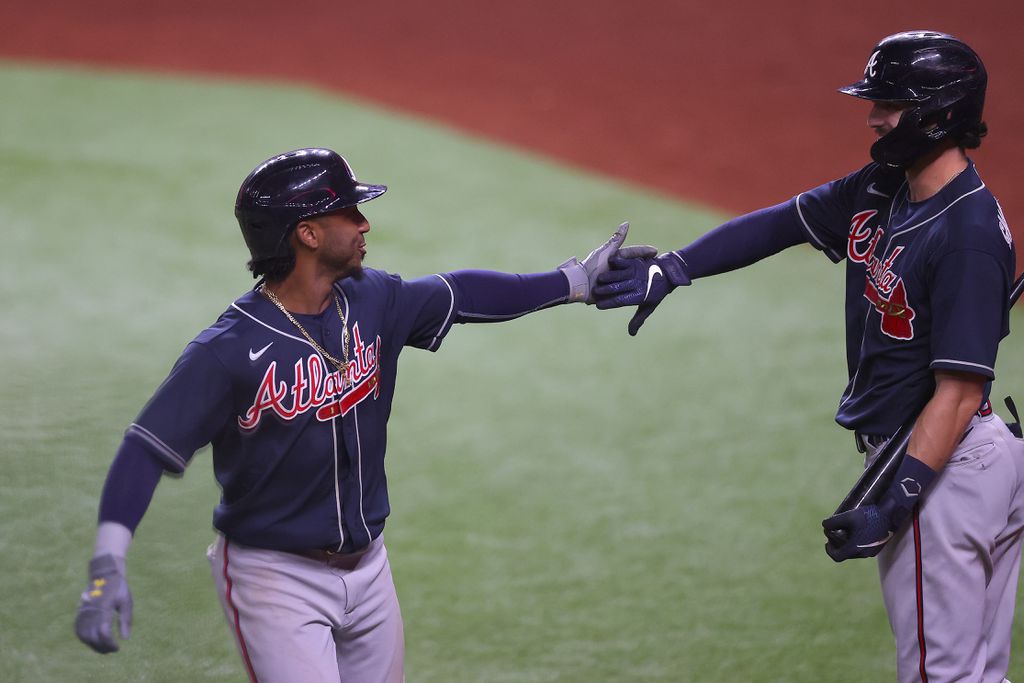 The Atlanta Braves jumped out to a 7-0 lead and held off a late charge by the Los Angeles Dodgers to take Game 2 of the National League Championship Series 8-7.
Freddie Freeman homered and drove in three runs while Ozzie Albies drove in a pair. Corey Seager and Max Muncy combined for six of the Dodgers seven RBI's as a four-run ninth-inning rally fell just short.
Tyler Matzek picked up the win in relief of starter Ian Anderson while Tony Gonsolin, called on to replace Clayton Kershaw, took the loss. Mark Melancon came in to get the save.
Braves take 2-0 lead behind Freeman, Albies
Both starters went through the first two innings without any damage done and in the bottom of the third, the Dodgers threatened as Mookie Betts walked, Justin Turner singled and Muncy also walked to load the bases. A weak groundout ended the inning, although Anderson was already at 66 pitches.
The Braves took the lead in the top of the fourth. Ronald Acuna Jr. walked and Freeman launched a 3-2 pitch into the right field seats to give Atlanta a 2-0 lead. Anderson was done after four innings, giving up one hit but walking five.
Atlanta extended their lead in the top of the fifth as Nick Markakis worked a ten-pitch walk and Christian Pache doubled into left that brought home Markakis and made it 3-0. A walk to Acuna Jr. ended Gonsolin's night, bringing on Pedro Baez, who gave up an RBI single to Freeman that made it 4-0.
Back-to-back walks to Marcell Ozuna and Travis d'Arnaud forced in another run and a sacrifice fly by Albies seemingly put the game out of reach at 6-0. Dylan Floro finally ended the inning by striking out Dansby Swanson.
Atlanta made it 7-0 in the top of the seventh against Alex Wood. d'Arnaud walked, Albies singled to move him to third and Swanson doubled to bring d'Arnaud home. An intentional walk to Austin Riley brought up Markakis, who flew out to end the inning.
The Dodgers began their comeback in the bottom of the seventh. Darren O'Day was victimized by an error from Albies and a single from Chris Taylor. After striking out Betts, O'Day was replaced by A.J. Minter, who gave up a three-run home run to Seager.
The Braves tacked on a run in the top of the ninth on a solo shot from Albies to make it 8-3. Josh Tomlin came in for the bottom of the ninth and quickly gave up a run-scoring double to Betts and a two-run homer to Muncy to cut the lead to 8-6.
Melancon came in and another error from Albies brought up Cody Bellinger, who tripled home Will Smith to make it 8-7 before Riley handled a sharp grounder by A.J. Pollock to end the game and put the Braves in a commanding position.
Julio Urias will get the call for the Dodgers in Game 3 while Kyle Wright starts for the Braves. First pitch is scheduled for 6:05.