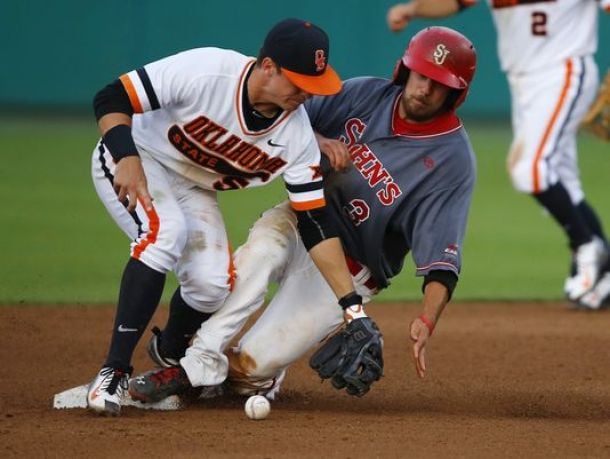 After a closer ending to Oral Roberts - Arkansas in the earlier matchup. The fans at Allie P. Reynolds Stadium were certain to get their money worth in the second game as their hometown Cowboys went to the field to face the visitors from New York.
Oklahoma State started off by getting some small runs in each of the first three innings. They started in the bottom of the first when left fielder Gage Green hit a single, was sacrificed over to second, advanced to third on a wild pitch, and then scored on another sacrifice. It was an easy 1-0 lead for the home team.
The Designated hitter for the Cowboys, Conor Costello, walked in the bottom of the second, advanced to third on a single by centerfielder Ryan Sluder. Costello would then score as Catcher Bryan Case laid down a sacrifice bunt and the Cowboys led 2-0 after two innings.
Oklahoma State struggled though in the top of the third inning as they had back to back throwing errors that allowed two runs to cross. But Gage Green scored again in the bottom of the inning as they got another run on a ground out this time. Cowboys led 3-2 after three.
St. John's second baseman Robert Wayman would score again in the top of the fifth as he hit the only Home Run of the game, taking a 1-0 count over the left field wall. Oddly enough though, when the Cowboys needed a run to retake the lead Gage Green got on base yet again and got moved forward by a couple of bunts as Oklahoma State would lead 4-3 after 5 innings.
St. John's and Oklahoma State would then both stay quiet until the final inning of the game, the ninth inning. Red Storm designated hitter Troy Dixon finally got his first hit of the game and was pulled for pinch runner Ty Blankmeyer after his single. Blankmeyer can run, and moved to second on a sacrifice bunt as the Red Storm needed to manufacture this run. Blankmeyer then took third on a passed ball and would score on a fielder's choice a couple of batters later.
Gage Green led off the bottom of the ninth for the Cowboys with a bunt single and went to second off of a throwing error. Corey Hassel was then hit by a pitch before Donnie Walton would walk to load the bases with no outs. While the Red Storm did get Dustin Williams to strike out and give the potential for extra innings with a double play, Tim Arakawa singled to right center for the walk off RBI to give the Cowboys the win and to play in the winner's contest against the Arkansas Razorbacks in the later game of tomorrow's Regional in Stillwater.