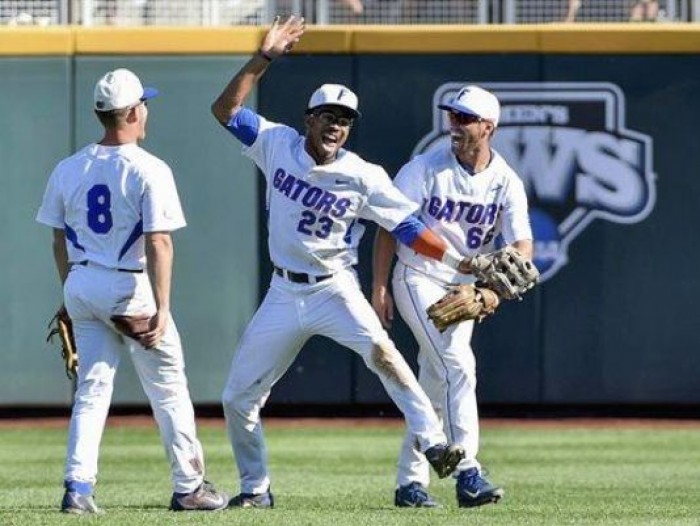 Though the weather around most of the country doesn't suggest it, a new season of college baseball has arrived. With the first games slated for Friday, February 19, it's time for a preview regarding the world of college baseball.
Questions like "Who will be the top players?' and "Which teams have the best chances of making it to Omaha?" will be answered along with many more.
10 Teams To Watch
1. Florida
After being one of the final four teams last season before ultimately falling to eventual champion, Virginia, the Gators should be back with a vengeance. They are picked to win the SEC over the Commodores of Vanderbilt University, despite Vanderbilt coming off consecutive National Championship appearances. The Gators return six position starters, and also saw five players named to the preseason SEC First Team. This includes their Opening Day starter Logan Shore, who recorded a 2.72 ERA last season for the Gators. Florida opens against Florida Gulf Coast and will be led by Shore, fellow pitcher A.J. Puk, first baseman Peter Alonso, and many others. The deep roster possessed by the Gators and their stud starters should make them an instant national contender.
2. Louisville
Though the Cardinals, a perennial ACC powerhouse, failed to make the College World Series last year, falling in the Super Regionals to Cal State Fullerton, they should come roaring back in 2016. A unanimous selection to win the ACC, the Cardinals will benefit from the decision of pitcher Kyle Funkhouser to return to Louisville, despite being chosen in the first round of the MLB Draft this past June. Funkhouser boasts a 2.47 career ERA and will hope to lead Louisville not only to Omaha, but deep into the College World Series. He'll be backed up by stellar all-around outfielder Corey Ray, a first team ACC selection, among several other top recruits that make up a solid roster for Louisville. They open against SIU Edwardsville on Friday.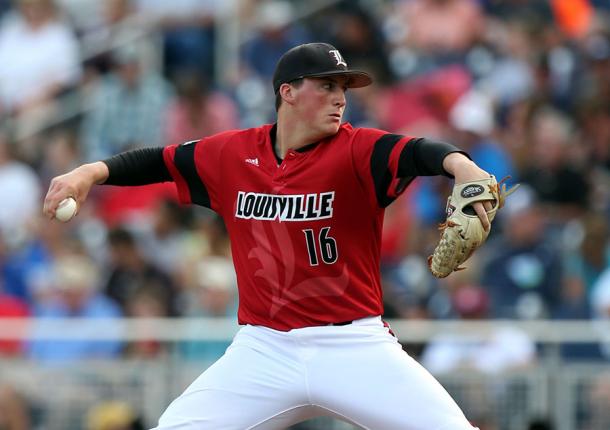 3. Oregon State
The Beavers are probably a surprise to most people as they show up at #3 on this list after a 2015 campaign in which they didn't even make it to the Super Regionals. However, the Beavers come into the 2016 season with a trio of sophomores, all of whom were named Freshman All-Americans last season. While their youth may have cost them last season, Oregon State's young squad gained some valuable experience in the NCAA Tournament last year, and they should be ready to make a deep run this season. They are led by last year's Freshman of the Year in first baseman K.J. Harrison and two fellow classmates, both pitchers, Drew Rasmussen and Mitch Hickey. The Beavers will start the season playing in a four game tournament against Ball State, Utah Valley, Minnesota, and Pac-12 rival Utah.
4. TCU
The Horned Frogs, like Florida, made it all the way to the College Baseball semifinals before falling to Vanderbilt. The Horned Frogs were picked to win their conference again, though rivals like Oklahoma State and Texas were both very close. Pitcher Mitchell Traver leads TCU into their campaign to defend their Big 12 title. Traver recorded a sparkling 1.89 ERA last season and was a 28th round draft choice of the St. Louis Cardinals. TCU did lose 11 players from last year's team, and they could have a rough start without senior outfielders Nolan Brown and Evan Williams. However, once TCU gets their star seniors back, they should be ready to contend for a third straight College World Series appearance. Texas Christian starts with a series against Loyola Marymount.
5. Vanderbilt
Despite consecutive National Championship appearances, the Commodores drop to #5 due to the six players they saw drafted in the first round of the MLB draft. The Commodores are always a solid team and have put together three straight 50-win seasons. They also do have 23 returning players, including 6 preseason All-Americans like pitchers Jordan Sheffield, Ben Bowden, and Kyle Wright. When you have 3 All-American pitchers, you're always in decent shape. And when you can add two All-American outfielders, like Brian Reynolds and Jeren Kendall, as well as an All-American third baseman in Will Toffey, you should be a national contender. If there's one team in the nation that can overcome the loss of 6 first-round draft picks, it's the Vanderbilt Commodores, who will begin their campaign to return to Omaha with a set of home games against San Diego.
6. Miami
Miami made yet another College World Series appearance in 2015 and look to return to Omaha. They bring possibly one of the best rosters in the country to the table. Their projected lineup includes five players that hit over .300 last year, led by Jacob Heyward (younger brother of Jason Heyward), who hit .327 last season. Their pitching staff returns Thomas Woodrey, a starter who threw over 100 innings last year, as well as closer Bryan Garcia (2.50 ERA) and reliever Jesse Lepore (1.93 ERA). Miami opens at home against Rutgers.
7. Oklahoma State
The Cowboys received three Big 12 first place votes, and finished second in the poll overall. The Cowboys boast plenty of experience, with seven returning starters, including All-Big 12 infielder Donnie Walton (.326 batting average in 2015). They also return a whopping nine pitchers to their staff, which recorded a program-low 2.84 ERA last season, led by Remey Reed and Conor Costello. They'll open with two games apiece against UT Arlington and Stephen F. Austin.
8. LSU
LSU comes in at #8 after a 2015 campaign that led them to Omaha, but their lineup does have some questions. Two projected everyday starters are coming out of high school, and the Tigers will cross their fingers that they can handle the pressure that comes with playing for an SEC powerhouse. Another starter is a transfer, another is coming off a season in which he was injured for the majority of the season, and their designated hitter hit just .130 last year. However, if the former high schoolers come through, and some other Tigers can produce just a little better than they did last year now that they are more experienced, they will have success in 2016. For now, they'll rely on the play of center fielder Jack Fraley (.307 batting average in 2015), and stud pitcher Alex Lange (12-0, 1.97 ERA). The Tigers open with a three game set at home against Cincinnati.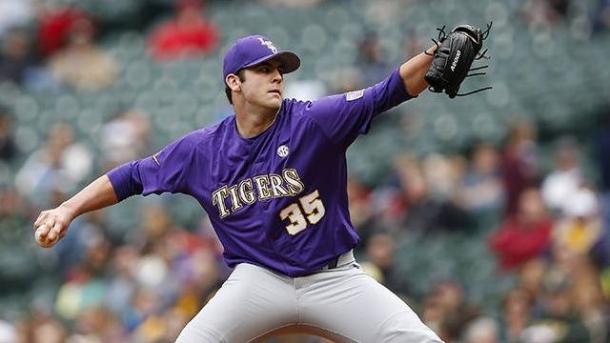 9. Virginia
Virginia are the defending national champions, but they are ranked just #9 on this list, largely due to the upset nature of their title run last season. The Cavaliers had to win a play-in game to make the ACC Tournament, went 0-3 in their conference tournament, but magically ran through the NCAA tournament after garnering a #3 seed in a regional tournament. They've made consecutive National Championship appearances, even though last year's was a miracle. They'll be led into Friday's season opener against Kent State by Connor Jones (7-3 record last year), and Pavin Smith (.307 batting average).
10. Michigan
Surprise! Michigan slides into the tenth spot as a surprise team to watch, mainly because we feel obligated to include the predicted winner of each of the five major conferences. The Wolverines went to the NCAA Tournament but fell a win shy of making the Super Regionals. Michigan will be led on offense by Carmen Benedetti (.325 batting average in 2015), as well as two solid pitchers in Brett Adcock and Evan Hill. The Wolverines are a dangerous squad and could use last year's NCAA Tournament appearance as a springboard for bigger things in 2016. They'll open their season with a four game set against Canisius.
Other Things To watch
Besides our Top 10 teams to watch, there are plenty of other things to watch and enjoy during this season. Here are three things that made our list.
The Big East
The Big East has long been a basketball-first conference, but 2015 showed that they have some emerging baseball teams that could have the Big East earning more than one selection to the NCAA Tournament. Last year, the Big East sent just one representative, their champion St. John's, to the tournament as the fourth seed in a regional tournament. It showed how low the Big East is regarded on the totem pole of college baseball, as their conference champion got a fourth seed. However, St. John's proved a few people wrong when they went to their regional final before falling to an eventual College World Series squad in Arkansas. They had some other shining moments, like when the Georgetown Hoyas took down Virginia in a non-conference matchup. It was a huge upset that became even bigger when the Cavaliers went on to win the National Championship. With teams like St. John's, the Hoyas, Creighton, Seton Hall, and several other solid squads, the Big East might just start gaining a little more respect.
Dallas Baptist And The Missouri Valley Conference
The small Texas school got a lot of attention in 2015 when their relatively unknown baseball program stunned the world by earning a #1 seed in a regional tournament in the NCAA tournament. Dallas Baptist was eliminated in their regional final, but it was a huge year for their squad. However, Dallas Baptist was given the cold shoulder when they were left out of the Top 25. With the Patriots' momentum from last year and their determination after seeing the slight they were given in the preseason, America had better be ready to watch out for Dallas Baptist.
On the topic of squads in the Missouri Valley Conference, it'll be interesting to see where that conference goes this year. They had two #1 seeds in last year's tournament in Dallas Baptist and the Bears of Missouri State. With those two squads, plus teams like Wichita State and Bradley, the Missouri Valley Conference could begin to develop into a powerhouse league.
Big 12 Balance
The Big 12 preseason poll showed how much balance there is in the conference, with just four points separating first place TCU and third place Texas, with Oklahoma State sandwiched in between, two points behind TCU but ahead of Texas by the same margin. Adding in Oklahoma, who managed fourth place in the poll and has probably more star players on their roster than any other squad in the conference, it's certainly a year to watch the Big 12. They could easily bring half a dozen teams to the NCAA Tournament, if not more.
-
This season should be an excellent one, with plenty of exciting teams to watch, and a healthy dose of underdog squads that can wreak havoc on the Top 25. Every game will be worth watching. Be sure to tune in for the season openers on February 19th as VAVEL USA has you covered.