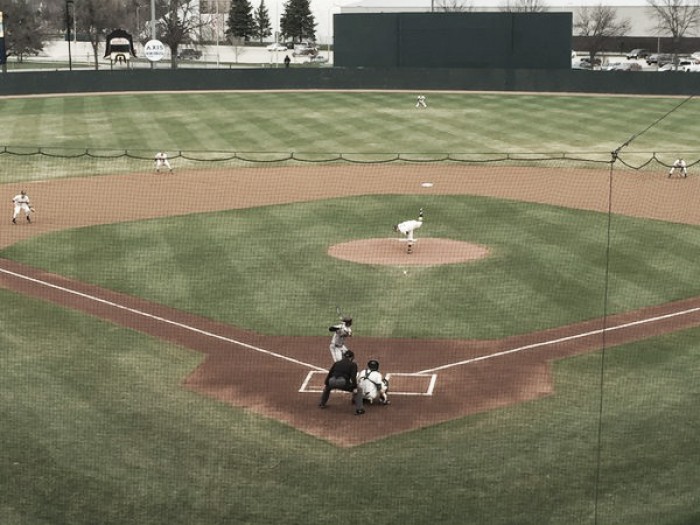 The Minnesota Golden Gophers traveled to Fargo, North Dakota, looking to continue the momentum they got from beating North Dakota State 10-0 over the weekend. But the Bison had other ideas, as they used big innings early to keep the nationally ranked Gophers at bay, and came away with a 7-4 victory.
Minnesota gets on the board very early
The Gophers got the scoring started right away in the top of the first inning when Dan Motl led off the game with a walk. After advancing to second thanks to a throwing error by pitcher Zach Mayo, he scored when Cole McDevitt singled to center field, putting Minnesota up 1-0 before the Bison even had a chance to bat.
When the Bison did bat in the bottom of the first, they got a single from Paul Funk, but that was all as Tim Shannon worked a relatively spotless inning.
The Bison made a pitching change, as they brought in Minnesota native Colin Baumgard. The Gophers greeted him by scoring two more runs after Coffey and Smith hit back to back singles to lead off the inning.
After Luke Pettersen hit a sacrifice bunt, and Motl popped up to Drew Fearing, Troy Traxler stepped up to the plate and singled to left field, scoring both Gophers and putting them up 3-0.
NDSU responds in the second
NDSU finally got on the board in their half of the second inning, and did it in a big way. Sanders led off the inning with a single right back up the middle. He was retired when Mason Pierzchalski hit into a fielder's choice.
After Juan Gamez drew a walk, Busch then stepped up to the plate and singled through the right side of the infield, allowing Pierzchalski to score, and advancing Gamez to third base.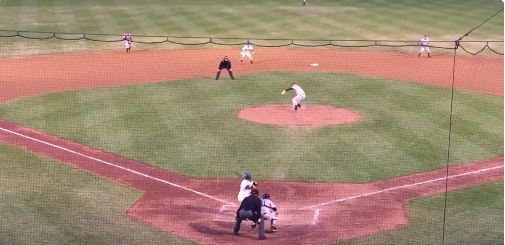 Busch advanced to second on a wild pitch, then scored when Fearing singled to right field, scoring both Busch and Gamez, and tying up the game. Funk then flew out to right field to end the inning.
After Minnesota did nothing in the third inning, and made a pitching change, bringing in Jake Stevenson, the Bison stepped up to the plate, and put up a big number, thanks to some critical Minnesota mistakes. It started when Petersen was hit by a pitch.
He advanced to second when Resch drew a walk. Sanders then stepped up to the plate and laid down what was supposed to be a sacrifice bunt, but Stevenson made a bad throw to first base, allowing Petersen to score, and allowing Resch to advance to third base.
That was all that Minnesota head coach John Anderson could watch, as he brought in Tyler Hanson to replace Stevenson. He started his appearance with a walk to Regan. Then, Pierzachalski reached on a fielder's choice, which allowed Resch to score.
Gamez then stepped up to the plate and hit what was a weak grounder in front of the plate, but it resulted in confusion for the Gopher defense, as both the catcher and pitcher went for the ball, which left the plate unattended. Resch took advantage and scored to put NDSU up by a 6-3 score.
The Gophers got one back in the fourth inning when Pettersen drew a one out walk. He advanced to third when Motl doubled to left field, then scored when Traxler grounded out to third base.
The Bison tacked on another run in the fifth inning when Regan led off with a single to center field. He advanced to second when Pierzchalski hit a sacrifice bunt for the first out. Gamez then singled to advance him to third. Regan scored when Busch flew out to right field,
They were poised to add more, but when Fearing singled to center field, Gamez was thrown out trying to score to end the inning, and keep the score at 7-4.
Minnesota has one last chance to score, but falls short
That was the score when Minnesota batted in the ninth inning. They led off with Eddie Estrada, who struck out swinging for the first out of the inning. He was followed by Motl, who grounded out to second base for the second out of the inning. That left it up to Jordan Smith, who struck out looking to end the game and give the Bison a huge victory over a nationally ranked team.