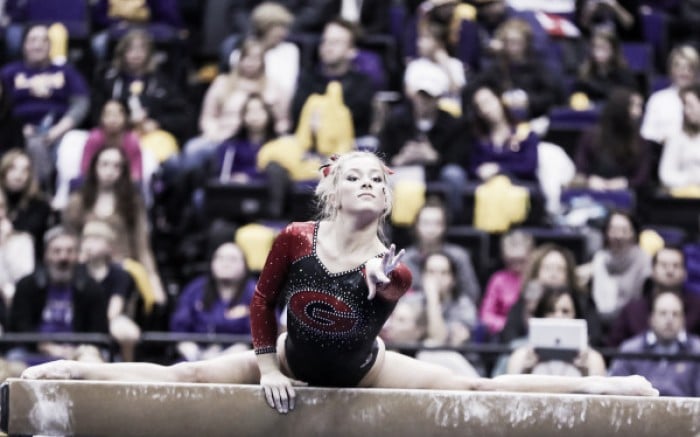 Despite a program-low start to the new season at LSU, Danna Durante's Georgia Gymdogs have been on the ascendancy since. They upset the Auburn Tigers last Friday before scoring a season-best 196.875 in a true team-effort to defeat sixteenth-ranked NC State Wolfpack here in their home opener at Stegeman Coliseum in Athens. The Gymdogs showed improved consistency and confidence in the two point plus victory over the Wolfpack, bringing their record this season to 2-1.
Georgia soars to strong start on vault while NC State struggles
For Georgia, senior Ashlyn Broussard led off the Gymdogs on vault with a decent 9.775 before another senior Morgan Reynolds, an Athens native, scored an impressive 9.900 on her stuck Yurchenko full. Rachel Dickson kept up the solid start for Georgia with a 9.800, with Lauren Johnson showing impeccable amplitude to score another 9.775 for Danna Durante's squad. Gigi Marino showcased her impressive vaulting skills with a 9.800. Georgia's only all-arounder and anchor Sydney Snead posted a very impressive 9.950 on her Yurchenko one and a half to close out a very respectable rotation for the Gymdogs, putting up an overall score of 49.225 to begin the meet.
NC State began the meet decently on the uneven bars with three straight 9.775s from Melissa Booker, Paris Phillips, and Maggie Tamburro. For the Wolfpack, Hannah Sobhan struggled on her routine, falling over on a handstand to put up a low score of 8.800, a score NC State would hope to drop. Despite the fall, senior Amanda Fillard recovered well for the Wolfpack receiving a much-needed 9.775 before anchor Chelsea Knight rounded out the rotation with a 9.875 to bring their total score to a 48.875.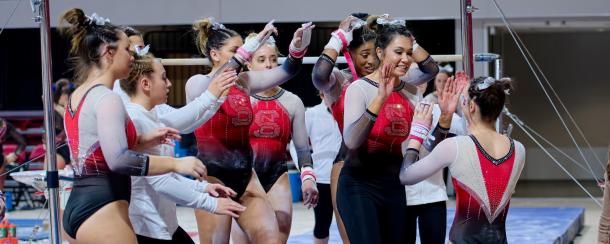 Georgia and NC State recover despite slip-ups on bars and vault
After a strong start on vault, Haley Sanders began nicely on uneven bars, scoring a solid 9.775 for the Gymdogs. Up next for Georgia was senior Morgan Reynolds who struggled towards the latter end of her routine, slipping off the bar on her dismount to amount for a low 9.050. After the fall from Reynolds, Lauren Johnson showcased her experience to rebound well with a solid 9.800. Rachel Dickson, making her Stegeman Coliseum debut, showed her talent, scoring a 9.850. Up next was Rachel Schick who posted the best bars score of the rotation with a 9.925 before Sydney Snead rounded out the lineup with a solid 9.775 for Georgia to bring the Gymdogs total to a good 98.350.
Maggie Tamburro began the rotation nicely for the Wolfpack, posting a 9.650 to lead off on vault. Up next for NC State was Caitlyn Fillard who put up a decent 9.675. Amanda Fillard followed that up with a solid 9.750 before Alexa Phillips posted a 9.775 on her Yurchenko full. Paris Philips and Chelsea Knight closed out the rotation well with 9.775s each to bring the Wolfpack's overall score to a 97.625.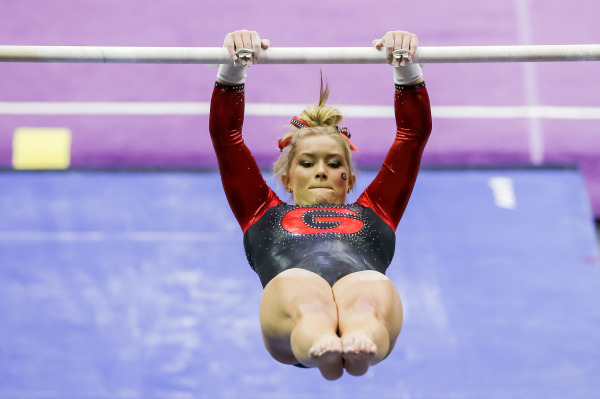 Georgia rock solid on balance beam while NC State decent on floor
The Gymdogs' balance beam lineup began with 2011 world team gold medalist Sabrina Vega making her Stegeman Coliseum debut, showcasing her beautiful artistry to score a very solid 9.850 to lead off. Haley Sanders kept up the momentum for Georgia, receiving a good 9.775 on her beam debut. Up next for Georgia was Sydney Snead who, despite a wobble midway through her routine, showed her mental strength to recover for another 9.775. Senior Ashlyn Broussard showed some great skill on her beam routine, putting up a very impressive 9.900 ahead of a decent routine from Vivi Babalis for a 9.575. Anchor Rachel Schick closed out the rotation on beam for Georgia with a very impressive 9.925 to bring the Gymdogs total to a 147.575.
For NC State, Maggie Tamburro began well on floor exercise with some nice tumbling to post a solid 9.750 for the Wolfpack ahead of another 9.750 for Alexa Phillips. Following some solid routines, Caitlyn Fillard kept up the momentum with a respectable 9.800 before Drew Grantham under rotated on her final tumbling pass, resulting in a fall to receive a low 9.1575, a score the Wolfpack would hope to drop.
With the pressure on, junior Chelsea Knight came up big with a solid 9.700 ahead of another hit routine from anchor Paris Phillips who received an impressive 9.875 to round out the rotation on floor without counting a fall to bring their overall score to a 146.500.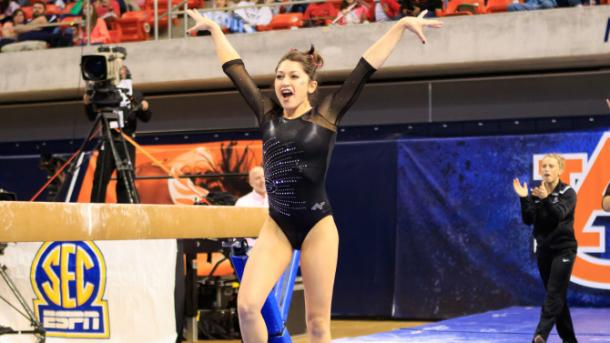 Georgia finishes beautifully on floor while NC State falters on beam
As the Gymdogs moved to floor exercise with over a point lead, senior Morgan Reynolds led off well with a 9.825 on her floor routine before Beth Roberts kept the momentum going with another 9.825 to get Georgia off to a good start on floor. Up next was Vivi Babalis who showed some exquisite dance to receive a very nice 9.825 for the Gymdogs.
With the home crowd spurring her on, freshman Sabrina Vega, in her Stegeman Coliseum debut, showed her unique personality and dance to score a huge 9.925 for Georgia on the floor. Sydney Snead kept the momentum up for Georgia with another very impressive routine, igniting the Athens crowd, to score a nice 9.900 on the penultimate routine for the Gymdogs. Anchor Gigi Marino wrapped up the competition for the Gymdogs with another explosive routine, scoring a respectable 9.825 to close out the meet for Georgia, bringing their overall total to a season-best 196.875 to take their second win of the new season.
As NC State travelled to balance beam, Caitlyn Fillard began the rotation off well for the Wolfpack with a solid 9.725 to begin the final rotation. Paris Phillips put up a decent score of 9.600 despite a wobble before a fall cost Maggie Tamburro with a low score of 9.150, a score NC State would be desperate to drop. Despite the pressure from a fall earlier in the lineup, Amanda Fillard was steady on beam with a solid 9.725 for NC State.
Some wobbles and a step back on her dismount plagued Drew Grantham, only scoring a 9.500 to put the Wolfpack firmly out of reach in this meet. Despite a tough set on beam, junior Chelsea Knight closed out the competition strongly with a 9.700 to bring NC State's overall total to a 194.800, a decent score for the Wolfpack despite the loss.
Danna Durante on her team's home-opening win
"It felt tremendous to compete at home," said Georgia head coach Danna Durante. "I think it felt really good to build on what we did on Friday. To me, the true mark of a team is when adversity comes your way, are you going to get stronger or break apart? This team is stronger than before we went into LSU and I think that every meet is going to make them stronger," commented an optimistic Durante.
"We are going to continue to just band together and build off each other and I think that's a true mark of great team chemistry and love for each other. I think when those weaknesses were exposed, nobody loved it, but it certainly made us stronger and a tighter unit," concluded a confident Durante.