The Mid-American conference tournament gets underway with everyone chasing perennial league power Akron. The Zips are once again the class of the league and look to parlay their dominance into an NCAA Tournament berth.
When: First round (March 6), Quarterfinals (March 9), Semifinals (March 10), Final (March 11).
Where: First round games will be played at the home court of the higher seed. The rest of the tournament will be held at the Quicken Loans Arena in Cleveland.
Matchups:
First Round (Monday):
#9 Northern Illinois at #8 Eastern Michigan, 7 ET.
#11 Central Michigan at #6 Kent State, 7 ET.
#12 Miami-Ohio at #5 Western Michigan, 7:30 ET.
#10 Bowling Green at #7 Toledo, 8 ET.
Quarterfinals (Thursday):
Northern Illinois/Eastern Michigan vs #1 Akron, Noon.
Miami-Ohio/Western Michigan vs #4 Ball State, 2:30 ET.
Bowling Green/Toledo vs #2 Ohio, 6:30 ET.
Central Michigan/Kent State vs #3 Buffalo, 9 ET.
Semifinals (Friday):
Semifinal #1 (Top half of the bracket), 6:30 ET.
Semifinal #2 (Bottom half of the bracket), 9 ET.
Final (Saturday):
Championship game, 7:30 ET.
Akron rolls through league again
For the fourth time in the last seven years, the top-seeded Zips (14-4, 24-7) were crowned regular-season MAC champions. A powerful, experienced team led by seniors Isaiah Johnson and Kwan Cheatham Jr, this is one of coach Keith Dambrot's finest squads in his 13 years in northwest Ohio.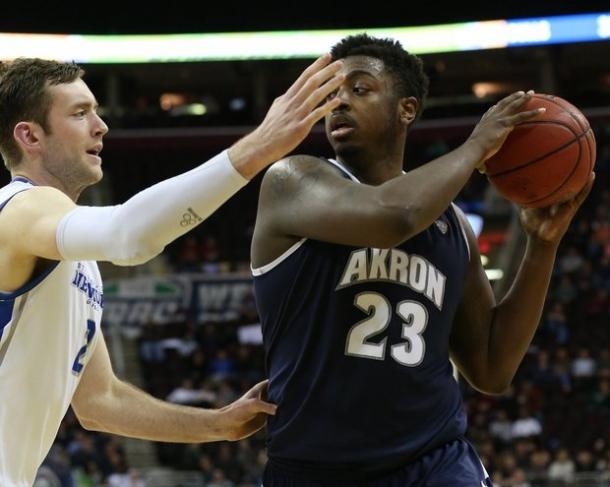 Group of challengers try to slow down Akron
There was a four-way tie for second place and unlike most conferences, the MAC (which has two divisions) doesn't automatically award the second seed to the other division champion. It was Ohio (11-7, 19-10) who earned the two seed on a tiebreaker. The Bobcats feature dynamic guard Jaaron Simmons as well as one of the best freshman in the league in forward Jason Carter.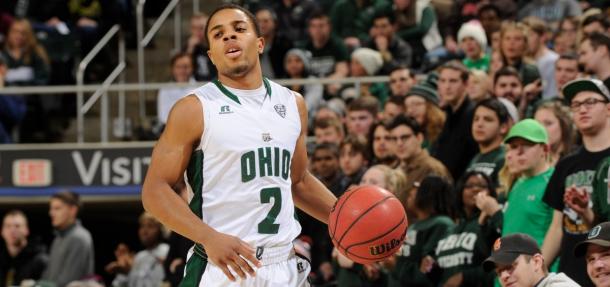 Buffalo (11-7, 18-14) will be looking to become the first team in league history to win three straight MAC titles and to do it, they'll need all-MAC second teamer Blake Hamilton Wing as well as defensive stopper Dontay Cartuthers to be at their very best.
Fourth seed Ball State (11-7, 20-11) is looking for their first NCAA berth since 2000. Unlucky to be in the same half of the bracket as Akron, the Cardinals can pose a threat with sophomore guard Tayler Persons and junior forward Franko House leading the way.
Fifth seed Western Michigan (11-7, 15-15) was the final team involved in the four-way logjam for second. Despite a .500 record, the Broncos have one of the best players in the conference in MAC first-team guard Thomas Wilder. Joining Wilder in the backcourt is Reggie Jones, a member of the conference's all-freshman team.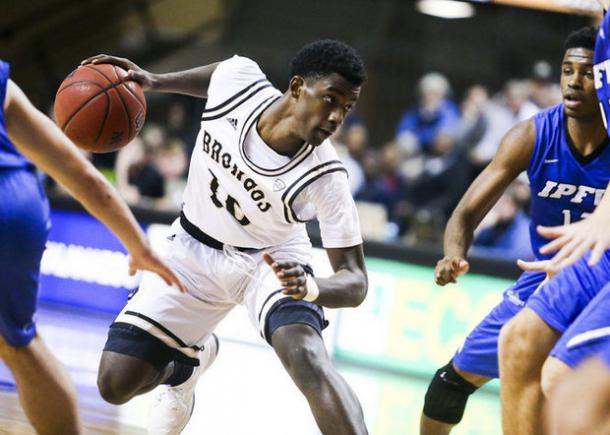 Rest of the pack
For sixth seed Kent State (10-8, 18-13), it was a solid, but not spectacular year. The Golden Flashes reached the NCAA's four times in an eight-year span between 2001 and 2008. To return to the Tournament for the first time in nine years, KSU will need the outstanding Jimmy Hall, named to the MAC first team for a third straight season, to be his usual brilliant self as well as defensive force Deon Edwin.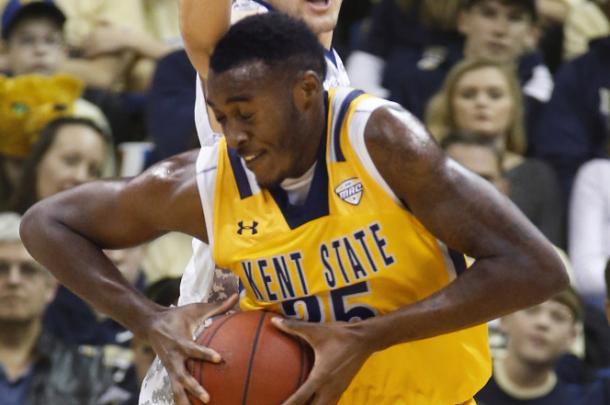 Seventh seed Toledo (9-9, 16-15) is looking to snap a 37-year NCAA drought. The Rockets pair of upperclassmen, seniors Steve Taylor Jr. and Jon Williams will need to carry Toledo over the finish line if they hope to end the longest active streak without an NCAA appearance in the league.
Eastern Michigan (8-8, 15-16) won a three-way tie for eighth and are bolstered by James Thompson IV as well as versatile defender Tim Bond as the Eagles look for their first NCAA trip since 1996.
Ninth seed Northern Illinois (8-8, 15-16) has experience in the form of center Marin Maric and youth in all-MAC freshman selection Eugene German to try and help the Huskies reach March Madness for the first time since 1996, when they were members of the old Mid-Continent Conference.
Bowling Green (7-11, 13-18) earned the tenth seed and can call on the services of senior guard Zack Denny, also a member of the league's all-defensive team and freshman backcourt mate Dylan Frye to try and mount a challenge in Cleveland.
Central Michigan (6-12, 16-15) had won at least a share of the last two regular season MAC titles, but slipped all the way to eleventh this year. In junior guard Marcus Keene, the Chippewas have one of the most dangerous scorers in the country, as evidenced by six games of 40 or more points as well as leading the nation in scoring.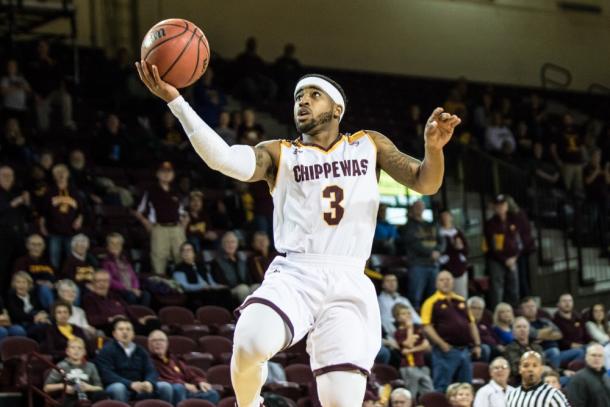 Finishing in last was Miami-Ohio (4-14, 11-20). The Redhawks are looking to the future as they look to rebuild and freshman guard Michael Weathers is a terrific piece to lead that effort.
Who will go dancing?
Akron has long been the class of the MAC, appearing in eight of the last ten championship games, but a combination of bad luck (Miami-Ohio's Doug Penno beat the Zips at the buzzer in the 2007 final and Ohio won a one-point game in the 2012 title game) combined with their own poor play (ninth seed Ohio in 2010 and third seed Buffalo last year upset Akron) have meant Dambrot's teams have not appeared in the NCAA's as much as they should have. With an experienced, deep and powerful squad, it appears again that Akron should not be denied a trip to March Madness. As much as the Zips have their own demons to wrestle with, this year they won't be stopped from reaching the field of 68.
Prediction: Akron defeats Ohio in the final.