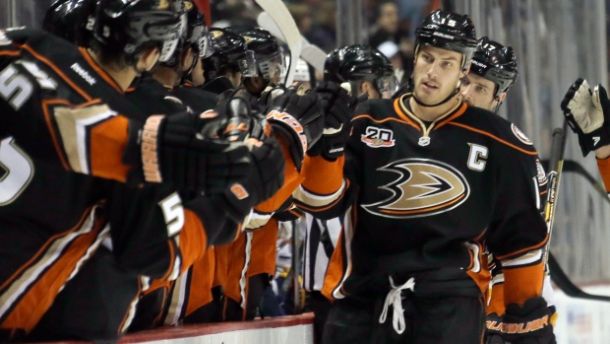 By the time the Anaheim Ducks take the ice at the Consol Energy Center for Thursday night's season opener in Pittsburgh, it will have been almost five months since their embarrassing 6-2 Game 7 loss to the Los Angeles Kings. They say time heals all wounds but for the 19 returning players there is only one remedy that will do the trick: hoisting the Stanley Cup.
Last season's version of the Ducks saw franchise records in wins (54), points (116), and goals (263) en route to their second consecutive Pacific Division title as well as finishing atop the Western Conference. Regular season success is all fine and good but it's also nothing new for coach Bruce Boudreau who continues to lead his teams to excellent 82-game campaigns. But greatness is measured in the postseason and GM Bob Murray was busy this summer to make sure the Ducks won't be embarrassed again.
Gone are all-time franchise leader in just about everything Teemu Selanne, his fellow Finn Saku Koivu, Jonas Hiller and Mr. Clutch Nick Bonino. In their place the Ducks welcome Dany Heatley, Nate Thompson, Clayton Stoner and most importantly, Ryan Kesler. It cost Murray a pretty penny to bring in the former Selke winner Kesler but in doing so he told the rest of the league the Ducks mean business. An overall focus on size and grit has transformed this Ducks roster that saw a brick wall in the form of LA's four big centers. "Harder to play against" was a mantra heard often over the summer and considering the size and toughness of the newest Ducks it was clear Murray did everything he could to ensure that they would be just that.
He also made the bold choice to go into the season with two goalies with a grand total of 42 games of NHL experience combined in Frederik Andersen and John Gibson. Andersen is coming off an impressive rookie season (20 wins, 2.28 GAA, .923 save%) while Gibson started his NHL career with a bang recording shutouts in both his NHL debut as well as his playoff debut in Game 4 against the Kings. There's certainly no lack of talent between the two but who will command the net this season will be a storyline that will run throughout the season.
Most of the talk about the upcoming season has focused on Kesler and how he'll give the Ducks a solid 1-2 punch down the middle of the ice or whether the new additions can improve their middle-of-the-pack special teams numbers. The real key to this season really is the same as it is every season:
Ryan Getzlaf.
The Ducks go as their captain goes. Case in point the 2011-2012 season. Getzlaf posted his worst numbers since his rookie season (11 goals and 57 points in all 82 games) and the Ducks had their worst finish since their Disney days. Last season he finished second in league scoring with 87 points which included a career-high 31 goals. It's no coincidence that such a dominant season by Getzlaf coincided with the Ducks best regular season finish. It goes without saying that in order for the Ducks to remain atop the Pacific Division and Western Conference, Getzlaf will again have to be dominant.
But everything they are going to attempt to accomplish has to go through him. In order for Kesler to be effective weapon they want him to be, Getzlaf will have to lead the Ducks top line nightly. In order for the moribund power play to reignite with new weapons Kesler and Heatley, Getzlaf will have to be the general directing the troops on the ice. In order for the team to have the drive to win a championship, Getzlaf will have to lead by example.
The secret weapon for Getzlaf and his brother-from-another-mother Corey Perry could be found in the form of Dany Heatley. Coming off a disastrous campaign where he saw his role in Minnesota vastly diminished to the result of career lows (12 goals, 28 points -18), Heatley is looking for redemption. No longer burdened by the expectations that come with a $7.5 million salary, Heatley finds himself in an enviable position: left wing on one of the best lines in hockey. Since Bobby Ryan reverted back to a second line winger several seasons ago, it has been a revolving door for the coveted top line spot. Last season alone saw the likes of Dustin Penner, Patrick Maroon, Jakob Silfverberg, Matt Belesky, Kyle Palmieri and even Teemu Selanne patrolling the left side with Getzlaf and Perry. Despite not being able to find a permanent partner those two continued to produce offence and their temporary winger would usually see his numbers bump up. But Boudreau wants a consistent presence on that line and early indications suggest Heatley is that guy. He's hoping that Heatley's drive to prove himself and the fact that Getzlaf and Perry seem to make just about anybody better will bring a resurgence in his goal scoring abilities. A groin injury sustained in the preseason may delay the experiment but sooner rather than later we will see if Dany Heatley still has something left in the tank.
Expectations are high for the Ducks. Bob Murray paid a premium to improve his roster so his team can dethrone the cross-town rivals up the road. He's hoping these moves along with a hungry group will finally allow Bruce Boudreau to coach a team beyond the second round of the playoffs and prove he's more than just a "regular season coach." Ryan Kesler wants to prove he's worth price paid to bring him to a contender. John Gibson wants to prove he belongs and that the hype is real. Ryan Getzlaf wants to prove being the Hart Trophy runner-up was no flash in the pan. Overall the Ducks want to prove they are for real. They want to show the league there's more than just the Kings and Blackhawks vying for league supremacy. They want to bring the Cup down the road a bit and keep it in sunny Southern California.