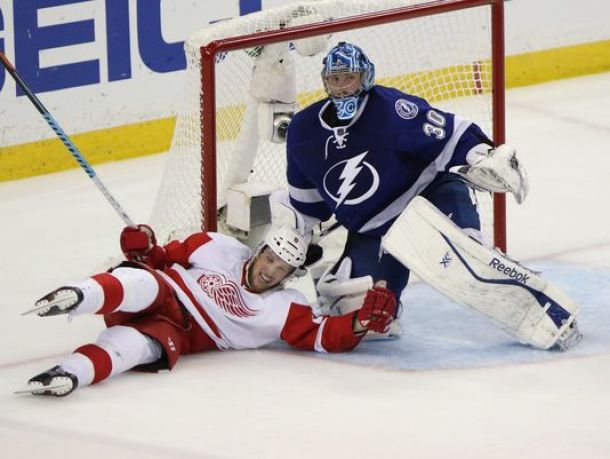 Ben Bishop and Petr Mrazek proved themselves as two of the better goalies in the NHL Playoffs this season. The Red Wings young goaltender had bounced back from two previous losses with shutouts, and was expected to have another solid bounce back game for the Red Wings. He would do so as he only allowed one goal on a great shot from the point by defenseman Brayden Coburn. The other goal Tampa scored was an empty net goal.
Ben Bishop, while looking shaky at times this series, had a fantastic finale, stopping every Red Wings shot and chance, as there were many this game. Bishop did a much better job on controlling rebounds, and while he did not make as many flashy saves as Mrazek in Game 7, or the series, he did what he needed to to protect the 1-0 lead for the shutout.
Alexey Marchenko and Jakub Kindl logged quite a few minutes for the Red Wings tonight, and played exceptionally well in Niklas Kronwall's and Marek Zidlicky's absences. Kindl prevented many scoring opportunities and made good plays on defense, while Marchenko locked down Tyler Johnson and Steven Stamkos, holding them without a point in Game 7 to many fans' surprise. Another note is that with few exceptions, Game 7 was extremely clean. There was only one pushing and shoving incident after the whistle had been blown dead. While it was still an extremely intense and exciting hockey game, it was not like ones prior in this series as far as dirty hits or extra jabs.
For Tampa Bay, their defense was what won them the game. Coburn got the game winner and defenseman Anton Stralman scored the empty netter. While they allowed some good scoring chances, they forced the Red Wings to play a dump and chase style hockey game that resulted in the Red Wings chances late in the game being extremely limited.
Next up for the Tampa Bay Lightning is a challenge versus the Montreal Canadiens who are lead by MVP Finalist, and likely soon to be Vezina Trophy winner, Carey Price. Montreal's physical style of play could pose problems for the Lightning. Tampa Bay coming off a seven-game series is hard enough, but having to travel all the way up to Montreal for Game 1 on Friday night should be in Montreal's favor. If Tampa wants to pull off the upset of the Montreal Canadiens, they have to improve their play at home, as they could have lost three games at home to the Red Wings. Also, someone other than Tyler Johnson needs to score some goals. Without Johnson, it is extremely unlikely that the Lightning would have lasted seven games versus Detroit, as the Red Wings could have eliminated them so much earlier without his contributions.
For the Red Wings, their next mission is gathering a plan for the offseason. Many tough decisions lie ahead for Ken Holland, including the NHL Draft, revisiting a Dion Phaneuf trade with Toronto, possibly looking to deal some older players, and more importantly resigning the young players who are without contracts. News should be coming out in the upcoming weeks about Mike Babcock's coaching decision as well. He has been the leagues best coach in recent years, and his contract is up for renewal. The Wings look to improve on their talent now and attempt to make a run past the first round next season, whoever the coach ends up becoming, and ultimately continue their quest for a Stanley Cup.