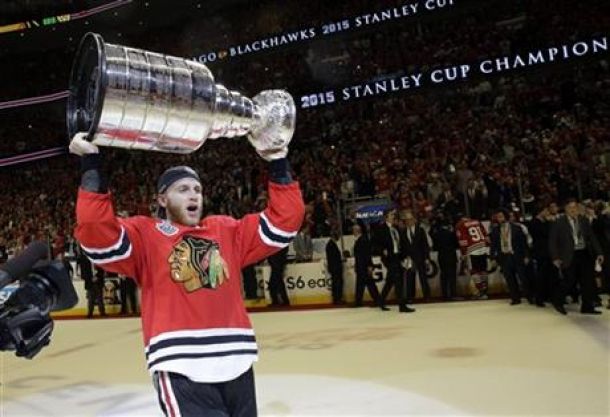 Sports is the ultimate form of drama. There is no script, nothing is predetermined, everything unfolds and occurs right before our eyes without the viewer, the fan, ever truly knowing beyond a shadow of a doubt what will happen next. Most of the time this is used to describe actions on the field of play. It could describe a game-saving interception, a no-hitter by an unlikely candidate, a hot streak from three-point range or a series-clinching goal in an elimination game.
Occasionally the drama of sports spills over into life outside of the game, and sometimes it can quickly become tragedy. As happy as fans are when their team wins and their team's heroes succeed in the clutch, they can become jaded, angry and simply sad in an instant. Patrick Kane had the city of Chicago and hockey fans around the globe eating out of the palm of his hand; now he is about to face times more trying than any he's ever faced, while his fans ponder what their sports hero is really like off the ice.
Olympian. Conn Smythe Trophy winner. Three-time Stanley Cup champion. Owner of one of the most memorable moments in not just Chicago Blackhawks history, but Chicago sports history in general, that moment being his championship-clinching goal in Game Six of the 2010 Stanley Cup Final. Patrick Kane, despite some of his fratboy-like antics, is beloved in Chicago. Sure, he has been through some turmoil, such as an arrest early in his career in his hometown of Buffalo, as well as numerous stories of partying hard, too hard at times. Nonetheless, he has become the loveable and ridiculously talented face of the Chicago Blackhawks. He is known to be close to his parents, his father even becoming something of a local celebrity, often being found at the Palace Grill on West Madison Street, not too far from the United Center. He struggles to grow a convincing playoff beard year in and year out. He scores goals, a lot of them. He has become a local hero in the Windy City, blazing by opposing players with his speed and scoring on bewildered goalies with a plethora of moves. Blackhawks fans, even with knowledge of Kane's concerning behavior at times, have grown to adore him and have accepted him as one of their own.
Depending on what information will be released in the coming days and weeks, August 6, 2015 may go down as one of the darkest days in the history of the Chicago Blackhawks organization, Chicago sports as a whole, as well as in the life of Patrick Kane. It was on August 6, 2015 that the world found out Patrick Kane was being investigated. It was in the afternoon of August 6, 2015 that hockey fans, sports fans and Chicagoans found out just what Patrick Kane was being investigated for. Without making wild accusations, potentially erroneous claims and speculating recklessly, there frankly is not much that can be talked about right now other than the few facts that the public has; Patrick Kane is being investigated for sexual assault.
When there are few specifics that the public can look at and unequivocally know are true, we need to look at the facts. Patrick Kane is a generational talent when it comes to hockey players. Patrick Kane is one of the best players in the NHL and in the history of the Chicago Blackhawks. Patrick Kane is put on a pedestal in Chicago. Patrick Kane is only human. Patrick Kane put himself in a bad situation. Patrick Kane is being investigated for sexual assault. It's jarring to be able to look at what makes a man a hero and what could make him a zero in such simple terms.
People make mistakes. What Kane has been accused of goes well beyond being a simple mistake, but how he got to this point could be summed up as a series of mistakes. Most notably, Kane put himself in a dangerous situation. As Chicago sportscaster Mark Giangreco laid out on Chicago's WLS-TV, Kane cannot put himself in a scenario which could lead to bad situation like the one he is in now. Attacking a woman in one way or another is not a simple mistake, however there is no proof that there was any assault involved at this point. Despite that fact, it was a mistake to set yourself up for a dangerous situation. That was a Patrick Kane mistake. It will take a while to know what other miscues may have stemmed from that one mistake.
But what does it matter in the long run? Is Kane really going to suffer in the public eye? It's inevitable that regardless of the outcome of this investigation, whether Kane is completely innocent or not, he'll never be viewed positively in everyone's eyes. There will be some who view him negatively, both new followers of that school of thought and those who already had a dislike for Chicago's #88. As a whole though, how will the city and the team's fans feel? Will Blackhawks fans be weary of the high-powered scorer, or will they welcome him back with open arms because he's still their champion?
Just like it would be irresponsible to speculate the outcome of this investigation into Patrick Kane, it would be irresponsible to assume what his public perception will be when the dust settles. That being said, his popularity is almost certainly going to directly correlate to his innocence or guilt. On the other hand, one might wonder if the end result of this investigation makes a difference at all. Some may believe that Kane's reputation is damaged solely by the fact he's being investigated. The only thing that a fan can do at this point, aside from give in to human nature and speculate about the events that occurred which led to this ordeal, is reflect on their admiration for a star athlete whose career, and life, is in limbo.
There is an overwhelming feeling of joy when something spectacular happens for a team which you support. When there is a player who performs at the highest level on a consistent basis and forces you to just look on in awe, it bestows upon you an incomparable, elated feeling. That feeling is one of the main contributing factors to the belief that sports is the ultimate form of drama. You never know what is going to happen next. Patrick Kane has brought a remarkable amount of joy to Blackhawks fans and the city of Chicago during his career so far. Alongside the likes of Jonathan Toews and Duncan Keith, he is one of the pillars of a modern day dynasty, bringing home three Stanley Cups in six years. But for all that elation which Kane has brought to Hawks fans and Chicagoans as a whole, that populace must now look back on their idol, their star, their hero, and reflect on their feelings. They must think about how a man mired in so much controversy now has brought them so much happiness in the recent past.
Put yourself in the shoes of a typical Chicago Blackhawks fan. Your team has just won the Stanley Cup for the third time in six years. The team features several likely future Hall of Famers, including the remarkable Patrick Kane. This man has brought you, your team and you city an immeasurable amount of sports-induced pride and joy in recent years. He's in a different spotlight now, a much more negative one. He's being investigated in relation to accusations of a heinous crime. Whether or not he's guilty, whether or not he's free of any tangible wrongdoing, how would you feel knowing that you cheered relentlessly for this man? It's not a situation fans often find themselves in, but it's a real issue for those that support a player through thick and thin; at the very least, it would make you question whether or not you would support them through thick and thin.
This is not about defending a stellar athlete, admonishing a privileged man or assuming what actually happened. This is also not about making assumptions about the accuser, their motives or anything like that. This is about recognizing the humanity of sports stars, people whom many consider heroes, and reflecting on just how much you do, and possibly how much you should, support them. Regardless of the outcome of this investigation, the summer of 2015 will follow Patrick Kane for the rest of his career, but it will be up to the fans, the supporters and the public as a whole to determine his legacy from this point forward. It will be up to the same group to analyze their own fandom as well; they will have to consider what is most important to them when looking up to an athlete, and what their limits are when it comes to doling out support. Sports is the ultimate form of drama, but when the script turns dark and leans towards tragedy, it is up to the consumer to determine its impact.