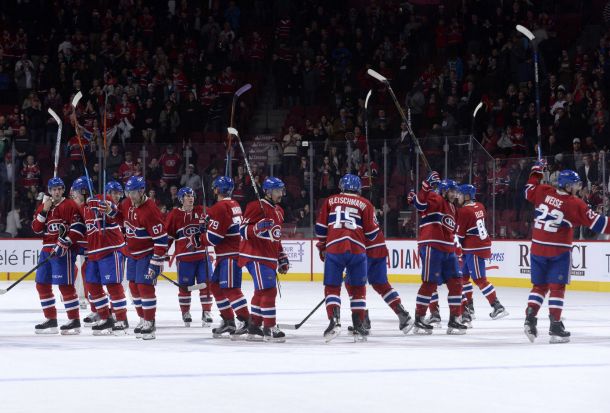 The season has been underway for a month now, which means there's finally an acceptable sample size to put together some early season power rankings. There have been quite a few surprises so far in this young season. Here is the top 16:
1. Montreal Canadiens (11-2-0)
The Habs have been fantastic and it's not just Carey Price. They are leading the league in goals with 50 and leading the league in points with 22. They look like they can't be stopped and if they keep up the goal production they are going to be awfully hard to beat with Price in net.
2. Dallas Stars (9-3-0)
Jamie Benn has fully taken control as the Stars' captain and best player. This team scores goals like it's nobody's business and if they get descent support in goal and on defense, then they will be a Stanley Cup contender by season's end. This is an exciting team to watch.
3. Washington Capitals (8-2-0)
The Caps have only lost two of their ten games played and during quite a few of these games they were without Niklas Backstrom or Alex Ovechkin. This team is much more than this duo, and with Evgeny Kuznetsov breaking out the way he is, they could be deadly.
4. Los Angeles Kings (7-4-0)
The Kings just ended a seven-game winning streak, but they seem to be back on track with resuming their spot in the conversation for a Stanley Cup contender. Tyler Toffoli is second in the league in goals behind only Benn.
5. Minnesota Wild (7-2-2)
It's about time this team started performing like an elite team. Their division is the best in hockey, but they are a very talented team being led by their captain Mikko Koivu, who has 11 points in 11 games.
6. St. Louis Blues (8-2-1)
The Blues are banged up, but it has not stopped them from staying in the league's elite. It'll be scary to see them when they get healthy. Jake Allen looks like he might be the starting goaltender that they have always wanted him to be.
7. Nashville Predators (7-2-2)
Backed by the second best goaltender in the world will make a team pretty high on this list. Pekka Rinne continues to show he's elite and the Predators will go as far as he's willing to take them.
8. New York Rangers (7-2-2)
This team isn't far removed from the Stanley Cup finals in 2014 and was in the Conference finals last season. They are still pretty good. Expect them to climb power rankings everywhere.
9. Vancouver Canucks (6-2-4)
These guys snapped Montreal's long win streak and kept them from hitting 10 wins in a row. The Canucks have also managed a pretty good +10 in goal differential, which is third in the NHL.
10. Winnipeg Jets (7-4-1)
Led by rookie Nikolaj Ehlers, the Jets are keeping up in an extremely competitive Central Division. It will be interesting to see what happens to Dustin Byfuglien though at his player safety hearing. The Jets need their big guy.
11. New York Islanders (6-3-3)
The Isles have lost a couple without their captain, John Tavares, but he's just sick so he'll be back soon. This is a very dangerous team with all around depth in their lineup.
12. Boston Bruins (6-3-1)
The Bruins are back to their winning ways after starting the season going 0-3 and giving up a ton of goals. They have a record of 6-3-1 and a +8 in goal differential. This is a much different Bruins team than last year, but if David Krejci keeps carrying he torch, this team could go places.
13. Pittsburgh Penguins (7-4-0)
After a somewhat rocky start, the Penguins seem to have found their groove. Sidney Crosby has not been putting too many points on the board, but this is obviously bound to change and once it does, the Penguins are going to be even better.
14. Chicago Blackhawks (7-5-0)
Yes, they are the defending champs, but that doesn't mean they get to be higher on a power rankings based on their prior season's performance. The Hawks are 7-5 and could be doing better. Expect to see them climb back up to the top of the Central Division.
15. Tampa Bay Lightning (6-5-2)
It's only fitting that they are right after the Blackhawks, after losing in the Stanley Cup finals to them last year. The Lightning are a better team than what they've shown, and they could have the next big goaltender controversy coming their way between highly touted Andre Vasilevskiy and current starter Ben Bishop.
16. San Jose Sharks (6-5-0)
The Sharks barely make the list, edging out the Florida Panthers and New Jersey Devils. They have already had their fair share of injuries, most notably the broken leg of Logan Couture. But if Martin Jones keeps playing well, this team could be the sleeper of the conference.