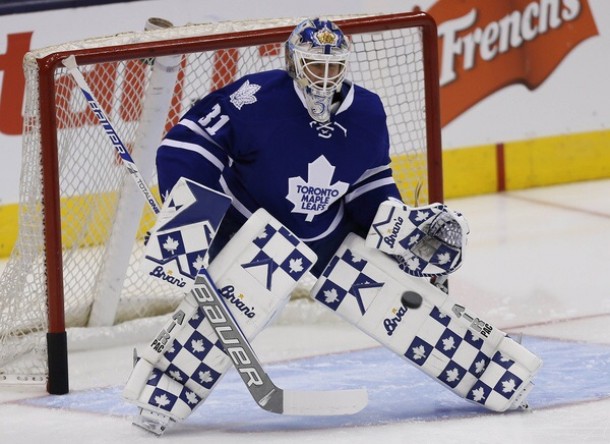 The Toronto Maple Leafs opened the scoring on a hooking penalty against Leon Draisaitl. Leo Komarov finished off a passing play started from Dion Phaneuf at the point, down to James Van Riemsdyk and out to the waiting Komarov in the slot to finish it off. Despite the goal, the Edmonton Oilers outshot the Maple Leafs eight to three and looked in control in the final half of the first period. Jordan Eberle was very active and had two shots on rookie goalie Garret Sparks.
Sparks looked decent in his first period of play; he didn't handle the puck extremely well but made it through the first 20 minutes unscathed. The second period of play rolled along the same as the first, with Edmonton applying early pressure. Toronto would push back, firing a total of 13 shots on net in the second. Edmonton blasted two good scoring chances off the post in the last half of the period. Draisaitl almost had the game knotted at one with a one handed deke around defensemen Matt Hunwick and barrelled towards the goalie, firing a high backhand which fluttered off Sparks' blocker and landed just out of the goalie's reach. Taylor Hall took a swipe at the free puck sitting in the crease but couldn't get a stick on it before it was knocked into the corner.
The third period was all Toronto, shots were only 10-8 for the Maple Leafs but they applied plenty of pressure. Nazem Kadri out the Leafs up 2-0 at 7:33 with a tip in front off of a Jake Gardiner point shot. The play was reviewed but came back conclusive that the stick was below the crossbar and it was a good goal. Edmonton had a late power play, but it did no good. It killed any momentum they could have gained giving up a short handed break to Michael Grabner and only putting one shot on net. With the goalie Anders Nilson on the bench, the Oilers still looked lost in the dying minutes. Leo Komarov scored his second goal of the game and tenth of the year off a dish from James Van Riemsdyk, who finished with three assists.
Toronto, 11th in the NHL faceoff percentage, finished the game at 56% in the faceoff circle and 33 hits. They are now within six points of a playoff spot.
Edmonton had 19 blocked shots and went 0/3 on the power play. They sit eight points out of a playoff spot and the loss of Nail Yakupov and rookie phenom Connor McDavid can be felt throughout the lineup.
Both teams can be seen back on the ice on Wednesday night - Toronto versus the Winnipeg Jets and Edmonton versus the Boston Bruins.