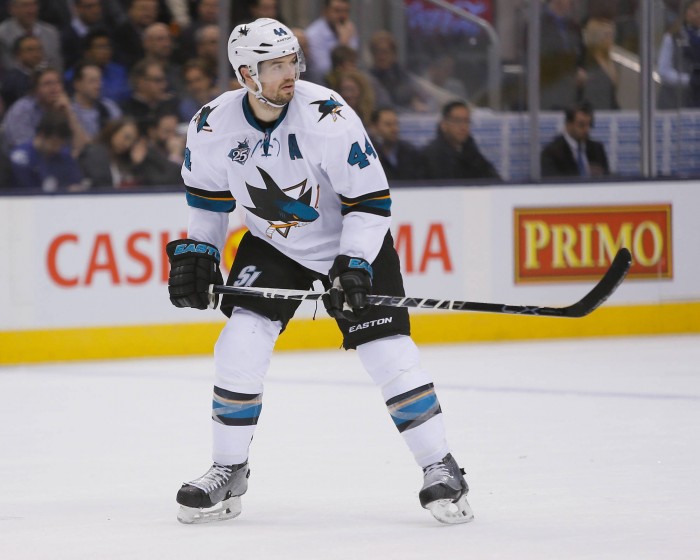 San Jose Sharks' defenseman, Marc-Edouard Vlasic, got his first glimpse of recognition as an elite player when he was picked for the 2014 Canadian Olympic roster. Not only did Vlasic get picked for the team, but he was paired up with Los Angeles Kings' defenseman, Drew Doughty, to make up the shut-down pairing for Team Canada. Canada went on to win the gold medal, and Vlasic went back to San Jose with practically no one talking about him. Vlasic's time on Team Canada sums up his entire hockey career: heavily used, heavily relied upon, and hardly recognized.
Vlasic has never been a high-scoring defenseman that puts up 50 points or more a season, and he may never be, but he certainly deserves to be considered for the Norris Trophy this season as the NHL's best defenseman. The Norris seems always to go to a defenseman that puts up loads of points, and the rest of their game seems not even to be looked at. Erik Karlsson of the Ottawa Senators has won the Norris twice in that past five years. In both the years that he won he led all NHL defensemen in points. That is a great accomplishment in itself, but it shouldn't warrant "best defenseman in the NHL" award. There should be a separate award for the best scoring defenseman.
The best overall defensemen in the league used to be tough to play against the defensive zone and also a threat in the offensive zone. They weren't just feared in the offensive zone like Karlsson is. No one fears Karlsson in the defensive zone. Vlasic is the type of defenseman that the opposition hates to see on the ice because they know it'll be tough to get scoring chances when he's out there. He's always had that reputation, yet it never translated to the Norris conversation. This season all of that should change.
Vlasic has 24 points in 42 games which puts him on pace for 47 points. That would be far and above his highest point total in a season of 36. Obviously, it's not at the same scoring level as Karlsson or Vlasic's teammate in Brent Burns, but it's certainly enough points to put him in the conversation. A point total of 47 and complete dominance in the defensive zone sounds like the complete package in a defenseman. Every team would want a player like that. Vlasic may not win the Norris because of multiple factors going against him, but he finally deserves to be a finalist at the very least. If the Norris were truly given to the best defenseman in the league, then the finalists would be Vlasic, Doughty, and the Minnesota Wild's Ryan Suter. Maybe someday the award will start having finalists like that rather than players like Karlsson, Burns, and the Montreal Canadiens' P.K. Subban.