 In a deal, which may not have been what GM Don Maloney really wanted, he unloaded the talented Danish forward to the Colorado Avalanche.
The Coyotes received three players in return; veteran forward Alex Tanguay, and prospects Conner Bleackley along with young Kyle Wood.
Breaking down the trade
Arizona Coyotes GM Don Maloney talked to AZ Central about the trade.
Tanguay, who is 36 had a comparable salary to Boedker's at $3.5 million, will become an unrestricted free agent after the season ends. He has accumulated four goals and 18 assists in 52 games this season. While he may not match Boedker's statistics, his puck possession abilities far exceed Boedker's. On a poor puck possession team, they have improved along those lines.
Per Dave Vest of the Arizona Coyotes, Tanguay is excited to join his new team.
"I'm very happy," Tanguay said. "It's a great opportunity to play for a very well-coached team that is still battling for the playoffs... Having played against Coach Tippett's teams in Dallas and in Phoenix, they're always a competitive team, and it doesn't matter who's in the lineup, it's always a team that competes hard and is always in the game."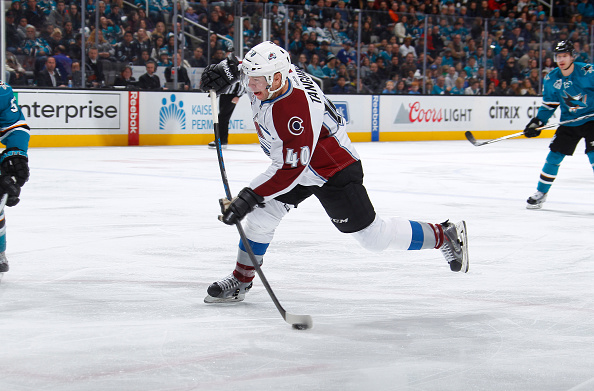 The two young prospects may have been what attracted Maloney to pull the trigger on this trade.
Bleackley, who is a forward and was the 23 overall pick in the 2014 NHL draft, plays for the Red Deer Rebels of the Western Hockey League. His numbers are quite good with 13 goals, and 28 assists in 47 games.
OEL's future linemate?
Wood, 6' 5", 209 lbs is a right handed defenseman playing for the North Bay Battalion of the Ontario Hockey League. He was chosen in the third round of the draft at number 84 overall. He has eight goals, and 27 assists in 40 games. Could he be the eventual pairing partner for Oliver Ekman-Larsson?
Better yet, who will be the point man for the power play now that Boedker, who took over that role after Keith Yandle was traded, is gone?
That very well could be Tanguay. According to a source I know who covers the Avalanche, Tanguay is valuable on the power play. "He's a true sniper and stick handler. His hands are like kid leather gloves, they're so soft."
The trade may have shook up the Coyotes core, when later after the dust settled about the trade, the Desert Dogs got beaten to a pulp by the Pittsburgh Penguins 6-0.
They now head home for a couple of games before becoming road warriors once again when they go on a pivotal four game journey. On March 7, they will head to Colorado where both Tanguay and Boedker will play against their former teams - that should be interesting.
In other moves, the Coyotes claimed Jiri Sekac off of waivers from the Chicago Blackhawks. They also traded with the Penguins to acquire Sergei Platnikov. They gave up Matthias Plachta and a conditional seventh-round draft pick in 2017.
Are the Yotes Done?
Many are writing off the Coyotes, especially after their horrible road trip, and in the midst of a six game losing streak. Tanguay has won a Cup, and he along with veteran Captain Shane Doan, can assist the younger players and guide them along the way.
We'll know more on Thursday night when the Arizona Coyotes battle their arch Pacific Division rival Anaheim Ducks at home. The Ducks are red hot, having lost just three times in regulation and once in overtime in their last 22 games. They carry an eight game winning streak into tomorrow night's game against the Montreal Canadians.
The Ducks game will mark the debut of Alex Tanguay as the newest member of the team.