 In the midst of a seven game losing streak with just 18 games remaining on the schedule, it doesn't bode well for the chances of a playoff whiteout happening at Gila River Arena this year.
The Arizona Coyotes sport a 27-31-6 record good for just 60 points. In past seasons it has required at least 90-95 points in the competitive Western Conference to be a playoff team. That would literally mean they would need to win every game to get to that point total.
The February Fade
If you research what it's taken in the past seasons to qualify for postseason play, the odds are against the Desert Dogs howling past their last regular season game on April 9th in San Jose.
Unfortunately, February has not been a good month for this team. Last season they went 3-9-1 in February. Their record is identical this year.
Ideally teams want to play their best hockey during this month to finish well and proceed to the playoffs as the Coyotes did during the 2011-12 season. That year they had it going on with an impressive 11-0-1 record to forge themselves a very impressive 42-27-13 record, good for 97 points.
The difference has been their lack of defense this season. During their successful 2011-12 season where they went to the Western Conference Finals, the Yotes gave up just 204 goals, good for a 2.49 goals against average. This season they have already given up 203 goals in 64 games, for a goals against average of 3.17. That will not get a team into playoff competition.
What Went Wrong?
Major injuries again plagued this team. For instance, losing Mike Smith in December was a real blow.
Everyone thought that Louis Domingue's play at first was exceptional, and it was. But then he came back down to earth and has been playing without much success lately. His record has dipped to 12-14-4, with a .909 save percentage, and a 2.81 goals against average.
The experiment to allow Domingue some rest failed miserably as backup Niklas Treutle was horrible in his NHL debut against the Anaheim Ducks. Treutle was so bad, in fact, that he was deemed not ready to play in the NHL. The team then called up Mark Langhamer from Springfield to act as Domingue's backup.
It also didn't help that Anders Lindback went down with a season-ending injury to further deplete the goalie position, especially since it is not a strong position with any depth in their farm system.
Regular starter Mike Smith is still experiencing difficulty with some lower back pain after predictions that he would be ready to get back between the pipes early this month.
That leaves the bulk of the work on Domingue's back, and he must be up to the challenge.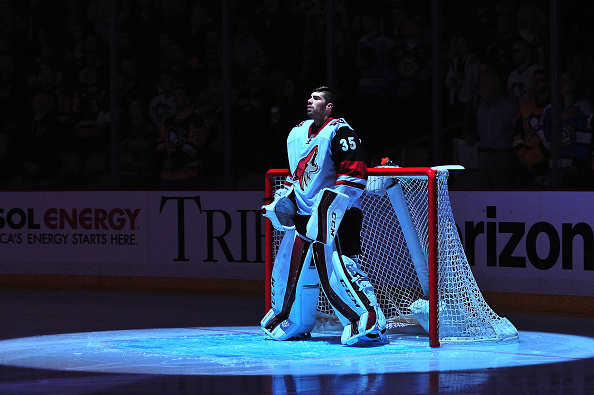 The entire team must start doing some reassessment as to what happened this season. With promising young rookies like Max Domi (17g/26a), and Anthony Duclair (17g/17a), the expectations were for a much better season than what has panned out.
As it stands right now, the team is just four points from the cellar-dwelling Calgary Flames, who have just 56 points. They are quickly falling out of the playoff race, being 10 points out of a wild card spot.
Is it possible for them to catch up, and recover enough wins to challenge for a wild card selection? Probably not. With eight homes games and 10 road games still ahead of them, the prospects are not promising.
Go for Matthews?
The question then becomes, with the team faltering like a lead balloon, do they tank the rest of the season with hopes of getting another good draft selection, and even a chance for the potential number one pick, Auston Matthews? He is a local born-and-raised Arizona prodigy, and the idea of him wearing an Arizona Coyotes uniform has its positive vibes.
Let's just say that the Edmonton Oilers have had their share of number one picks as of late, and it should be some other team's turn next.
Tanking will never be a game plan for Head Coach Dave Tippett, but the way this team is self-destructing, it may not be a bad alternative.