 Like a desert cactus erupting into bloom, the Arizona Coyotes have completed a road trip which has given them some hope that the playoffs may not just be a dream. Completing the Western Canada trip with five points out of a possible six, was a good start. Outscoring their opponents in those two games 8-1 was something both notable and necessary to win important games which will decide their playoff fate.
Could the Wild Card Spot Be Attainable?
Winning three of their last five games and collecting one point for the overtime loss to the Vancouver Canucks has the team seven points behind both the Colorado Avalanche and Minnesota Wild. The Avalanche and Wild both have 74 points and are tied for the last available wild card postition; Minnesota claims the eighth and last playoff spot because they have played one less game than Colorado.
Another tie breaking factor with these three teams vying for the same spot is regulation wins. Colorado has 32, while Minnesota has 31. The Coyotes only have 29, and that could be the deciding statistic on determining the eighth postition.
The Nashville Predators have a seven point lead on both Colorado and Minnesota, while just trailing the San Jose Sharks by a single point for sixth in the Western Conference standings. As usual, the Conference has some tight races taking place.
The Dallas Stars and St. Louis Blues are tied with 91 points, with the Chicago Blackhawks on their rear bumper just three points behind, with a game in hand.
The ever present Los Angeles Kings lead the Pacific Division, but not by much as they are two points ahead of the streaking Anaheim Ducks; the Ducks have come back into the earth's atmosphere by losing three straight, after winning 11 in a row.
The San Jose Sharks, winners of six of their last 10 games, are also pressing to win the bragging rights for California with 82 points. Nashville, on the other hand, are making some music by winning seven of 10, making a late season surge. So, the race is as tight as a drum.
The Playoff Run Has Officially Begun
What the Arizona Coyotes must do now is to execute a good late season playoff run and establish their own destiny. Of course, help from other teams is always accepted, but not expected.
Six of their next eight games are at home where they sport a not very impressive 17-13-4 record. The key factors here may be can Alex Tanguay continue to rally the offense as he has shown thus far, and can the return of Mike Smith make them a better team down the stretch? Tanguay has three goals, and three assists in five games in a Coyotes uniform.
What's even more interesting is how Antoine Vermette has caught fire in those five games. Playing on the "French Connection" line with Tanguay and Anthony Duclair has really done something magical to Vermette's play. He has four goals, five assists in the previous five games.
Mike Smith Has Returned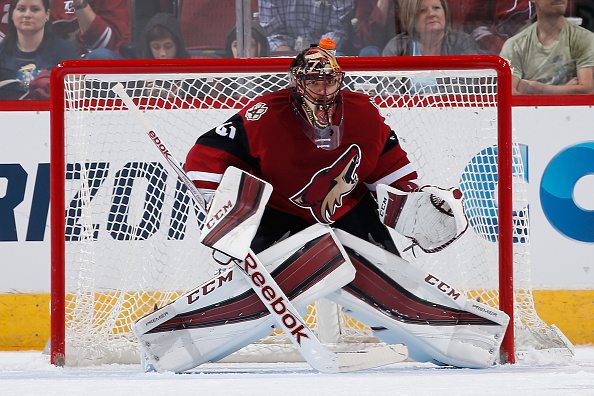 Having Mike Smith perform so admirably (even if it was against the lowly Edmonton Oilers) may just jump start this team into contention. It's not over yet, and Smith was solid while making 44 saves enroute to a shutout. and upping his impressive record against the Oilers to 12-1-1.
If the offense can keep scoring as is has the last several games, and the defense, even without All-Star defenseman Oliver Ekman-Larsson, continues to stop the opposing team -- then good things will come.
Having Smitty back, and watching him dominate could very well give this team exactly what it needs to execute a playoff run.