 The NHL announced Wednesday night that Washington Capitals head coach Barry Trotz has won the Jack Adams Award. The award is given out annually to the NHL's best head coach. Trotz led the Capitals to a Presidents trophy as the best team in the league and finished with 120 points.
First time win for Trotz
While Trotz was nominated for the award two previous times, this was the first time he has taken it home. It is well deserving as Trotz has been in Washington for just a short period of time but has already helped to again turn the Caps into one of the league's elite teams.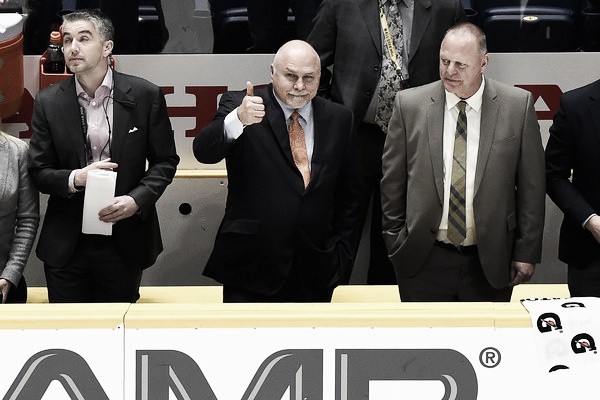 In Trotz's second season with the Capitals, Washington had a League-leading 120 points and a 56-18-8 record. While they were eliminated in the second round of the Stanley Cup Playoffs, it was still a very successful year for the Caps as they led the league in many major categories. Next season the Capitals should be in good shape to contend in the Eastern Conference in part due to the guidance of coach Barry Trotz.
Other coaches nominated for the award
While Trotz ran away with a majority of the votes, here is a complete list of all the votes for coaches for the award.
2015-2016 Jack Adams Award Voting // Pts. (1st-2nd-3rd)
1. Barry Trotz, WSH 344 (58-16-6)
2. Gerard Gallant, FLA 203 (20-28-19)
3. Lindy Ruff, DAL 75 (1-16-22)
4. Bruce Boudreau, ANA 58 (3-10-13)
5. Mike Sullivan, PIT 35 (2-5-10)
6. Ken Hitchcock, STL 35 (1-7-9)
7. Peter DeBoer, SJS 16 (1-3-2)
8. Darryl Sutter, LAK 10 (1-1-2)
9. Dave Hakstol, PHI 10 (0-2-4)
10. John Hynes, NJD 6 (1-0-1)
11. Joel Quenneville, CHI 5 (1-0-0)
12. Peter Laviolette, NSH 4 (0-1-1)
Outlook for next season
Next season with Trotz leading the way, the Capitals will be primed for a deep playoff run. If Trotz is in Washington for the foreseeable future, the Capitals should be Stanley Cup contenders for the next few years.