When the Arizona Coyotes selected Conor Garland with the 123rd pick in the fifth round of the 2015 NHL Entry Draft, they knew he could become a special offensive player.
Allow Garland to assist you
He is a playmaker with extraordinary skills to pass the puck to teammates for scoring opportunities. Try 183 assists, and almost two points a game. Much of his scoring prowess can be attributed to his amazing speed. It is an abundant quality which many of the new Coyote prospects possess.
He can also score his share of goals himself demonstrated by his 74 goals in 129 games with Moncton. He led the QMJHL in scoring the last two seasons but now must show that he can play with the BIG boys.
He has a mean streak to him also exhibited by his 93 minutes of penalties called against him. While he can stand up for himself, he also needs to display discipline if he wants to play in the NHL.
And, at 5 ' 8", 160 pounds most every NHL player he meets will be bigger than him.
Garland told todaysslapshot.com's Craig Morgan how he looked up to Coyotes' Director of Player Development Steve Sullivan, who was faced with the same size issue playing in the NHL:
"There's not many better guys alive to learn from when you look at it from my perspective," Garland said. "I was a big fan of his growing up. For a small guy to play over 1,000 games in the NHL is definitely someone I look up to. Size is the one thing I have against me but I can't help it. I just work on having the other parts of my game be as good as they can be."
Will the Tucson Roadrunners be where he plays?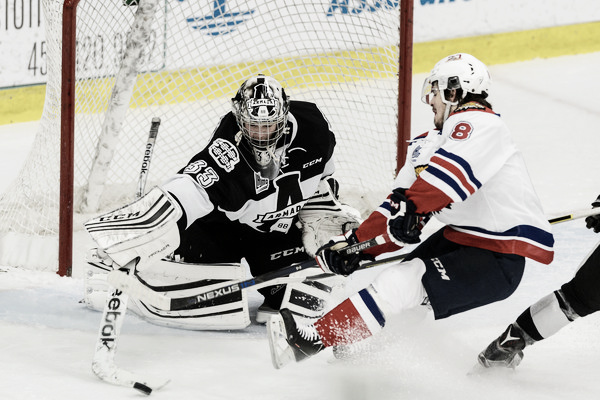 Garland will more than likely be playing for the Tucson Roadrunners, but don't tell him that. He feels he can make the Coyotes' roster, and with his potential who's to disagree?
He is a right-handed shooter, but has played the off wing and just wants a spot on the NHL roster. He like any rookie realizes that his game still needs some work to progress to the highest level of play.
He has put in that work this summer by living here in the Valley and working out with other top prospects Brendan Perlini, Christian Fischer, Christian Dvorak and Ryan MacInnis to sharpen his skills.
Unfortunately, a player much bigger than him like Fischer (6' 2", 214) will be looked at as a possible candidate to fill an NHL roster spot.
While Garland is looking at Steve Sullivan as his mentor, Sullivan feels that Garland has qualities comparable to a former Coyote by the name of Ray Whitney. Whitney played two seasons for the Coyotes, gathering 93 assists during his tenure.
Whitney's playmaking skills were exceptional, and if Conor Garland can come anywhere close to that, he will be a star in the NHL.