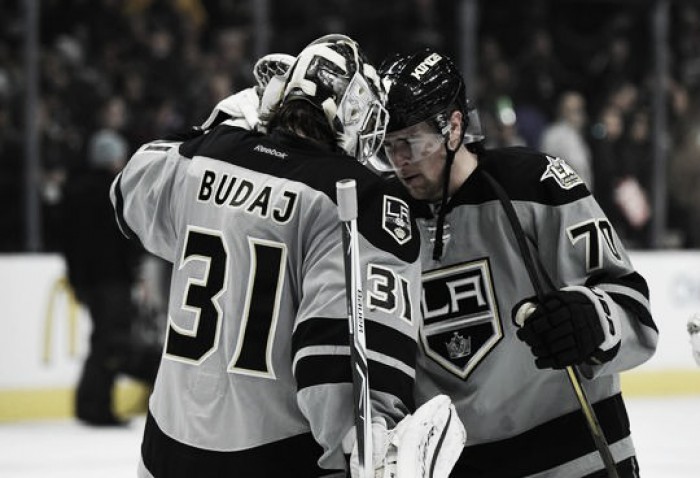 The San Jose Sharks and Los Angeles Kings will meet for the second to last time in the regular season at the SAP Center on Tuesday night.
Season series to date
These two hockey clubs have met three times already, with San Jose coming away with two wins thus far.
In the opening game of the season, the Kings lost their number one goaltender, Jonathan Quick, to injury in the first period. Quick pulled a groin muscle and has been out ever since. San Jose also came away with a 2-1 victory on the road to start the season on the right foot.
Then, in the second meeting, the Sharks dominated Los Angeles, earning a 4-1 win. San Jose blitzed the Kings for three goals during the first 20 minutes and cruised the rest of the way to pick up two more points.
Los Angeles turned the tide last time around, however. They scored a goal in each of three periods and managed to hang on late as the Sharks attempted to complete a comeback. Nonetheless, the Kings claimed both points in their 3-2 defeat of San Jose.
Division Standings
While the Pacific Division may not be one of the best in the National Hockey League, it certainly is one of the tightest in terms of point differential.
San Jose leads the way with 47 points with the Kings at 40. However, Los Angeles sits in fifth in the division with the Calgary Flames, Edmonton Oilers, and Anaheim Ducks all in front of them.
Three points further back are the Vancouver Canucks, who currently have 37 points on the season.
That just shows you how important each and every point is in this division.
Probable goalie stats
After having a couple of days off in between their last game on December 31st, both Peter Budaj and Martin Jones are expected to get the starts for their respective teams.
Peter Budaj, with all things considered, has played some stellar hockey in between the posts for the Los Angeles Kings. Budaj has played in 32 games, has a 16-10-3 record, with a .919 save percentage to go along with four shutouts for the season.
The former Kings' goalie, Martin Jones, has similar numbers to his counterpart. Jones has also played in 32 games, but has amassed a 19-12-1 and is one of the main reasons why the Sharks are in first in the division. Jones, like Budaj, also has a .919 save percentage but only has two shutouts.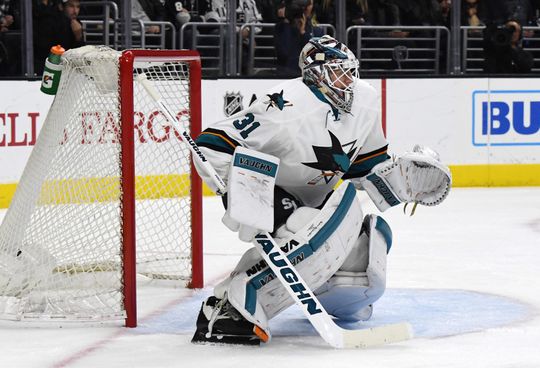 Game details
Puck drop for this game is scheduled for 10:30 PM EST in San Jose, CA. This game will be shown on NBC Sports can beed via nbcsports.com.